This 10-year revision to the Action Plan has allowed us to evaluate our implementation efforts, reassess the status of our Species of Greatest Conservation Need and their habitats, investigate emerging issues, and renew our vision for fish and wildlife conservation in Vermont.
Read the Draft Revised Wildlife Action Plan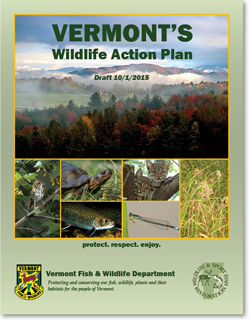 The Action Plan is available as a single document and in separate chapters through the links below (all files in PDF format). We welcome your input on any and all of the chapters and appendices. Please be aware that these documents may not be the final version; updated sections will be posted (and dated) as they become available.
Wildlife Action Plan (complete report - 16MB)
Appendices

A. Species of Greatest Conservation Need Assessment Summaries
Please email your comments/suggestions to ANR.FWWildlifeActionPlan@vermont.gov.