The Fish & Wildlife Department manages more than 200 fishing access areas across the state on 130 unique waterbodies.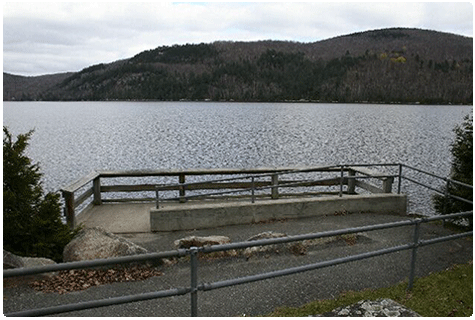 These areas provide Vermonters and visitors to the state with free access to public waters for boating, fishing, hunting, and trapping. Over the past decade and as part of larger infrastructure projects, the department has been upgrading these facilities with accessible features, such as ADA parking and accessible routes to docks and fishing platforms. Upgrades were made in accordance with the 2010 American with Disabilities Act (ADA) Standards for Accessible Design (2010 Standards).
Accessibility Transition Plan
Recently, the department has taken a more deliberate approach to enhancing accessibility for all users by completing an accessibility transition plan. This plan summarizes the 2010 Standards with respect to department-owned recreational boating facilities, the current status of accessible facilities at our access areas and lays out a plan to provide greater accessibility at these sites over the next five years.
The transition plan was drafted by department staff and reviewed by various accessibility stakeholder groups around the state and region. Stakeholders' comments and recommendations were incorporated into this plan.
What's Next?
The plan is now available for public review and feedback. Anyone interested in submitting comments is encouraged to do so by emailing ANR.FWADAPlan@vermont.gov. Deadline for submitting comments is Friday, June 30, 2023.
---
If you speak a language other than English or need a reasonable accommodation for effective communication to access the Americans with Disabilities Act Transition Plan for Fishing Access Areas, we offer free language services. Please call (802) 636-7827.
The State of Vermont has an Accessibility Policy and Grievance Procedure to provide prompt and equitable resolution of complaints alleging any violation of the Americans with Disabilities Act (ADA) by a department, agency, or instrumentality of the Executive Branch of the government by reason of employment practices and policies or the provision of services, activities, programs, and benefits.