Migratory birds are well into their spring return to (and through) Vermont. On the water, returning residents include Canada geese, wood ducks, mallards, and mergansers, while migrants passing through include blue-winged and green-winged teal, northern shoveler, gadwall, bufflehead, and more. American woodcock have been back for more than a month in many locations, while their relative Wilson's snipe has only been resighted over the past few weeks. Many parts of the state have been hearing their first hermit thrush (Vermont's state bird).
As a reminder, please take all bird feeders inside for the season. The Fish and Wildlife Department recommends bird feeders be placed outside only when bears are inactive, generally December 1 through April 1. 
—Doug Morin doug.morin@vermont.gov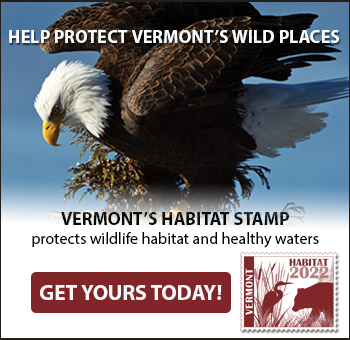 What to Look For in the Next Two Weeks
Migratory waterfowl including gadwall, American wigeon, teal, and scaup may be found in the next few weeks, as they head to the north. Broad-winged hawks will be arriving for the season. While tree swallows have been present for a few weeks in many locations, their relatives barn, bank, cliff, and rough-legged swallows as well as purple martins all start arriving in April.
Similarly, the first-arriving warblers (palm, pine, and yellow-rumped) are just starting to show up, but another wave including ovenbird, Louisiana and northern waterthrush, black-and-white warbler, and common yellowthroat  will all start arriving before the end of April.
In spring and fall migrations, birds take to the sky in sufficient numbers that their movements can be seen on weather radar. Bird watchers and ornithologists have developed this technology for a variety of important scientific uses, as well as an excellent resource for the public at https://birdcast.info/. This collaboration uses weather radar to display and predict where and when birds are moving across the country.
Why do birds undertake the perilous journey of migration? Most species of migratory bird that breed in Vermont spend less time here than on their "wintering" grounds—they could be considered South or Central American species that happen to summer in Vermont rather than the reverse. The reason the trip north is worth it for them, is our rich insect and fruit resources. These foods allow migratory birds to produce numerous offspring each breeding season, but when the food resources begin to grow scarce as summer turns to fall, they head back south
Fish and Wildlife is for the Birds
Bird Flu is back. Vermont Fish & Wildlife Department staff have been working with our federal and state partners to monitor and respond to Avian Influenza.
Last week Vermont joined 33 other states across the US in detecting "High Pathogenic" Avian Influenza (HPAI). Avian Influenza is a respiratory disease that can affect and be carried by wild birds. The Centers for Disease Control and Prevention considers the risk to the general public from this HPAI virus to be low, but it is deadly to domestic poultry.  All bird owners are strongly encouraged to review their biosecurity measures to help protect flocks.
No human infections with this HPAI virus have been detected in the United States, and Vermonters may take these steps to prevent infection.  Influenza in poultry does not constitute a food safety risk. 
As specified by the CDC, avoiding exposure is the best method of preventing this disease. For birders, that means avoiding contact with wild birds. Take down bird feeders and do not touch apparently sick, injured, or dead birds you may find in the field.
More information on Avian Influenza in Vermont is available on the department's avian influenza wildlife health bulletin.
Upcoming Events
Do you have an event you would like posted here? Content you would like covered? A question answered?
Contact Doug at doug.morin@vermont.gov, with the subject line "Birding Report."
See also: