Despite the snow piling up outside my window, migratory birds are well into their spring return to (and through) Vermont. On the water, returning residents include Canada geese, wood ducks, mallards, and mergansers, while blue-winged and green-winged teal, northern shoveler, gadwall, bufflehead, and more are making their way through to more northern breeding grounds.
American woodcock have been back for more than a month in many locations, while their relative Wilson's snipe has only been returning for a few weeks. Many parts of the state have been hearing their first hermit thrush (Vermont's state bird).
As a reminder, please take all bird feeders in for the season. The Fish & Wildlife Department (VTFW) recommends bird feeders be placed outside only December 1 – April 1, to minimize conflicts with bears. 
—Doug Morin doug.morin@vermont.gov
What to Look For in the Next Two Weeks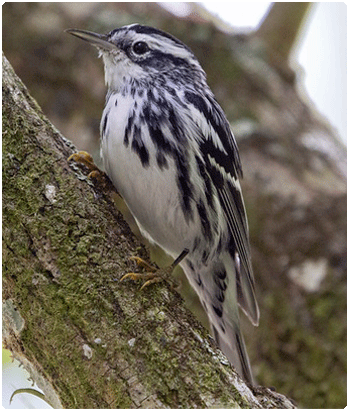 Migratory waterfowl including gadwall, American wigeon, teal, and scaup may be found in the next few weeks, as they head to the north. Broad-winged hawks will be arriving for the season. While tree swallows have been present for a few weeks in many locations, their relatives barn, bank, cliff, and rough-winged swallows, as well as purple martins all start arriving in April.
Similarly, the first-arriving warblers (palm, pine, and yellow-rumped) are already being seen, but another wave including ovenbird, Louisiana and northern waterthrush, black-and-white warbler, and common yellowthroat warbler will all start arriving before the end of April.
In spring and fall migrations, birds take to the sky in sufficient numbers that their movements can be seen on weather radar. Bird watchers and ornithologists have developed this technology for a variety of important scientific uses, as well as an excellent resource for the public at https://birdcast.info/. This collaboration uses weather radar to display and predict where and when birds are moving across the country. There's even a feature to receive "migration alerts" to be notified when high levels of bird movement are occurring in your area.
Fish and Wildlife is for the Birds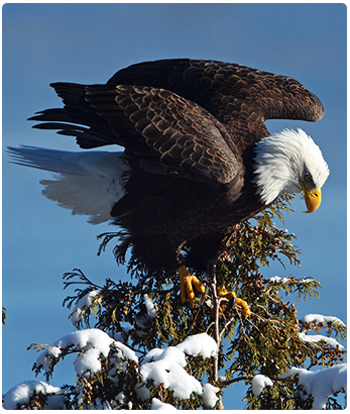 Vermont Fish & Wildlife staff have been starting their checks of eagle nests around the state. In collaboration with Audubon Vermont and numerous volunteers, VTFW staff monitor all known bald eagle nests in Vermont. Most bald eagles around the state are incubating eggs, many having returned to their breeding territories as early as February or March.
The final Bird Report of 2020 noted that it was another good year for bald eagles. So good, in fact, that this winter the Secretary of the Agency of Natural Resources has advanced a proposal to remove bald eagles from Vermont's list of endangered species.
This marks a major conservation success. Bald eagles were gone entirely from Vermont from the 1940s until 2008. The recovery of this species has been a result of both global and local efforts, including active reintroduction of 29 bald eagles into Vermont in 2003-2006. The population has grown so much in the state that it has passed the thresholds to keep it on the endangered species list. In 2020, we saw a record number of 37 nesting pairs in Vermont – and in 2021, we've already heard reports of multiple new nest sites!
Upcoming Events
Do you have an event you would like posted here? Content you would like covered? A question answered?
Contact Doug at doug.morin@vermont.gov, with the subject line "Birding Report."
See Also:
---
"Black and White Warbler" by DFChurch is licensed under CC BY-NC-ND 2.0