For most birds, we are solidly into the "post-breeding" portion of the year. Territories are no longer being defended, instead birds are moving more widely in search of food to help juveniles develop and to build up resources before fall migration.
—Doug Morin doug.morin@vermont.gov
What to Look For in the Next Two Weeks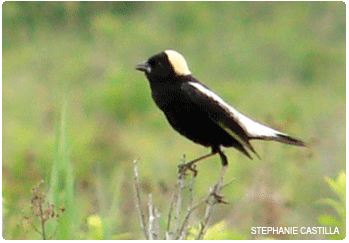 In grasslands, look for bobolinks gathering in large flocks, as they prepare for fall migration. Note that males, which have been carrying distinct black and white ("tuxedo") plumage with yellow on their heads, molt into a drab brown plumage that more closely resembles females around this time of year. Bobolinks have one of the longest migrations of any North American bird – wintering at the southern end of South America, a trip that can be more than 12,000 miles.
Northern pintail ducks will join the ranks of migrating waterfowl working their way through Vermont. Pintails are typically only found here in spring (March-April) and fall (late August - November) migration.
Sightings of warblers reach their lows for the summer season in August. Birds are no longer singing to defend territories and attract mates, so they are less conspicuous. Recent research has shown birds we think of as "forest birds," like black-throated green warblers and wood thrush, commonly move out of forests and into shrubby, regenerating young forest areas, such as occur after a disturbance-like storm damage or logging, after completing their nests.
An abundance of fruit, insects, and dense cover make these productive places to raise young birds—so these habitats are worth a second look this time of year! Sightings of warblers will tick up again in September as these species begin to start their fall migration.
Fish and Wildlife is for the Birds
Vermont Fish & Wildlife staff have been working with collaborators throughout the region, planning an exciting new system that will vastly increase our understanding of bird migration. The system, called Motus (Latin for movement), uses small receiving towers that will be placed at regular intervals across the landscape.
Researchers place tiny transmitters on birds, bats, or large insects, like monarch butterflies, and when the animals pass receiving towers, their location is logged. This allows connect-the-dots maps to be drawn, showing specific locations of known animals at certain times. It provides a level of knowledge about animal movements we rarely get.
Vermont currently has two operational receiving stations, and we are now working with a large group of partners to design an array of stations across the state and region.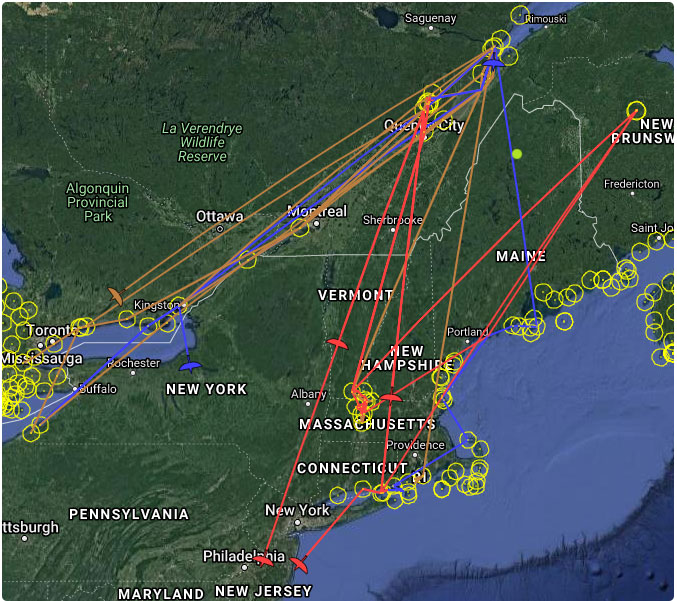 Upcoming Events
Guided Wildlife Walks - Come celebrate 100 years of habitat conservation and wildlife-based recreation through the department's Wildlife Management Areas (WMAs) by joining one of the department's FREE guided wildlife walks on select state WMAs around Vermont. The walks are led by biologists and naturalists with decades of experience conserving Vermont's wildlife and their habitats.
Do you have an event you would like posted here? Content you would like covered? A question answered?
Contact Doug at doug.morin@vermont.gov, with the subject line "Birding Report."
See Also: