By this point in the year, even casual observers will note that bird song is much less common than in the spring. There are still some hangers-on, with species including eastern wood pe-wee and red-eyed vireo still singing regularly, plus the sporadic thrush, tanager, or others particularly around twilight.
Large storms and weather fronts can be opportunities to find unusual birds in Vermont. Occasionally birds from far west or south get carried north along the winds of a storm. Some avid birders even head out in the days after a storm to look for these out-of-place birds. We haven't heard reports of any particularly unusual birds sighted after Tropical Storm Isaias – but they may be out there.
Found a baby bird? See our June 12, 2020 post for information on what to do if you're concerned about a baby bird.
—Doug Morin doug.morin@vermont.gov
What to Look For in the Next Two Weeks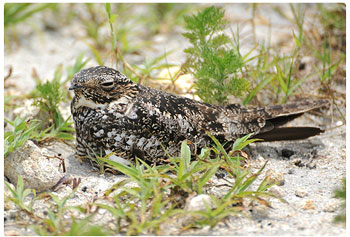 The best opportunity to see common nighthawks is coming right up: peak sightings take place mid-August to mid-September. Common nighthawks are extremely rare in Vermont and are classified as endangered. But they can be found in large numbers during their fall migration from northern Canada down to South America (one of the longest migration routes of North American birds!).
Common nighthawks are fairly easy to identify by their pointed wings with bold white patches, and are most commonly seen around dusk, especially in river valleys. They migrate silently but can flock in dozens or even hundreds. Submitting observations to  Vermont eBird helps scientists learn more about the species.
The first waterfowl are beginning to migrate through Vermont. Like the shorebirds that began their migration a few weeks ago, many of these birds are only seen in Vermont during spring and fall migration periods. Blue- and green-winged teal are found August through October, also keep an eye out for gadwall, northern shoveler, American wigeon, and ring-necked duck. Look in wetlands and on open water, especially along Lake Champlain and the Connecticut River.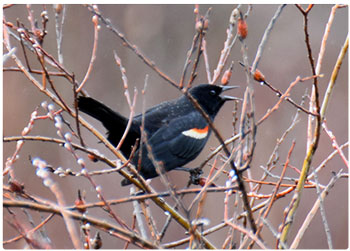 Some locally breeding birds are beginning to appear in flocks. Now that breeding season is over, they no longer need to defend territories. Instead, living in large groups means more eyes to find food and spot predators. Blackbirds, including red-winged blackbird, common grackle, and European starling, form highly visible (and noisy!) flocks, which move around the landscape for some time before beginning their fall migration. So far, most reports are still for small groups of birds, but flocks as large as 50 birds have been reported.
Fish and Wildlife is for the Birds
Vermont Fish & Wildlife Department has partnered with Vermont Audubon to improve shrubland bird habitat at Geprags Park, a popular bird-watching destination in Hinesburg, and Lewis Creek Wildlife Management Area, a state-owned parcel in Starksboro. These projects involved removing invasive plant species, creating space for native shrubs to grow naturally, and planting native trees and shrubs. These projects will benefit species including the blue-winged and golden-winged warblers, eastern towhee, and field sparrow.
See Mark LaBarr of Audubon Vermont and Andrea Shortsleeve of Vermont Fish & Wildlife on site discussing these projects, as well as the Vermont Habitat Stamp funds that supported this work on a recent episode of Across The Fence.
Upcoming Events
Do you have an event you would like posted here? Content you would like covered? A question answered?
Contact Doug at doug.morin@vermont.gov, with the subject line "Birding Report."
See Also: