Late summer is the time of burgeoning bird families. We have fledgling robins in the yard, bluebird chicks in a nest box, turkey poults roosting in the old apple trees, and grouse broods exploding from underfoot in the woods.
—Doug Morin doug.morin@vermont.gov
What to Look For in the Next Two Weeks
Hummingbirds Visiting Feeders
Ruby-throated hummingbird fledglings are showing up at feeders. Juvenile birds are very similar in appearance to adult female hummingbirds, though careful observers may note some birds with light streaking on their throats—these are juvenile males. If you have feeders or lots of flowers in bloom, you may also notice territorial interactions between male hummingbirds. Often these interactions start and end as displays, but they can also escalate to outright physical altercations. The New York Times produced an excellent short video on hummingbird territorial fighting.
Late Nesters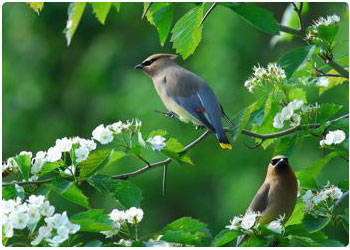 With most species winding down nesting (and some beginning their second or third nests of the year) there are still a few species that are just beginning to nest. Notably, American goldfinch and cedar waxwings are both late nesting species, beginning in July and August. These birds time breeding to match the availability of their preferred foods—seeds for the goldfinch, and soft fruits for the waxwing. Watch for the courtship display of waxwings, where they hop sideways next to each other on a branch and often exchange a piece of fruit or insect.
Common Loon Chicks Maturing
Fledgling loons will lose their puffball look soon, as they grow in their first set of adult feathers. At about eight weeks old, chicks will begin to "exercise" by orienting into the wind and practicing taking off. Loons are well adapted for swimming—they are relatively heavy and have their legs far back on their bodies, but these adaptations make getting airborne difficult. Strong wings and a good runway to build up speed are necessary as demonstrated in the video below!
Fish and Wildlife is for the Birds
You may have heard about an unidentified bird illness that started this spring in the mid-Atlantic and midwestern states. Thankfully, no cases have been reported in New England. Vermont Fish & Wildlife (VTFW) staff have been discussing this ongoing issue with wildlife veterinarians and disease specialists from the region and federal agencies.
Wildlife diseases can be tricky to monitor, identify, and control—particularly when it appears to be a new cause at work. Tests have not found any of the usual suspects for bird disease in this case including salmonella, avian influenza, West Nile virus, and mycoplasma bacteria. VTFW staff are keeping up to date on this emerging situation, and looking for ways to support our federal and regional partners and prepare Vermont in case we see cases here.
Upcoming Events
Do you have an event you would like posted here? Content you would like covered? A question answered?
Contact Doug at doug.morin@vermont.gov, with the subject line "Birding Report."
See Also: