Many species have successfully raised chicks by now, and adults with fledglings are common around the state. Peregrine falcons and bald eagles are fledging young, though the families will remain around the nest sites for a few weeks as the young birds develop and gain more independence.
—Doug Morin doug.morin@vermont.gov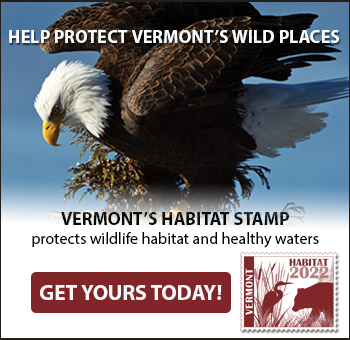 What to Look For in the Next Two Weeks
While the completion of a nest means many birds are done breeding for the year, others are gearing up for another nest. Many of our songbirds, including some species of warblers and thrushes will raise one to two broods per year, but some common backyard birds can do even more: eastern bluebirds and America robins can raise as many as four broods per year, and mourning doves can raise a startling six! Meanwhile, American goldfinches have just started their first nests—these late breeders time their reproduction to line up with the ripening of their major food sources, thistle and other seeds.
For those looking for more resources to learn bird songs the Merlin phone app from the Cornell Lab of Ornithology has a tool that allows the device to "listen" to sounds in the environment and suggests IDs for birds in real time. Get out and use it now, because things get quieter every day from here on out!
Fish and Wildlife is for the Birds
Vermont Fish & Wildlife biologists, along with our partners at Audubon Vermont have been receiving reports from volunteers and observers of bald eagle chicks becoming easily visible and, in some cases, taking their first flights. This is right on time, and though avian influenza did cause the death of several eagles this spring, we're thankful to see many nests doing well. Preliminary results for the season will be officially tallied in September.
Upcoming Events
Do you have an event you would like posted here? Content you would like covered? A question answered?
Contact Doug at doug.morin@vermont.gov, with the subject line "Birding Report."
See also: