Breeding season continues in various stages across the state. Some species have already fledged young, which you may see out and about, while others are still being seen building nests. Some of the earliest and most prodigious nesters, including American robins, are already on to their second set of chicks.
—Doug Morin doug.morin@vermont.gov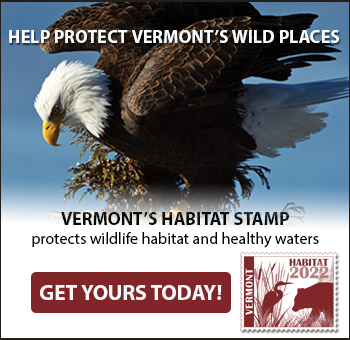 What to Look For in the Next Two Weeks
It's baby bird season. Most of the baby birds people find are fledglings, which appear helpless, but are in fact just fine and merely need space. The parents will be nearby waiting for humans to leave. Here's a detailed article from the Audubon Society.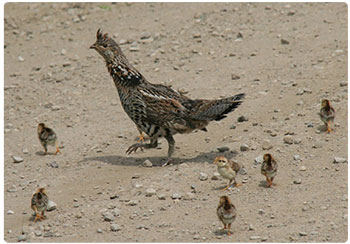 If you're in the woods or driving back roads this time of year you may encounter a ruffed grouse with her chicks. In contrast to most birds, which take weeks to develop as chicks before they are ready to leave the nest, Ruffed grouse young are ready to leave the nest within just hours. This is an adaptation that gives the young birds a better chance of survival in a dangerous nesting area, and is seen most commonly in ground-nesting birds like grouse, turkeys, shorebirds, and waterfowl. Mother grouse will go a step farther to protect their young by diverting the attention of a potential predator to herself by being conspicuous or even pretending to be injured, allowing the young birds to escape.     
If you're near water, ducklings are the common sight. Most ducks produce up to a dozen eggs in each nest but keep an eye out for mothers with many more ducklings. This can result from "egg dumping," where a duck (sometimes even another species of duck) lays eggs in a nest other than its own or through "creching" where multiple broods combine babysitting duties to allow some of the adults time to forage for themselves.       
Fish and Wildlife is for the Birds
Vermont Fish & Wildlife Department (VFWD) staff have been reviewing regulated development proposals for impacts to species including Bicknell's thrush, grassland birds, and eastern whip-poor-will and projects ranging from ski areas, residential housing, solar arrays, and commercial facilities. These reviews are a routine part of VFWD staff duties and have resulted in many projects with improved outcomes for wildlife across the state.
Upcoming Events
Do you have an event you would like posted here? Content you would like covered? A question answered?
Contact Doug at doug.morin@vermont.gov, with the subject line "Birding Report."
See also: