The bird species present are beginning to stabilize—most of our winter visitors (like common redpoll) have moved back north, those that we only see on migration (like white-crowned sparrow) have passed through, while most of our migratory summer species have arrived. 
Ruby-throated hummingbirds (the only hummingbirds east of the Mississippi) are arriving in northern and higher-elevation sites. Bobolinks are returning to grasslands where eastern meadowlarks and savannah sparrows have been settling in for a few weeks. 
This is an excellent time to observe birds—the trees have not leafed out in many locations, allowing good viewing.   
—Doug Morin doug.morin@vermont.gov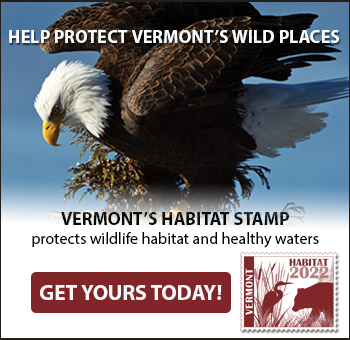 What to Look For in the Next Two Weeks
The next few weeks should yield some of our last arriving species, including black- and yellow-billed cuckoos, many of the flycatchers, and Bicknell's thrush.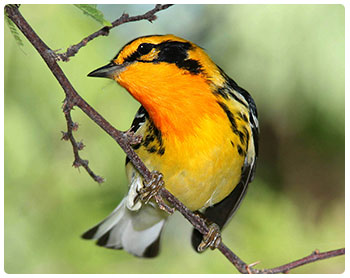 Also, many species of warblers will reach their peak abundances in the coming weeks. Vermont has more than two dozen species of warblers that are commonly seen. These small songbirds all have a similar body shape, but different coloration and songs. Warblers can be found in most habitats in the state, from roadsides and neighborhoods (common yellowthroat warbler and yellow warbler) to hardwood forests (black-throated blue warbler) and softwood forests (blackburnian warbler), to the tops of Vermont's highest peaks (blackpoll warbler).
The early breeders including bluebirds, Canada geese, and bald eagles will be hatching chicks soon, while many species will spend the next few weeks establishing territories, courting and initiating nests. It's a great time to look for territorial interactions, mating displays, nest building, and other breeding-related behaviors.
Fish and Wildlife is for the Birds
As annual monitoring programs for bald eagles, peregrine falcons and other species ramp up for the season, bird flu continues to circulate in Vermont. Within the state, bird flu has been confirmed in most counties and in species including bald eagle, turkey vulture, red-tailed hawk, and Canada goose. The Vermont Fish & Wildlife Department and its partners will continue to monitor the ongoing flu outbreak as well as species of conservation concern.
To help reduce the spread of bird flu, the department recommends all bird feeders be taken down for the foreseeable future.
More information on bird flu may be found on the dpeartment's Avian Flu WIldlife Health Bulletin webpage.
Upcoming Events
Do you have an event you would like posted here? Content you would like covered? A question answered?
Contact Doug at doug.morin@vermont.gov, with the subject line "Birding Report."
See also: