What to Look For in the Next Two Weeks
Snow Geese continue moving through the Champlain Valley. Reports are up to 3,000 at Dead Creek Wildlife Management Area. They will likely hit peak numbers in the next few weeks.  They are likely near peak numbers now, though sightings will typically continue through mid-December. While at Dead Creek WMA, observers may also find Short Eared Owls and Northern Harriers over the open fields.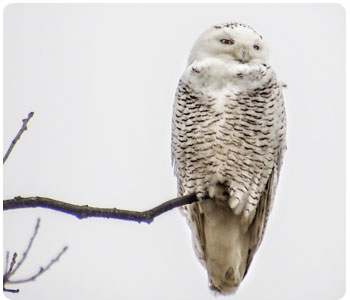 The first Snowy Owl reports are approaching Vermont. Snowy Owls breed during the summer in the arctic, and in some years they will make their way as far south as the northern United States. In years when Snowy Owl reproduction has been particularly good and many young birds have survived, there may be large "irruptions" of owls moving south from the arctic for winter. The closest Snowy Owl reports at the moment are occurring around Ottawa, Montreal, Connecticut and Long Island. Keep a look out for these birds in open locations like hayfields and airports.     
Now is a great time to pull out the feeders, give them a thorough cleaning, and buy some feed before the start of the season. Feeders are an excellent way to attract winter seed-eating birds. Black-oil sunflower seed is a great all-around option, while "thistle" (or "nyjer") seed is the favorite of Goldfinches, Siskins, and Redpolls. We recommend bird feeders be placed outside no sooner than December 1, to minimize conflicts with bears. Also, to protect the birds you are feeding we recommend cleaning and sanitizing feeders weekly and keeping domestic cats indoors.
Fish and Wildlife is for the Birds
Vermont Fish & Wildlife Department staff are reviewing monitoring results from the 2021 season with their partners at Audubon Vermont and the Vermont Center for Ecostudies. Ongoing projects studying Eastern Whip-poor-will, Common Tern, Chimney Swift, and Grasshopper Sparrow underscore causes for concern for many species in Vermont. At the same time, it was a good year for other species with at least 52 Peregrine Falcon pairs, 45 Bald Eagle pairs, and 109 Common Loon pairs—records or near-records for each. These results speak to the conservation successes possible with sustained effort from federal and state agencies, conservation groups, and individuals.
Upcoming Events
Do you have an event you would like posted here? Content you would like covered? A question answered?
Contact Doug at doug.morin@vermont.gov, with the subject line "Birding Report."
See Also: