What to Look For in the Next Two Weeks
Snow Geese continue moving through the Champlain Valley. Reports are up to 1,500-2,000 at Dead Creek Wildlife Management Area and as many as 5,000 on the New York side of the lake. They are likely near peak numbers now, though they typically continue through mid-December. Check out Bryan Pfeiffer's 2020 Snow Goose Scoop for the latest. Observers have been getting exciting views of Short Eared Owls and Northern Harriers at Dead Creak WMA as well.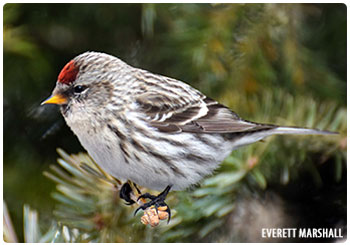 Winter finches are arriving! The winter of 2020-2021 looks like it will be a good one for these irregular visitors to Vermont. Observers have already been seeing Pine Grosbeak, Evening Grosbeak, Common Redpoll, Pine Siskin, and Red and White-winged Crossbills. These species of finch that breed in Canada rely on seed crops to get through the winter. When those crops are scarce, which happens every few years, the birds cast out looking for more plentiful food elsewhere.
Keep an eye out for these birds in the coming weeks, and throughout the winter. They may be found all over the state, though often in highest numbers in the mountains and Northeast Kingdom. Researchers and naturalists predict the movement of finches each year, based on seed crop availability-see more here.
Bird feeders are an excellent way to attract winter seed-eating finches, and other birds. Black-oil sunflower seed is a great all-around option, while "thistle" (or "nyjer") seed is the favorite of goldfinches, siskins, and redpolls. Now is a great time to pull out the feeders, give them a thorough cleaning, and buy some feed before the start of the season. We recommend bird feeders be placed outside no sooner than December 1, to minimize conflicts with bears—which have been in record number this year.
Fish and Wildlife is for the Birds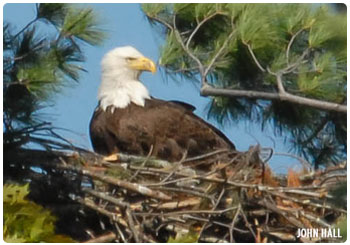 It has been another good year for Bald Eagles! Vermont Fish & Wildlife Department staff have been working with partners at Audubon Vermont and the Bird Species Advisory Group to evaluate the results of 2020 Bald Eagle nest monitoring. In 2020, a record 37 nesting pairs of eagles successfully raised a record 64 chicks. This marks a tremendous turn-around, with no eagles breeding in the state from the 1940s until 2008. The recovery of this species has been a result of both global and local efforts, including active reintroduction of 29 Bald Eagles to Vermont from other states from 2003-2006.
Upcoming Events
Do you have an event you would like posted here? Content you would like covered? A question answered?
Contact Doug at doug.morin@vermont.gov, with the subject line "Birding Report."
See Also: