What to Look For in the Next Two Weeks
Yellow-bellied sapsuckers are on their way south. Since one of their main food sources—tree sap—isn't available in Vermont winters, this species heads for the southern US where things aren't frozen! They'll be back in early April, right in time to catch the sap running.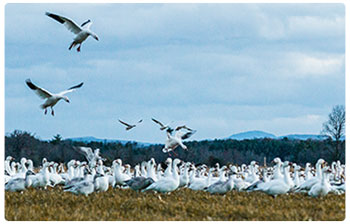 are beginning to arrive. So far folks are reporting up to 200 birds at the Dead Creek Wildlife Management Area, and numbers should increase over the next few weeks to their peak in early November. Snow geese come through the Champlain Valley on their 5,000-mile journey from the Arctic tundra to the southern US. The Cornell Lab of Ornithology has produced a visualization of the movements of snow geese through the year, using real data from eBird community scientists—watch it here.
Vermont's snow goose numbers have declined in recent years, but geese still flock by the thousands, putting on quite a spectacle. Look in agricultural fields. Dead Creek Dead Creek Wildlife Management Area has a Goose Viewing Area on Route 17 in Addison, which is an excellent place to look. Also, off Gage Road to the south of the viewing area. The geese are best viewed during the first hours after sunrise and the last hours before sunset but can be seen at all hours of the day. Those looking for a challenge can keep an eye out for brant, Ross's goose, and other species mixed in.
Fish and Wildlife is for the Birds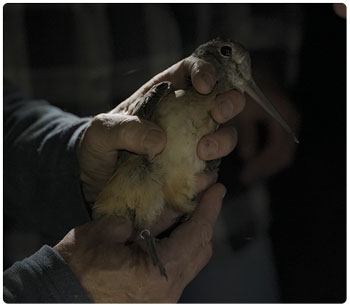 Vermont Fish & Wildlife Department staff have been outfitting American woodcock with GPS tracking units. Ten woodcock were captured and fitted with GPS units over three nights. These birds will add to the data from 18 woodcock similarly tracked since 2020 in Vermont, and many more birds from around the region. Tracking these birds will yield important information on the little-known parts of this species lives, including their seasonal movements, migratory routes and stopover locations, and survival throughout their lives.
To learn more about the Eastern Woodcock Migration Research Cooperative, visit http://www.woodcockmigration.org and click on the "Migration" tab to follow Vermont's study birds as they migrate to southern wintering grounds.
Upcoming Events
Do you have an event you would like posted here? Content you would like covered? A question answered?
Contact Doug at doug.morin@vermont.gov, with the subject line "Birding Report."
See Also: