Migrating songbirds continue to pass through—flocks of sparrows (including Song, White-throated, White-crowned, and Dark-eyed Juncos), warblers (including Palm, Yellow-rumped, and Common Yellowthroat). Flocks of juvenile loons remain on many ponds and lakes. 
We've received a number of questions hoping to identify robin-sized birds with "white butts" recently. Most often, this is a Northern Flicker, a species of woodpecker that has a white "rump" as birders would say.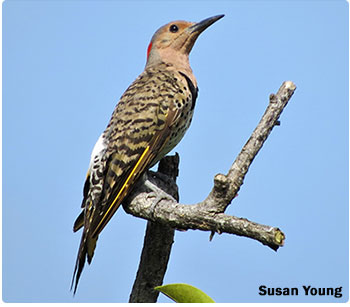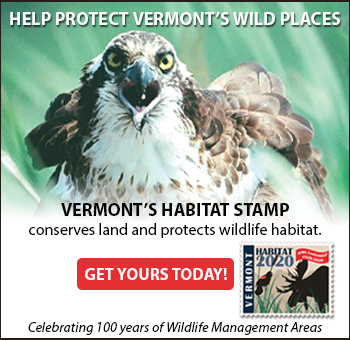 Flickers are often seen as they fly away from roadsides, where they search out ants in the exposed soil. The bright yellow undersides of Northern Flicker wing and tail feathers are some of the most vibrant feathers we see in Vermont. West of the Great Plains, though, the same species has bright orange under their wings and tails.  
—Doug Morin doug.morin@vermont.gov
What to Look For in the Next Two Weeks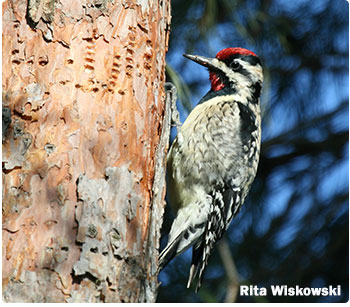 Yellow-bellied sapsuckers are on their way south. Since one of their main food sources—tree sap—isn't available in Vermont winters, this species heads for the southern US where things aren't frozen! They'll be back in early April, right in time to catch the sap running.
Snow Geese are moving through the Champlain Valley. So far folks are reporting up to a few dozen to more than 100 birds, but numbers should increase over the next few weeks to their peak in late October. See our October 2, 2020 Bird Report for more details, and check out Bryan Pfeiffer's 2020 Snow Goose Scoop for the latest. 
Rough-legged hawks begin to arrive in Vermont from their arctic breeding ground in late October. They will spend the winter in the continental US before heading back north to breed in the spring. Look for them perching in trees and utility poles around open fields, particularly in the Champlain and Connecticut River valleys. As a large buteo, they may be confused with Red-tailed Hawks, Turkey Vultures, and Northern Harriers—so check your field guides closely!
Fish and Wildlife is for the Birds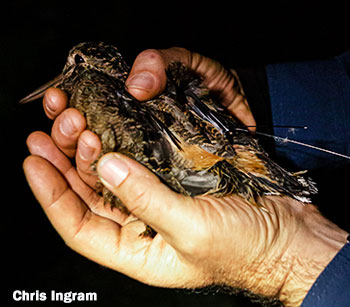 Vermont Fish and Wildlife Department staff have been out catching American Woodcock and fitting them with GPS tracking units. Staff assisted with capturing 18 woodcock from three locations across Vermont, as part of a cooperative research effort. Tracking these birds will yield important information on the little-known parts of this species lives, including their seasonal movements, migratory routes and stopover locations, and survival throughout their lives.
To learn more about the Eastern Woodcock Migration Research Cooperative, visit http://www.woodcockmigration.org and click on the "Migration" tab to follow Vermont's study birds as they migrate to southern wintering grounds.
Upcoming Events
Do you have an event you would like posted here? Content you would like covered? A question answered?
Contact Doug at doug.morin@vermont.gov, with the subject line "Birding Report."
See Also: