Migrant birds of many types are being seen across the state—warblers, sparrows, hawks, blackbirds, and many more are visible. Some of the more vocal species, like White-Throated Sparrows will continue to sing occasionally even as they migrate through. At the same time, year-round residents like Blue Jays, American Crows, Northern Cardinals, and Red-tailed Hawks are becoming more prevalent in reports from observers.
Vermont Center for Ecostudies final banding session near the top of Mount Mansfield yielded a mix of both locally-breeding and migrant birds, including an impressive 10 year-old Bicknell's Thrush. Many of those birds are probably wing-ing their way south by now.
Some species we've been keeping an eye on, including Common Nighthawks, Ruby-throated Hummingbirds, and Broad-winged Hawks should be just about gone by now.
—Doug Morin doug.morin@vermont.gov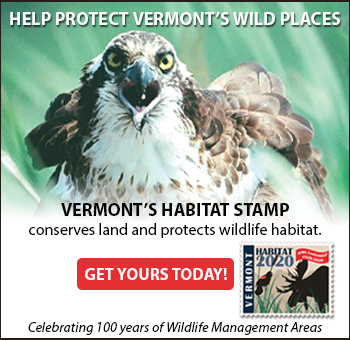 What to Look For in the Next Two Weeks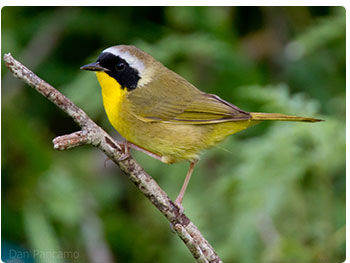 October is the last month for most warblers. Many species will be gone by early- to mid-October, including American Redstart, Northern Parula, Magnolia, Yellow, and Chestnut-sided. A few others are typically found until the end of October, including Palm, Yellow-rumped, Blackpoll, and Common Yellowthroat.
More migratory waterfowl are arriving. If you're watching Lake Champlain, keep an eye out for Scaup (Greater and Lesser) and Scoters (Surf, White-winged, and Black), which come through in October and November.
Snow Geese are arriving. From early October into mid-November, Snow Geese come through the Champlain Valley on their 5,000-mile journey from the Arctic tundra to the American South. Vermont's goose numbers have declined in recent years, but geese still flock by the thousands, putting on quite a spectacle.
Look in agricultural fields. Dead Creek Dead Creek Wildlife Management Area has a Goose Viewing Area on Route 17 in Addison, which is an excellent place to look. Also, off of Gage Road to the south of the viewing area. The geese are best viewed during the first hours after sunrise and the last hours before sunset – but can be seen at all hours of the day.

You can find some excellent background and photos of snow geese on Bryan Pfeiffer's website. Advanced bird-watchers should keep an eye out for Brant, Ross's Goose, and other species. See this video for more about Dead Creek WMA, and why it's a great place to find snow geese, shorebirds, waterfowl, and many more species.
Fish and Wildlife is for the Birds
Fish and wildlife staff have been participating in meetings with migratory bird managers from up and down the Atlantic coast. The Atlantic Flyway Council (AFC) meets twice a year, with representatives from all agencies that have management responsibility for migratory birds—a total of 26 US and Canadian states, provinces, and territories.
These meetings are important opportunities to cooperate on management strategies for populations that extend past the border of each state on its own. Topics include increasing populations (like Double-crested Cormorant), decreasing populations (like Wood Thrush), species where recovery has been a success (like Peregrine Falcon), emerging disease concerns and environmental issues, implementing conservation to support species across their full life-cycle and the multiple states and countries which support them, and much more.
While the group could not meet in person this year, Vermont staff are looking forward to hosting the meeting next year and sharing a bit of our beautiful state with collaborators from up and down the Flyway.
Upcoming Events
Do you have an event you would like posted here? Content you would like covered? A question answered?
Contact Doug at doug.morin@vermont.gov, with the subject line "Birding Report."
See Also: