It's a time of transition—many breeding species have left the state, while some species that winter here are just arriving.
Some of Vermont birds of prey have moved on: Osprey, Red-shouldered Hawks, and Turkey Vultures all leave by early November and return around March. Meanwhile, the Yellow-rumped Warbler, the very last warbler to migrate out of state may be found for just a few more weeks.
Also, many of the birds primarily seen in Vermont during migrations have either mostly or fully passed through the state—including shorebirds (Sanderling, Greater and Lesser Yellowlegs, and most of the Sandpipers), waterfowl (Blue-winged teal, Northern Shoveler), and songbirds (White-crowned Sparrow, Rusty Blackbird).
—Doug Morin doug.morin@vermont.gov
What to Look For in the Next Two Weeks
Snow Geese continue moving through the Champlain Valley. Reports are up to 1,500 at Dead Creek Wildlife Management Area and as many as 5,000 on the New York side of the lake. They will likely hit peak numbers in the next two weeks. Check out Bryan Pfeiffer's 2020 Snow Goose Scoop for the latest.
Red-throated Loons are visible in the month of November on their migration from arctic breeding grounds to the Atlantic coast for wintering. These small loons are mostly gray except for a maroon throat patch, and appear mostly on Lake Champlain, but also along the Connecticut River and scattered lakes across the state.
Many of our wintering songbird species have begun to arrive. Observers are reporting the first sightings of Northern Shrike, Bohemian Waxwing, Horned Lark, Common Redpoll, Snow Bunting, American Tree Sparrow. These species spend the winter here and return to the north to breed. While some are regular visitors, many of these species move in response to food availability—so in years when food is plentiful to the north, we may see few birds, but in years when food is scarce, we may see lots.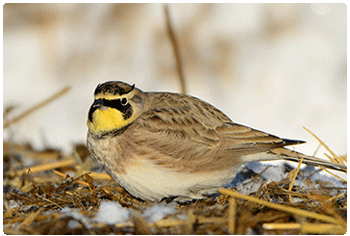 Fish and Wildlife is for the Birds
Vermont has a new law seeking to protect birds. Act 172 "An act relating to the protection of migratory birds" was signed into law on October 8, 2020. This Act adds specific protections at the state level for birds, after reinterpretation of federal migratory bird law removed such protections. The Migratory Bird Treaty Act is the federal law, now more than 100 years old, which protects most species of birds in North America. This law has been a tremendous success in the conservation of birds across the continent.
You can hear more about the federal and state laws in a recent interview with Doug Morin of Vermont Fish and Wildlife and David Mears of Audubon Vermont, here on WDEV. (The segment starts at approximately 54 minutes and lasts 45 minutes).
Upcoming Events
Do you have an event you would like posted here? Content you would like covered? A question answered?
Contact Doug at doug.morin@vermont.gov, with the subject line "Birding Report."
See Also:
---
*"Red-throated Loon (Gavia stellata)" by Gregory 'Slobirdr' Smith is licensed under CC BY-NC-ND 2.0
*"Horned Lark (Eremophila alpestris) {Explored}" by DaveInman is licensed under CC BY-NC-ND 2.0