We are well into fall migration for many species. Observers are seeing flocks of migrants including warblers and thrushes in wooded areas.
Hawkwatchers are reporting dozens and sometimes hundreds of raptors moving on favorable days. Broad-winged hawks, American kestrels, and bald eagles have been the most frequent sightings. Right now, within a matter of days, is typically the peak for broad-winged hawk migration through the area—read more in our September 4, 2020 Bird Report and visit Hawkcount.org if you want to see what observers are counting.
—Doug Morin doug.morin@vermont.gov
What to Look For in the Next Two Weeks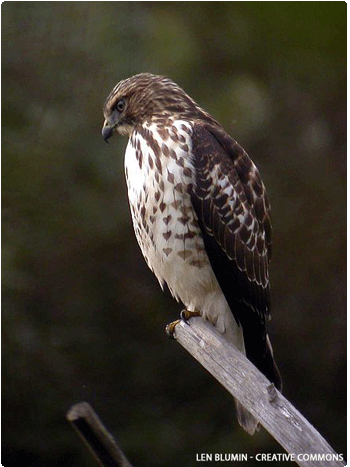 Keep an eye upward for hawks. The peak numbers of migrants will diminish over the next week or two as most of the broad-wingeds move south of us, though other raptors will continue passing throughout the fall. 
Fall bird watching can be confusing. Many male birds, which have sported brightly colored feathers all summer to attract mates and ward off competitors, molt (change feathers) into more drab plumage. Their winter colors are less bright and distinctive, a plus for the bird, who is now trying to avoid predators, but a complication for bird watchers. This winter plumage often closely resembles the look of females and juveniles. Warblers become notoriously confusing in fall, with many different species even looking similar. So keep a look out for groups of drab-looking birds, and see if you can note subtle differences.
Sometimes the molting itself is recognizable, as with American goldfinches. In September and October, male goldfinches change from their bright yellow breeding plumage into a drab olive color which looks much like females. During the process, however, they show up in all sorts of marbled and splotchy combinations of bright yellow and drab olive as different groups of feathers are replaced sequentially.  
Fish and Wildlife is for the Birds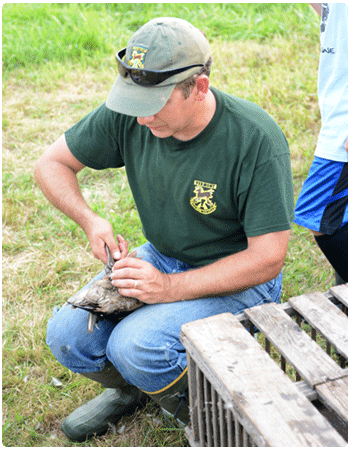 Fish & Wildlife staff have been out before sunrise many recent mornings trying to capture and band ducks. This is done at certain controlled sites where birds can be lured in and a net propelled by rockets can be shot through the air above the birds, capturing them. Once captured, the age and sex of each bird is identified, and a uniquely numbered aluminum bang is placed around each bird's leg. These bands help Fish and Wildlife Agencies track and model the movements and numbers of bird populations across the world.
Fish and Wildlife staff have also been creating outreach materials specifically about bird banding for educators to use with their remote learning. You can find videos and suggested lessons about bird banding  at VIRTUAL BIRD BANDING LESSON
Upcoming Events
Do you have an event you would like posted here? Content you would like covered? A question answered?
Contact Doug at doug.morin@vermont.gov, with the subject line "Birding Report."
See Also: