Late breeding species are finishing raising their chicks, while the first species to migrate out of Vermont have started their journey.
—Doug Morin doug.morin@vermont.gov
What to Look For in the Next Two Weeks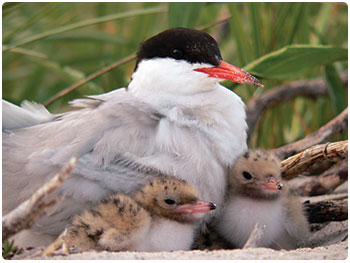 The next two weeks are your last opportunity to catch a number of species, which will mostly be out of state by mid-September, including: terns (caspian, common, and black), bobolinks, and most of our flycatcher and swallow species. Swallows, as we know now, migrate primarily to central and south America for the winter. As recently as the 1800s though, some scientists believed swallows spent the winters hibernating under the mud of ponds and rivers.
Loons are groups in "rafts" as they prepare for migration. Adults will leave first, while many juveniles will remain in Vermont through mid-fall, even until ice begins forming on the lakes and ponds they are in.
Common nighthawks have been streaming down through the state. Volunteer counters at Westminster Station have tallied nearly 7,000 nighthawks so far this year
Mid- to late-September is the peak time for seeing migrating hawks, which typically migrate during the day. Songbirds, however, migrate mostly at night. One unfortunate result of their nighttime migration is  bright lights can pull them off course, and worse, lead them to collide with buildings. A national initiative called Lights Out is working to spread the word about turning off lights, particularly in cities and large commercial buildings, during migration periods to reduce the chance of disorienting migrating birds.
Fish and Wildlife is for the Birds

A field at Calendar Brook WMA that is mowed every three years to enhance wildlife habitat.
Vermont Fish & Wildlife staff are out working on more habitat management. Pictured here is a field in Calendar Brook WMA that is mowed every three years. The mowing is done around existing apple trees, viburnum shrubs, and selected species, while keeping the land open for herbaceous growth. This week the field was bursting with goldenrod flowers and monarch butterflies. Where it is appropriate, F&W staff plan and create these habitats across many of the state's 100 Wildlife Management Areas. If you're interested in managing your land for wildlife habitat the department has a free guide available here.
Upcoming Events
Do you have an event you would like posted here? Content you would like covered? A question answered?
Contact Doug at doug.morin@vermont.gov, with the subject line "Birding Report."
See Also: