Migration is in full swing for many species, while others can be seen making preparations.
Common nighthawks have been streaming down through the state, as we discussed in the August 7, 2020 report. Volunteer counters at Westminster Station have tallied more than 4,500 nighthawks so far this year, including one astonishing count of more than 1,900 birds in a single evening!
—Doug Morin doug.morin@vermont.gov
What to Look For in the Next Two Weeks
Look for loons forming "rafts" (groups) as they prepare for migration. Adults will leave first, while many juveniles will remain in Vermont through mid-fall, even until ice begins forming on the lakes and ponds they are in.
The next two weeks are your last opportunity to catch a number of species, which will mostly be out of state by mid-September, including our breeding terns (caspian, common, and black), and most of our flycatcher and swallow species.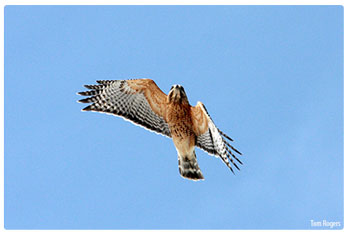 One of the more dramatic avian sights in September here in Vermont is the hawk migration. For a period of a few weeks, typically peaking right around September 18th, tens of thousands of broad-winged hawks migrate south through the state. Broad-wingeds take center stage, but it is also a great time to see bald eagles, peregrine falcons, kestrels, osprey, other hawks, and even monarch butterflies on the move.
The largest flights are seen on days with winds coming from the north that help propel the birds along. Traditionally, observers climb peaks with good views in the Champlain and Connecticut River Valleys. Hawkwatch.org and the Hawk Migration Association of North America are excellent resources for raptor biology and identification as well as records of each day's counts and predictions for coming days. Since identification of raptors flying at a distance relies primarily on shape and flapping/gliding pattern, it's worth bringing a guide made specifically for hawk watching (here's my 1-page favorite).
Fish and Wildlife is for the Birds
Vermont Fish & Wildlife Department staff have received several calls recently about sick and dead birds. While it is not the fun part of the job, staff do track reports of dead and sick birds so we can advise those calling in and we can monitor any potential threats to populations. Most often single dead birds are a result of a collision with a window or car, but a number of recent calls were obvious illness. Despite being unrelated, isolated incidents, they had one thing in common—bird feeders.
Bird feeders can sicken and kill birds in two main ways: food can spoil and poison birds, and feeders can promote disease transmission by concentrating wildlife. For these reasons, we recommend seed feeders be cleaned at least once every two weeks, and hummingbird feeders be cleaned at least once every week.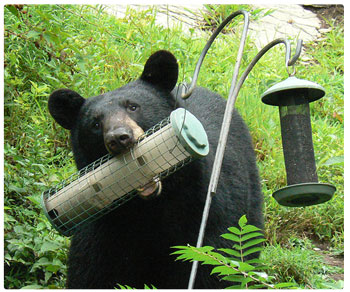 Cleaning a feeder is easy. Take it apart and use a dishwasher on a hot setting or hand wash with soap and boiling water or a dilute bleach solution (no more than 1 part bleach to 9 parts water). Rinse thoroughly and allow to dry before refilling. If you see birds you suspect may be ill, bring your feeders in immediately and do not replace them for at least two weeks.
In addition, to prevent serious conflicts with bears, the department recommends seed and suet type feeders only be used from December 1 to April 1 each year. Bear conflicts have been increasing in recent years and birdfeeders are a common cause.
Learn more about backyard birdfeeders.
Upcoming Events
Do you have an event you would like posted here? Content you would like covered? A question answered?
Contact Doug at doug.morin@vermont.gov, with the subject line "Birding Report."
See Also: