Many species have successfully raised chicks, and adults with fledglings are common around the state. Peregrine falcons and bald eagles are fledging young, though the families will remain around the nest sites for a few weeks as the young birds develop and gain more independence.
Found a baby bird?  Most birds reported as in need of help are, in fact, healthy fledglings. See our June 12, 2020 post for information on what to do if you're concerned.
What to Look For in the Next Two Weeks
Hummingbirds
If you have hummingbird feeders up—keep an eye out for fledgling ruby-throated hummingbirds starting in mid/late July! As a reminder, keep your feeders clean by regularly emptying and washing them. Please note, we recommend all seed and suet feeders only be up December 1-April 1. Bear encounters are up this year and bird feeders can contribute to habituating bears to humans.
Second nests
While the completion of a nest means many birds are done breeding for the year, others are gearing up for another nest. Many of our songbirds, including some species of warblers and thrushes will raise one to two broods per year, but some common backyard birds can do even more: eastern bluebirds and America robins can raise as many as four broods per year, and mourning doves can raise a startling six!
Migratory Shorebirds
It's hard to believe, but the first "fall" migrants are about to appear. Some species of shorebirds that pass through Vermont on their way north in May have already completed breeding in the bogs and meadows of northern Canada (greater and lesser yellowlegs) or the arctic tundra (least sandpiper, semipalmated sandpiper). These species, and others, can be found in Vermont from mid-July through mid-October, as they make their way south. Look around waterbodies, particularly in mudflats and marshes
Fish and Wildlife is for the Birds
This is the time of year Fish & Wildlife Department staff take to the fields and ponds to band Canada geese. While most birds molt a few feathers at a time, and maintain the ability to fly, waterfowl like geese are just too heavy—even a few wing feathers missing mean a bird cannot generate enough lift to take off.
So, instead of one at a time, they molt all of their flight feathers at once and go through a short period of being unable to fly, then have all new wing feathers for fall migration. During this window, geese and their now well-grown goslings take to the water for protection from predators, so you may notice geese staying particularly close to water this time of year.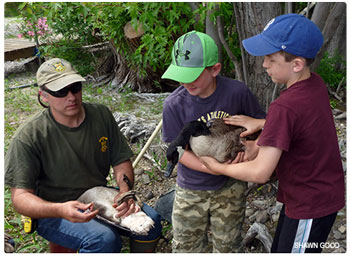 With a canoe and some fencing panels, Fish & Wildlife staff corral the flightless geese into makeshift pens, pull them out one by one, take a few measurements, place a lightweight aluminum band on their leg, and release them back out in the wild.
Each band carries a unique number, so if the bird is ever recaptured or found dead, it can be reported to a national database. "Banding" like this is one of the oldest, and most widely practiced methods for tracking birds and has led to many insights about bird migration, lifespan, site-fidelity, and more. It continues to be of great importance today to monitor and manage populations of many species.
This episode of Wildlife Watch documents a goose banding at Dead Creek Wildlife Management Area in 2018.
Upcoming Events
July 13, 2020: On the Trail of Bicknell's Thrush in Cuba. Join VCE Executive Director and Conservation Biologist Chris Rimmer to learn about a four-year effort to understand the status of Bicknell's Thrush wintering in Cuba.
July 18, 2020: LoonWatch. Survey a lake for one hour on the third Saturday of July—or if you've got time, survey a few lakes. On this single day, volunteers cover more than 160 lakes and ponds statewide each year. It's the single most effective way for to document and track breeding loons across the state. Led by Vermont Center for Ecostudies, as part of the Vermont Loon Conservation Project.
Do you have an event you would like posted here? Content you would like covered? A question answered?
Contact Doug at doug.morin@vermont.gov, with the subject line "Birding Report."
See Also: