My yard has been filled with fledging birds this week: an American robin fledgling on the lawn, three indigo bunting fledglings in a brush pile, and the first of three eastern phoebe chicks just left the nest on our stoop! The buntings are old enough to fly well, but the robin and phoebes are still very sedentary on the ground—but, that doesn't mean they need help. See our June 12, 2020 post for information on what to do if you're concerned about a baby bird.
—Doug Morin doug.morin@vermont.gov
What to Look For in the Next Two Weeks
Hummingbirds
The first few ruby-throated hummingbird fledglings are being reported at feeders. Juvenile birds are very similar in appearance to adult female hummingbirds, though careful observers may note some birds with light streaking on their throats—these are juvenile males. Folks are also reporting a significant number of territorial interactions between male hummingbirds at feeders. Often these interactions start and end as displays, but they can also escalate to outright physical altercations. The New York Times produced an excellent short video on hummingbird territorial fighting.
Late nesters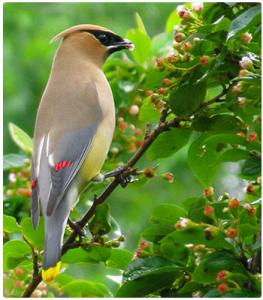 With most species winding down nesting (and some beginning their second or third nests of the year) there are still a few species that are just beginning to nest. Notably, American goldfinch and cedar waxwings are both late nesting species, beginning in July and August. These birds time breeding to match the availability of their preferred foods—seeds for the goldfinch, and soft fruits for the waxwing. Watch for the courtship display of waxwings, where they hop sideways next to each other on a branch and often exchange a piece of fruit or insect.
Common Loon Chicks Maturing
Fledgling loons will lose their puffball look soon, as they grow in their first set of adult feathers. At about eight weeks old, chicks will begin to "exercise" by orienting into the wind and practicing taking off. Loons are well adapted for swimming—they are relatively heavy and have their legs far back on their bodies. But these adaptations make taking getting airborne difficult. Strong wings and a good runway to build up speed are necessary!
Fish and Wildlife is for the Birds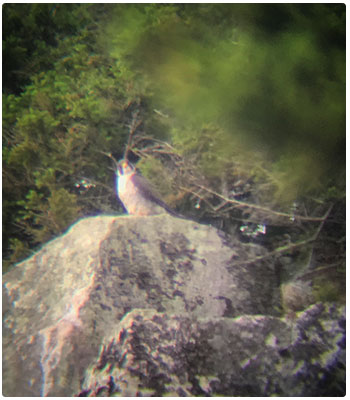 Fish & Wildlife staff have been doing final monitoring checks on peregrine falcon nests throughout the state. After significant declines in the 1900s due to egg collection and harmful pesticides, peregrines have made a dramatic comeback. In a large cooperative project, 93 captive bred birds were introduced into Vermont from 1982 to 1987, and the first pair returned to breed in 1984. Since then, the population has grown steadily. We try to monitor every peregrine falcon nest in the state – 2020 results are still coming in, but Vermont saw a new record of 56 pairs last year!
This project is coordinated by Vermont Audubon, and field visits are conducted by Audubon, F&W, and many dedicated volunteers. Cooperation with Green Mountain Club, CRAG Vermont, the US Forest Service, and numerous private landowners continues to be an essential part of maintaining the successful recovery of this spectacular species.
Upcoming Events
Do you have an event you would like posted here? Content you would like covered? A question answered?
Contact Doug at doug.morin@vermont.gov, with the subject line "Birding Report."
See Also: