Breeding season is well under way in Vermont. I know a few non-birders who are keeping their windows and blinds closed tight to block out the din of bird song now starting not long after 4am each morning. Meanwhile, observers are reporting many species building nests, incubating eggs, and with chicks in the nest. Some birds have already produced fledglings (young birds that have left the nest, or fledged) including blue jays, American robins, American crows, hairy woodpeckers, American woodcocks, eastern bluebirds, and many more.
What to Look For in June

Male and female American redstart feeding nestlings.
Nests and chicks
As we mentioned last report, this is still a great time to appreciate and learn bird songs, and to be on the lookout for nests and burgeoning bird families. Watch for repeated trips back-and-forth to a single location—there may be a nest or perhaps recently fledged chicks still receiving food from their parents.
Found a baby bird?
One note of caution this time of year. Generally, it is best not to handle young birds, even if they appear to be in distress. Most commonly people are seeing fledglings, which are young birds that can fly but still need time to develop fully and may remain in one place for long periods. They appear rough-around-the-edges, because they do not have their full plumage, and they may make unusual noises and flapping. Despite the unusual presentation, most of these birds are just fine, and only need to be left alone.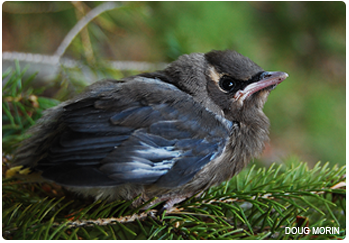 Rarely, some people find nestlings (very young birds, that should be in the nest) outside of a nest. These birds can be distinguished by having eyes that are still closed and/or feathers that are not opened yet. If there is obviously a nest nearby, it is acceptable to replace these birds.
The only time we recommend bringing a bird inside from the wild is when it is clearly and visibly injured and a licensed wildlife rehabilitator has agreed to accept the bird.
Birds, eggs, and nests are protected from harassment and harm by federal law. It is best to use caution, and almost always best to leave them as they are.
Fish and Wildlife is for the Birds
It is around this time of year that Vermonters who have been in the state for decades often ask us "why don't I hear whip-poor-wills anymore?" The eastern whip-poor-will, once well known for its distinctive song ("whip-poor-will") heard on summer evenings, has declined substantially over recent decades, and was listed as threatened in Vermont in 2011. It is a secretive and nocturnal bird, and so has eluded most traditional survey methods.
Since 2014, the Vermont Fish and Wildlife Department has contracted the Vermont Center for Ecostudies to carry out annual whip-poor-will surveys throughout the state. Surveys are conducted during peak singing hours, which are dawn and dusk, and throughout moonlight nights during late May and June. So, unlike most bird surveys, whip-poor-will surveys can last late into the night.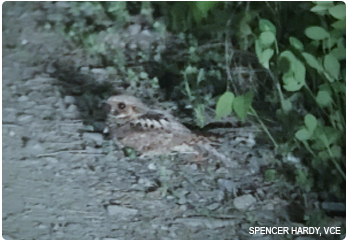 These surveys have given us detailed and valuable information about the whip-poor-will population in Vermont. The causes for the whip-poor-will's decline may include habitat loss, changes in insect prey populations, and increased predation by human-associated animals like raccoons and domestic cats.
Whip-poor-will declines are also part of a larger story, with many related species of nightjars, swifts, and swallows declining across their ranges. Other studies on some of these species are ongoing in Vermont and elsewhere.
As it stands, your best chances of hearing whip-poor-wills are around dusk and moonlit nights for the next few weeks. They prefer a habitat with mixed forests and open areas, particularly in the Champlain Valley and the Connecticut River Valley. Look on ebird for recent sightings.
Listen to VPR's Outdoor Radio segment on whip-poor-will surveys.
Upcoming Events
Do you have an event you would like posted here? Content you would like covered? A question answered?
Contact Doug at doug.morin@vermont.gov, with the subject line "Birding Report."
See Also: