We have just passed the summer solstice and most birds are incubating or rearing young. Folks are reporting chicks in nests of eastern phoebes, American kestrels, yellow warblers, and barn swallows, amongst others. Fledgling young have been reported for numerous species including woodpeckers, hawks, black-capped chickadees, American crows, American woodcocks, and tufted titmice. Observers of bald eagle and peregrine falcon nests are reporting fledging has started in some areas.
Your observations may differ based on your region—southern and low-elevation parts of the state tend to see birds returning, breeding, and fledging young earlier than northern and higher-elevations areas. Also, if an active nest fails due to a weather event, predator, or other cause, many birds will try a second nesting attempt.
What to Look For in the Next Two Weeks

Songbird chicks need about 10 -14 days to develop before they are ready to leave the nest.
Bird song may seem to become a little less emphatic over the next few weeks, as many species are completing breeding and are now rearing young.
This is still a great time to learn bird songs and to be on the lookout for nests. The time required for incubation and chick development in the nest varies widely by species. Generally, songbird eggs take 10-14 days to hatch and another 10-14 days for the chicks to be ready to leave the nest. Larger birds, take longer amounts of time – peregrine falcons, for example, take about 30 days to hatch and 30-40 days to leave the nest (a.k.a. "fledge").
As more nests reach completion, there are more families of birds out in the world. When young birds leave the nest, they are typically able to fly (or swim, in the case of water birds!) for short periods, but are still rely on their parents for food and protection. Most bird species practice a male-female partnership, with parental care provided by both parents. So, this is the time of year to look for adult birds making repeated trips to feed or instruct their offspring, and to look for awkward juvenile birds who haven't fully figured out powered flight or how to catch food.
Found a baby bird?  Most birds reported as in need of help are, in fact, healthy fledglings. See our June 12, 2020 post for information on what to do if you're concerned.
Fish and Wildlife is for the Birds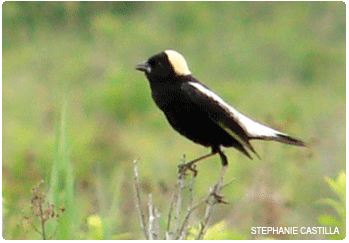 Vermont Fish & Wildlife staff (FW) were recently invited by Vermont Department of Forests, Parks, and Recreation (FPR) staff to collaborate on assessing the grassland bird habitat on State Parks in the Champlain Valley. While many of these locations are well-known birding sites for their shoreline habitats, like Button Bay State Park, a number of them also have large areas of high-quality grasslands. These areas are managed to promote grassland bird habitat through delayed mowing. If you are a landowner interesting in implementing this practice, check out the Grassland chapter of Wildlife Habitat Management for Lands in Vermont.
Happily, our site visit found nesting bobolinks, savannah sparrows, and northern harriers amongst other species. FW and FPR staff will continue to collaborate on management decisions in these areas to ensure wildlife habitat, water quality, public use, and other resource values are all maintained to the highest standards.
Upcoming Events
June 29, 2020: What Does the Future Hold for New England's Mountains? Join VCE Biologist, and coordinator of Mountain Bird Watch, Jason Hill to learn about the future of New England's Mountains.
July 18, 2020: LoonWatch. Survey a lake for one hour on the third Saturday of July—or if you've got time, survey a few lakes. On this single day, volunteers cover more than 160 lakes and ponds statewide each year. It's the single most effective way for to document and track breeding loons across the state. Led by Vermont Center for Ecostudies, as part of the Vermont Loon Conservation Project.
Do you have an event you would like posted here? Content you would like covered? A question answered?
Contact Doug at doug.morin@vermont.gov, with the subject line "Birding Report."
See Also: