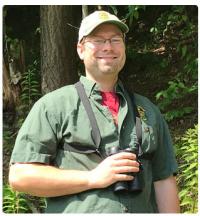 Welcome to our first birding report of the season. This is wildlife biologist and Nongame Bird Project Leader Doug Morin and I'll be writing these bi-weekly birding reports to bring you the latest on what's going on in Vermont's birding world. I hope you find the information enjoyable and it inspires you to get out and do some birding. —Doug Morin, doug.morin@vermont.gov
Spring is an exciting time for birding in Vermont. During a few short weeks, more than a hundred species of migrant birds return to the state to breed or pass through on their way to breeding grounds farther north.
The month of April has seen reports of returning species including vesper sparrow, white-throated sparrow, swallows, early warblers (including palm, pine, and yellow-rumped), and broad-winged hawks, amongst others. Vermont's state bird—the hermit thrush—is now being seen, and it's complex flute-like song is gracing forests around the state.
Finally, American woodcock which returned during April are continuing their "peent" calls and intricate displays around twilight in open fields. Aldo Leopold celebrated this display in his essay Sky Dance in A Sand County Almanac, where he wrote " I owned my farm for two years before learning that the sky dance is to be seen over my woods every evening in April and May. Since we discovered it, my family and I have been reluctant to miss even a single performance."
Can We Still Go Birding?
The most recent amendment to Governor Scott's Stay Home, Stay Safe order continues to exempt outdoor recreational activities for health and exercise. Yes, you can go outside and go birding. It is a healthy outdoor activity, and a welcome reprieve from the stresses we are all under.
We encourage all outdoor enthusiasts to follow all Governor's orders and follow all best practices to maintain public health. Visit our Outdoor Recreation and COVID19 webpage for more information.
What to look for in the next few weeks:
Early May brings many new arrivals to Vermont, including cuckoos, chimney swift, flycatchers, vireos, bobolink, and many warblers.
Two backyard favorites that arrive around the first week of May are ruby-throated hummingbird and Baltimore oriole. As you can see in the ebird map included here, they are on their way! None recorded in Vermont, yet – but some are making their way up through southern New England.
For those seeking to attract hummingbirds, feeders are traditionally red in color and use a mixture of 4 parts water to 1-part sugar. Feeders should be cleaned and refilled regularly. Also, as a reminder, all seed feeders should have been removed by April 1 to prevent bear conflicts around your homes.
Spotlight
This is an apt time for birders of all levels to try birding close to home. By spending more time observing individual birds and specific places, we can note behaviors and patterns that we might not see otherwise. Can you find a bird carrying nesting material? Do you see a bird carrying food for its young? Can you spot the first fledglings of the year?
Some nature observers have adopted what are called "sit spots"—certain places where they go to sit every day, every few days, or when circumstances allow. There they follow the natural world as it changes over days, weeks, and seasons.
Big Sit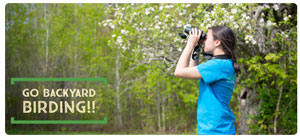 Birders have adopted similar practices, with a bit of a birding twist: a "big sit." A big sit is when a person spends a period of time (often a whole day) in one location and records as many bird species as they can identify. If you're interested in this idea, our friends at Vermont Center for Ecostudies are putting on what they call the Backyard Bird Quest 2020 on May 23, 2020!
See Also: