What a difference a few weeks make - from snow early in the month, to temperatures in the 90s! At the same time, we are in the middle of a shift in bird behavior for most bird species. By this point, all of our migratory species have returned and claimed territories, and most are now beginning nesting.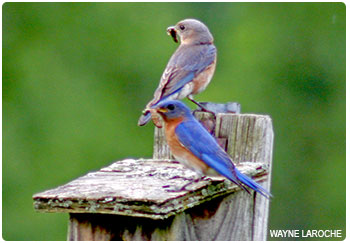 Birders are reporting observations of nests including by Baltimore orioles, eastern phoebe, and eastern bluebirds. Early-breeding species have already hatched chicks including Canada geese, multiple ducks, and bald eagles.
Reports also show a decrease in some species, particularly waterfowl and shorebirds. Waterfowl including teal, scaup, and bufflehead; shorebirds including the yellowlegs, and solitary sandpiper; and songbirds including white-crowned sparrow have now mostly passed out of the state to breeding areas farther north. But don't worry, we'll see them again in the fall as they migrate back south!
What to look for in early June
One notable late arriving species is Bicknell's thrush. If you're a hiker, look and listen for these birds in stunted spruce-fir habitats at high elevations. Bicknell's thrush is a rare songbird that only breeds in the northeastern United States and Atlantic Canada. We're fortunate the Vermont Center for Ecostudies has been pioneering work on Bicknell's thrush for decades here in Vermont and across their range.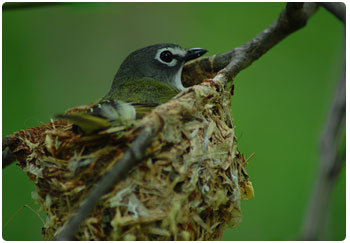 The morning chorus of birdsong can seem like a cacophony at this time of year, but—for the patient—now is the time to learn songs! Bird songs often carry a territorial message for other members of the same species, "This is my spot – everybody else stay out!". And with breeding activity peaking in June, this is the peak time for birdsong.
Here are a few resources for those starting out or wanting to dig deeper.  
This is also the time to be on the lookout for active nests. Often you can spot these by seeing adults going to-and-from hidden nest locations. Adults carrying food are often heading off to feed their chicks in the nest. Identifying and watching nests can be a fun pastime, but please remember that birds, their eggs, and their nests are protected by federal law—so maintain your distance.
Fish and Wildlife is for the Birds
The Vermont Fish and Wildlife Department's mission is the conservation of all species of fish, wildlife, and plants and their habitats for the people of Vermont.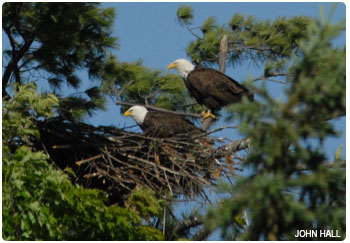 Recently, staff have been monitoring bald eagle nests. Thanks to an active reintroduction effort and sustained monitoring and management, bald eagles have increased from one pair in 2003 to almost 40 pairs documented in the state today. The department, Audubon Vermont and many dedicated volunteers now monitor every eagle nest to assess their success and manage any threats to the breeding eagles.
Most bald eagle nests around the state have hatched young at this point. Observers looking closely from the right angle will be able to see small brown heads in the nest when the adults move around. Over the next ten weeks or so, these birds will mature and become more visible until they are ready to fly on their own.
Upcoming Events
Do you have an event you would like posted here? Content you would like covered? A question answered?
Contact Doug at doug.morin@vermont.gov, with the subject line "Birding Report."
See Also: