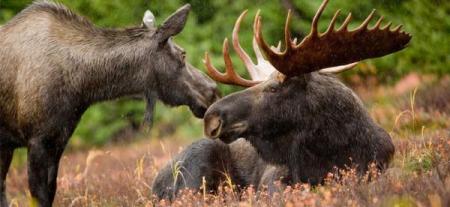 Moose herds across the Northeast are increasingly under stress from climate change. Specifically, wildlife biologists are concerned that warmer falls and early springs are increasing winter tick numbers that can have detrimental effects on moose. This study will allow the department to better gauge the moose population and its overall health.
Infographic and synopsis of Vermont Moose Mortality and Recruitment Study by Vermont Cooperative Fish and Wildlife Research Unit (UVM)
What are "winter ticks" and how do they affect moose?
Winter ticks are a parasite that have hit moose populations hard in some parts of the country. Department staff monitor moose for winter ticks in Vermont when hunters bring them to check stations. Winter ticks may number in the tens of thousands on a single moose, sucking their blood out and causing them to be weak and irritated. A moose irritated by winter ticks often rubs against trees to try to remove them, rubbing their insulative fur off in the process. Vermont's moose have much lower tick levels than moose in Maine and New Hampshire, which may be a result of the planned, deliberate reduction in moose density in Vermont.
What is the VT Fish & Wildlife Department currently doing to study moose?
The Vermont Fish & Wildlife Department currently studies moose using a variety of methods. The department gathers data from moose brought to a check stations by hunters to determine the health of the animal. This includes assessing each moose for the number of winter ticks present. Biologists also conduct springtime camera surveys on the level of hair loss of moose resulting from tick abundance. The department also surveys moose and deer hunters on their moose sightings while afield each fall to help determine trends in the moose population.
What does the department hope to find out from the study?
Biologists hope to better understand whether Vermont's moose calves are surviving to adulthood. They want to know what is causing the death of any moose that die during the study period, including those that are killed by predators such as coyotes or bears, and those that die from stress caused by winter tick parasites. They hope to determine whether adult female moose (cows) are producing young, and how many young each cow is producing. Biologists also hope to determine how far calves are dispersing from their mothers, and they want to know where moose are moving to know where to target habitat conservation efforts. This information will also improve their ability to track moose population trends in Vermont.
Have similar studies been conducted elsewhere?
State fish and wildlife agencies in New Hampshire and Maine, have already begun conducting similar studies on their moose populations. These states represent a wide variety of moose management and conservation strategies, which serves as a good basis to compare with Vermont's strategies. Vermont will follow the same methods of these states to compare findings and to take advantages of lessons learned during their studies.
How much does this study cost?
The department has committed to funding the project for two years at an estimated $424,123.00, of which 75 percent will come from federal Pittman-Robertson dollars supported by sportsmen and women. If the department can secure more funds, it will continue the study for three years.
How are moose managed in Vermont?
The overall goal of moose management in Vermont is to maintain Vermont's moose population at moderate densities to meet public desires and help ensure the health of the moose herd. Moderate densities help slows the transmission of ticks, parasites, and other diseases, and maintains moose numbers in balance with available food supplies.
How do rising global temperatures pose a risk to moose in Vermont?
Warmer summer and winter temperatures may affect Vermont's moose population in the long-term. Moose are well adapted to cold weather. They can avoid predators in deep snow and withstand harsh winter conditions that are difficult for species they compete with for food such as whitetail deer. They also have a difficult time avoiding overheating during hot summer weather. And their primary parasite, winter ticks, are better able to survive and reproduce in shorter winters with less snow. The department is monitoring moose closely in the interest of the long-term conservation of the species in Vermont.
Why are there fewer moose in Vermont these days than 10 or 15 years ago?
Vermont's moose population was considered overabundant in the early 2000s in many parts of Vermont, particularly in the Northeast Kingdom. The state's estimated 5,000 moose were overbrowsing and destroying important wildlife habitat, and were impacting local forestry practices. In an effort to deliberately reduce Vermont's moose population to bring it closer to balance with the available habitat, the Vermont Fish & Wildlife Department issued a larger number of moose hunting permits. The state's population is now closer to management goals. This deliberate reduction in moose population density may have had the additional benefit of reducing the effects of winter tick outbreaks in Vermont, which may be the reason that Vermont's moose have lower winter tick counts than in New Hampshire or Maine. Vermont currently has an estimated 2,200 moose statewide, and we are looking to maintain moose densities in the Northeast Kingdom at current levels, while promoting growth of the herd elsewhere in the state.
Why does Vermont continue to hunt moose despite conservation concerns?
Moose hunting in Vermont is conducted according to a Moose Management Plan based on science, but also with public input of people's concerns about moose. People enjoy watching and photographing moose, and just like to know that moose are healthy and abundant. Conversely, an overabundant moose population can increase the number of moose motor vehicle collisions, and cause problems to the forestry and agriculture industries. And moose meat provides a sustainable, local, and organic source of meat.
Moose are also healthiest at medium densities, when they are in balance with available habitat and have lower rates of disease transmission. Most importantly, moose at medium densities have lower winter tick levels than moose in overabundant populations.
Moose are managed regionally within Vermont. In some northern regions, moose are close to the target densities and limited hunting of both bulls and cows remains appropriate. Elsewhere in Vermont, however, moose are below density goals, so biologists recommended limiting the hunt to bulls only to allow growth of the moose herd. By hunting only bulls, the cows remain to give birth and raise young. The department works to ensure that moose will remain abundant and healthy in Vermont, with regulated hunting as one of many tools in the effort of moose conservation.
For more information on moose management, see: