Here are the latest management activities on the department's Wildlife Management Areas. Check back often for updates and what's coming soon.
February 2019
Little Ascutney Wildlife Management Area
Vermont Fish & Wildlife staff recently wrapped up a Timber Stand Improvement project on Little Ascutney WMA, which was designed to remove invasive plants and release mast producing trees for the benefit of wildlife. This work was completed under contract with Long View Forestry and was conducted over the course of several months. 
Victory Wildlife Management Area
Winter is a great time to look for animal sign.  One of the best places for this in in the snowy boreal forests of Victory Basin.  Here you'll find animals using a variety of strategies to take shelter and find food in the biting winds and deep snows of Vermont's Northeast Kingdom.  Here are a few shots from the field from Victory WMA.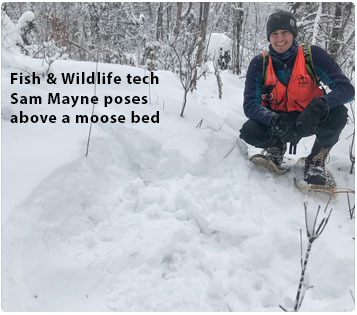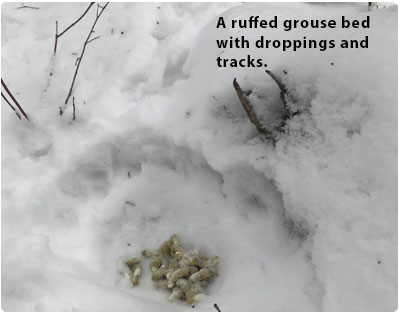 Atherton Meadows Wildlife Management Area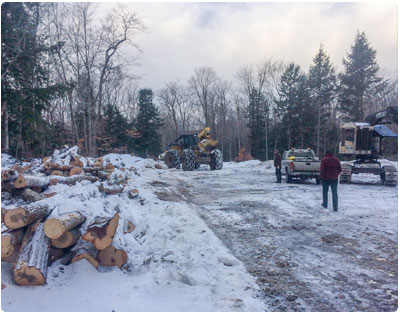 The Atherton Meadows WMA Phase 2 Habitat Improvement Project started this winter to improve habitat conditions for a variety of wildlife species. The work consists of 10 small patch cut areas to establish young forest and berries and apples as food sources for wildlife across 14 acres. Two of these cuts are located adjacent to beaver wetlands to promote and sustain local beaver populations. Another 61 acres has been designated for thinning to improve deer wintering habitat by promoting hemlock and other softwood cover.
The work will also add brush to the forest floor for habitat for small mammals and add large coarse woody debris to the forest floor, create cavity trees and standing dead trees for cavity nesting birds such as screech owls and for pileated woodpeckers to feed. This project will also improve the production of nut-bearing trees such as beech and improve timber stands for future commercial harvest. This project was paired with a similar timber harvest in 2015 that treated 39 acres and established another 14 acres of young forest habitat adjacent to this one. 
---
January 2019
Mast Stands Improved at Lower Otter Creek WMA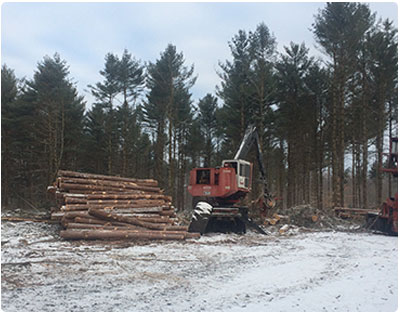 A timber harvest totaling 84 acres is occurring on Lower Otter Creek WMA to enhance wildlife habitat. The harvest will promote mast trees—trees such as oak, beech, and hickory that produce food for wildlife—next to an active deer wintering area. The harvest will also create early successional habitat for ruffed grouse and songbirds and reduce invasive plants.
Portions of the WMA were previous monoculture pine plantations, and these will be converted to healthy forests with diverse native species. Harvesting is done during the winter to avoid soil damage and negative impacts to endangered bats, which have left the area to hibernate in caves and mines for the winter. The timber harvest will leave branches and tree tops on the ground to provide habitat for small mammals such as rabbits and weasels.
Timber Harvests Create Excellent Hare Habitat on Steam Mill Brook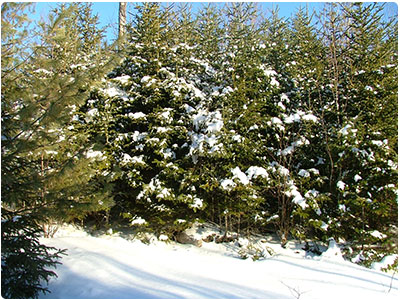 Timber harvesting is conducted on WMAs to improve forest health and vigor, maintain or enhance tree species diversity, and create habitat to support a greater abundance of wildlife. At Steam Mill Brook WMA, several timber harvests implemented 10 to 15 years ago to regenerate spruce/balsam fir forest have successfully regenerated dense stands of this evergreen cover.The patches of saplings are now reaching prime age to provide excellent habitat for snowshoe hares.
Hares are a main prey item for a wide variety of predators, including bobcat, fox, coyote, fisher, hawks, and owls. They are also a popular winter game species, pursued by hunters throughout the winter months. For these reasons, hares spend much of their time in the nearly impenetrable cover provided by large patches young spruce/fir.
The timber harvests at Steam Mill Brook WMA provide habitat for hares, songbirds and other wildlife, supply forest products, and contribute to the economy and working landscape that WMAs help maintain throughout Vermont.
See also: