Here are the latest management activities on the department's Wildlife Management Areas. Check back often for updates and what's coming soon.
Fall 2020
The Vermont Fish & Wildlife Department will be completing several infrastructure improvement projects on several WMAs in the Champlain Valley and Northeast Kingdom from October through mid-December. 
Federal funding became available in recent months and must be used by the end of the year, so these projects must be completed during this period.  All listed project sites will remain open to the public. However, users should use caution and expect minor delays at times. Updates will be posted here.
Dead Creek WMA
Route 17 Goose Viewing Area Road Improvements
Brilyea Road Improvements
Headquarters and Visitor Center road re-paving - Paving began 10/7 and should last approximately two weeks. We advise anyone using the road to use extreme caution due to the presence of heavy equipment. There may be minor delays in accessing the visitor center or controlled hunting zones. 
Little Otter Creek WMA
East Slang Forest Road Improvements
Snake Mountain WMA
Western Trail waterbars and emergency access improvements
Lewis Creek
Hillsboro Road and parking area
Ireland Road parking area
Get details on the road improvement projects on Wenlock WMA, West Mountain WMA, and Bill Sladyk WMA in the Northeast Kingdom from October through mid-December.
Although the access projects may cause short term inconvenience or disruption for some activities this fall, the long term benefits of improved roads and parking, and repairs to areas of high foot traffic using this unprecedented funding will benefit all who enjoy these WMAs for many years into the future.
---
Summer 2020
Eagle Point Osprey Platform
Vermont Electric Coop (VEC) replaced an osprey nest platform that blew off the utility pole at the Eagle Point WMA this spring. Many thanks to VEC for donating staff time, trucks and materials to reconstruct the platform.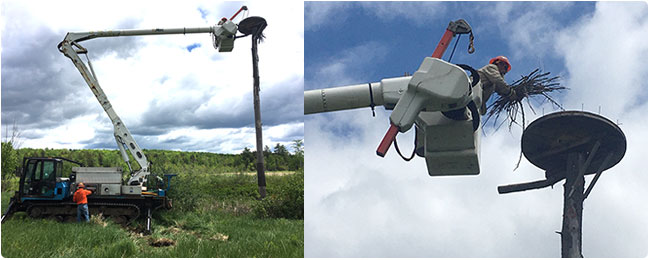 Damon's Crossing at Victory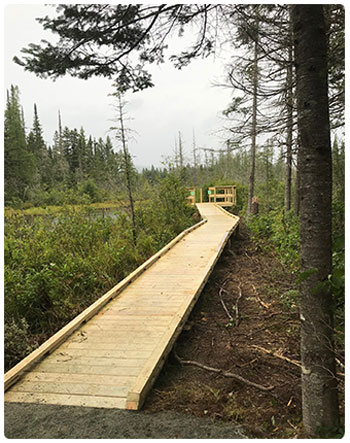 Victory Basin is a favorite for bird watching and one of a small number of places to find gray jay, boreal chickadee, and black-backed woodpecker. Damon's Crossing is the most attractive parking area, but the old railbed trail north of this area had degraded past the point of use. To remedy this approximately 750 feet of existing trail on the old railbed were upgraded, including widening, graveling, and adding boardwalks to an observation platform overlooking a small pond and Moose River basin.
NorthWoods Stewardship Center provided the labor and the project was overseen by Forest, Parks, and Recreation (FPR) Recreation Specialist Luke O'Brien.
Dead Creek Visitor Center Interpretive Trail
Staff from the wildlife and outreach divisions have been working on an interpretive trail design concept at the Dead Creek Visitor Center. The trail will highlight and discuss a variety of strategies landowners can use on their own land to enhance wildlife habitat and diversity.
The effort started several years ago in a collaboration with the UVM Sustainable Landscape Design class providing 18 design options to the trail team. Elements from each of those designs have been included in the final concept, created by a professional contractor.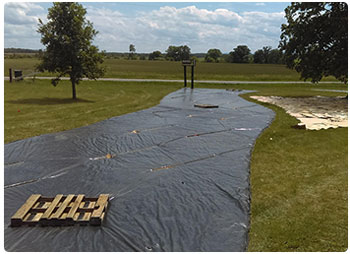 Right now, the trail doesn't look like much. If you visit Dead Creek, you will notice flagging, cardboard, and plastic covering the lawn. This is in preparation for a variety of plantings scheduled for the fall and next spring. While it may look ugly now, we are hoping to have the actual trail constructed by the end of the year, and some new plants growing in summer of 2021!
---
Summer 2019
WMA Information Kiosks Updated Statewide
Vermont Fish & Wildlife Department will be installing new entrance signs and updating 93 information kiosks on 44 WMAs throughout Vermont this summer. Substantial funding and staff time have been dedicated to this effort to improve the experience of WMA visitors. New information panels for the kiosks welcome visitors to the WMA, list allowed/prohibited activities, and display a map of the property. Many visitors use their phone to snap a photo of the map to use while recreating on the WMA. Although the information panels provide a summary of activities allowed on WMAs, additional restrictions may apply to camping, group activities, and other uses.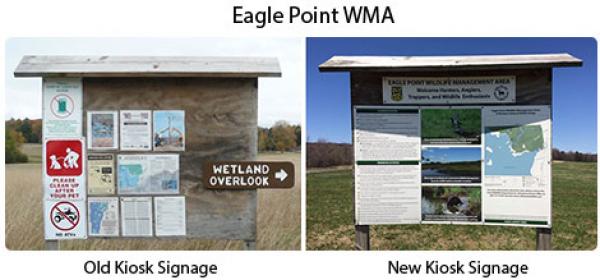 Victory Basin WMA Railbed Trail Upgrades

click to enlarge
About 1.25 miles of the former railroad bed in Victory Basin WMA is being upgraded to improve access for hunters, birders and other recreationists this summer. VT Fish & Wildlife Department and the VT Department of Forests, Parks, and Recreation pooled their funding and staff expertise to accomplish the work. The railbed south of the Damon's Crossing parking area to the pedestrian bridge over the Moose River will be cleared of blowdowns, brush, and stumps to facilitate mowing. Small bridges over water crossings will also be installed by a crew from the NorthWoods Stewardship Center. The former railbed trail north of Damon's Crossing will be decommissioned, allowing it to revegetate and revert to wetland, assisted by beaver activity in that area.
Events at Dead Creek WMA
Guided walks at Dead Creek WMA were offered in May and June, giving the participants the chance to learn more about the animals and plants that call that area home.
Wild Flower Walk
Bob Popp, Fish & Wildife botanist, and Everett Marshall, department Natural Heritage Information manager, led a group of about 30 people on an exploration of the wild flowers well as the Clayplain Forest found on this WMA. This forest is one of the largest examples of a Clayplain Forest natural community in the state.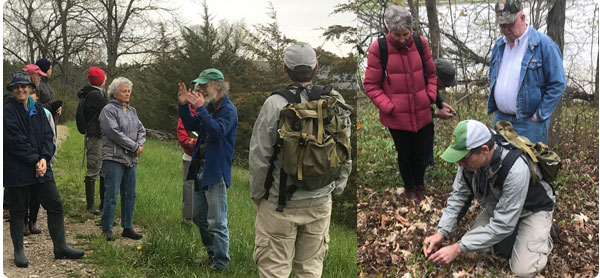 Insect Observation Walk
Mid-June is the peak of insect emergence. On a perfect weather evening on June 14th, VT Fish Wildlife Department biologist Mark Ferguson and Vermont State Game Warden Kelly Price led a group of about 15 people on an insect observation adventure. Using a variety of trapping methods, the group collected and examined a variety of moths, beetles, and other insects on-site. Ferguson and Price also brought some of their collections for people to see. 
Ferguson works for the department conserving Vermont's rare, threatened and endangered insect species and is a knowledgeable expert on the fun and fascinating world of bugs. Warden Price has travelled the world to observe and collect insects and has two insect species named after him.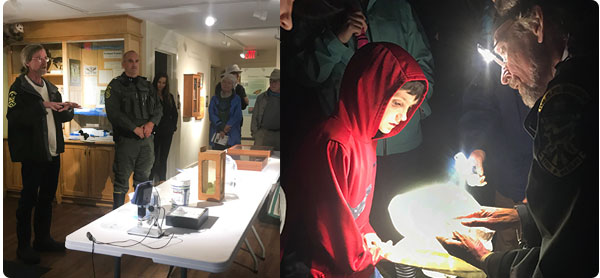 ---
March 2019
Turtles Nesting on Lake Champlain WMAs in 2018
Sandbar Wildlife Management Area, Milton
State-threatened spiny softshell turtle nested on several WMAs in 2018. Seventy-seven nests were found and only one nest was depredated at Sandbar WMA. We estimated that 961 hatchings emerged, we released 67, and 13 were kept for a total of 1041. No nests were dug up by predators such as raccoons, foxes, and skunks during the emergence period.
We continued to work to protect the nests, including using mesh fencing laid over the beach after the turtles had completed their egg-laying period around July 15, setting up an electric fence around the perimeter and a second six-foot fence to deter predators, and regularly monitored and trapped predator mammals. Shale beaches are more effectively protected by wire mesh than sand beaches because predators find it more difficult to pull the shale through the mesh.
Carmen's Marsh Wildlife Management Area, Swanton
A large patch of sand with good solar exposure along Lake Chaplain was used by nesting spiny softshells. The area is prone to lake flooding, but conditions were favorable during 2018. We were able to partially protect nests in the sand beach with elevated wire mesh. Although they are more labor intensive to install, it is harder for a predator to dig nests in the sand through the elevated wire. We estimated that 113 young emerged from the nests and we released one hatchling. Seven nests were dug up by predtors during the emergence period. In future low water years, this site has good potential to produce many young turtles.
Game Camera Study on Northeast Kingdom WMAs
To be successful in the snowy wilds of Vermont's Northeast Kingdom wildlife management areas, you have to either have some long legs or snowshoes on your feet. Luckily, these critters both do! These photos were taken on a game camera as part of an effort to monitor for lynx and marten. While the cameras haven't found any of those species yet, they did catch a big bull moose on December 20 and a snowshoe hare on February 10. Notice the increase in snow depth in less than two months - some of our snow stakes are even completely buried now!
---
February 2019
Little Ascutney Wildlife Management Area
Vermont Fish & Wildlife staff recently wrapped up a Timber Stand Improvement project on Little Ascutney WMA, which was designed to remove invasive plants and release mast producing trees for the benefit of wildlife. This work was completed under contract with Long View Forestry and was conducted over the course of several months. 
Victory Wildlife Management Area
Winter is a great time to look for animal sign.  One of the best places for this in in the snowy boreal forests of Victory Basin.  Here you'll find animals using a variety of strategies to take shelter and find food in the biting winds and deep snows of Vermont's Northeast Kingdom.  Here are a few shots from the field from Victory WMA.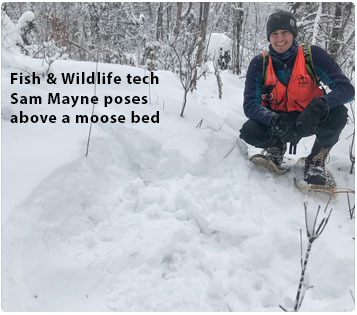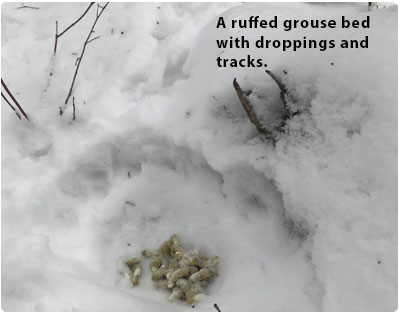 Atherton Meadows Wildlife Management Area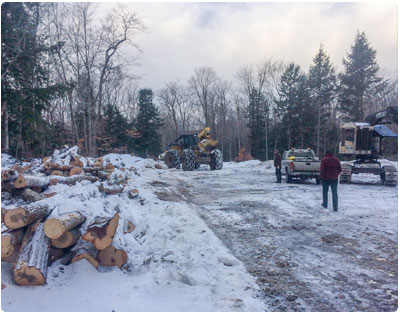 The Atherton Meadows WMA Phase 2 Habitat Improvement Project started this winter to improve habitat conditions for a variety of wildlife species. The work consists of 10 small patch cut areas to establish young forest and berries and apples as food sources for wildlife across 14 acres. Two of these cuts are located adjacent to beaver wetlands to promote and sustain local beaver populations. Another 61 acres has been designated for thinning to improve deer wintering habitat by promoting hemlock and other softwood cover.
The work will also add brush to the forest floor for habitat for small mammals and add large coarse woody debris to the forest floor, create cavity trees and standing dead trees for cavity nesting birds such as screech owls and for pileated woodpeckers to feed. This project will also improve the production of nut-bearing trees such as beech and improve timber stands for future commercial harvest. This project was paired with a similar timber harvest in 2015 that treated 39 acres and established another 14 acres of young forest habitat adjacent to this one. 
---
January 2019
Mast Stands Improved at Lower Otter Creek WMA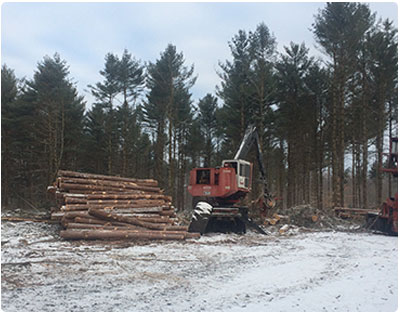 A timber harvest totaling 84 acres is occurring on Lower Otter Creek WMA to enhance wildlife habitat. The harvest will promote mast trees—trees such as oak, beech, and hickory that produce food for wildlife—next to an active deer wintering area. The harvest will also create early successional habitat for ruffed grouse and songbirds and reduce invasive plants.
Portions of the WMA were previous monoculture pine plantations, and these will be converted to healthy forests with diverse native species. Harvesting is done during the winter to avoid soil damage and negative impacts to endangered bats, which have left the area to hibernate in caves and mines for the winter. The timber harvest will leave branches and tree tops on the ground to provide habitat for small mammals such as rabbits and weasels.
Timber Harvests Create Excellent Hare Habitat on Steam Mill Brook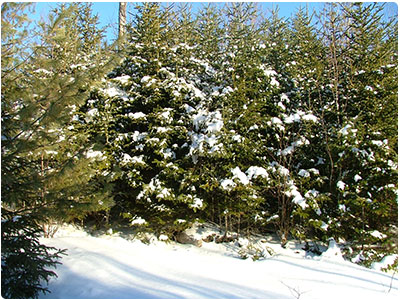 Timber harvesting is conducted on WMAs to improve forest health and vigor, maintain or enhance tree species diversity, and create habitat to support a greater abundance of wildlife. At Steam Mill Brook WMA, several timber harvests implemented 10 to 15 years ago to regenerate spruce/balsam fir forest have successfully regenerated dense stands of this evergreen cover.The patches of saplings are now reaching prime age to provide excellent habitat for snowshoe hares.
Hares are a main prey item for a wide variety of predators, including bobcat, fox, coyote, fisher, hawks, and owls. They are also a popular winter game species, pursued by hunters throughout the winter months. For these reasons, hares spend much of their time in the nearly impenetrable cover provided by large patches young spruce/fir.
The timber harvests at Steam Mill Brook WMA provide habitat for hares, songbirds and other wildlife, supply forest products, and contribute to the economy and working landscape that WMAs help maintain throughout Vermont.
See also: