November 2018
Volunteers from the National Wild Turkey Federation worked to promote apple trees at Whipple Hollow WMA in West Rutland. Apples provide a valuable food source for a variety of wildlife including white-tailed deer, wild turkeys and ruffed grouse. Without regular maintenance, old apple trees get overtaken by other tree species and will eventually be shaded out and die. Releasing these trees by cutting and thinning the trees around them ensures that this food source will remain. 
There are many old apple orchards on wildlife management areas in the Rutland District. If you would like to volunteer to help maintain this resource, please contact Fish and Wildlife Specialist Joel Flewelling at (802) 786-3879.
Protecting a Globally Rare Plant
This year, due to localized drought conditions, Lake Champlain drew down quite a few feet to the unusually low level of 93.72 feet above sea level. Following 2016 and 2001, this is the third lowest level in 50 years, and it was an opportunity for visitors to see our unusual grassland communities that temporarily carpet our wet sandy beaches only when the water gets low, including along Sandbar WMA. Thanks to signage, education, and management at Sandbar and Alburgh Dunes State Parks, we were able to protect a globally rare plant, Wright's spikerush (Eleocharis diandra), from being trampled. Among many other rare species that grow at these sand beaches, the Wright's spikerush is known from only 40 sites globally, mostly on Lake Champlain.
Improving Aquatic Stream Passage on Paul Stream
The bridge over the North Branch of Paul Stream at West Mountain WMA was recently replaced. This was part of an effort that began over three years ago to replace two culverts over major stream crossings on West Mountain WMA. In addition to greatly improving the ability of trout to move up and downstream under the road, it ensures the road remains passable and does not wash away, which was a serious concern. Fisheries staff have also done strategic wood additions to the stream to improve brook trout habitat. The improvement was funded through proceeds from leases on camps located on the WMA, with Trout Unlimited covering a portion of the engineering costs.  
New Boardwalk Offers Great Viewing
This male spruce grouse was spotted along the brand-new boardwalk at Moose Bog on Wenlock WMA. He seemed to be pretty happy! Spruce grouse are a state-endangered species. 
---
OCTOBER 2018
Rare Plants at Sandbar WMA
The rare plants of draw down sand beaches and bulrush marshes are certainly blooming up a storm on the exposed low beaches at Sandbar Wildlife Management Area, as well as at neighboring Sandbar State Park. There are numerous rare plants, including the globally rare spikerush, that only come up in low water years like this past summer. The seeds of these plants can live for decades underwater—probably sometimes for over a century, waiting to be exposed to air and germinate.
As hunting season is upon us, hunters and recreationists can enjoy these extensive grasslands that temporarily form on the shores late in the season. While enjoying these ephemeral green and bronze grasslands, you can help steward them by watching your step. And more importantly by not driving or bicycling on the wet beaches. 
Low Water Levels Bring in the Birds
Although water levels are low in some of the marshes this year, large numbers of ducks, geese and wading birds are currently using the shallow marsh conditions around Sandbar Wildlife Management Area. The birds inhabit shallow areas along the shore and mudflats exposed in the fall due to low water conditions.
Marsh-dwelling birds like soras, pied-billed grebes and common moorhens can be heard in the cattails. Great blue herons commonly fly overhead and forage in the shallows. Breeding pairs of osprey have built large nests, some of which can be viewed from Route 2.
Waterfowl hunters may want to try hunting some of our inland wildlife management areas such Turner Hill Wildlife Management Area or Fairfield Swamp Wildlife Management Area. These areas are likely to hold plenty of ducks during years when water levels on Lake Champlain are lower.
New Boardwalk at Moose Bog
A new boardwalk at the popular Moose Bog at the Wenlock Wildlife Management Area will provide additional opportunities for people to see wildlife in Vermont's Northeast Kingdom. The boardwalk, which was built to comply with the Americans with Disabilities Act (ADA), provides an immersive experience in nature in Ferdinand, Vermont. 
The project was completed by the Vermont Fish & Wildlife Department and Vermont Department of Forests, Parks, & Recreation using labor from the Northwoods Stewardship Center. A financial contribution from the Northeast Kingdom and Ammonoosuc chapters of the Audubon Society in Vermont and New Hampshire will fund the cost of interpretive signs that will be built this coming winter.  
Moose Bog is a very popular spot, with a beautiful view and fantastic opportunities to see wildlife. In just a short one-mile trip, visitors may spot rare boreal forest birds such as spruce grouse, boreal chickadees, grey jays, and black-backed woodpeckers, in addition to the chance to see a moose. The bog itself is a beautiful black spruce bog, with a floating mat of sphagnum moss and many rare bog plants such as Labrador tea, pitcher plants, and sundew. 
The crew worked to make the trail comply with national ADA standards, but it is still a one-mile round trip and involves some elevation gain, so the full trip may not be appropriate for everyone. Visitors can also enjoy other nearby ADA-accessible state lands at Sentinel Rock and Brighton State Parks.
Expansion of Steam Mill Brook WMA
One of the state's largest wildlife management areas, Steam Mill Brook WMA, in the towns of Walden, Stannard, Wheelock and Danville, has expanded by 225 acres as the result of a recent land acquisition.  The WMA comprises roughly 11,000-acre tract of land in Caledonia County that is permanently conserved and managed to enhance wildlife habitat as well as provide public access for wildlife-based recreation such as hunting, fishing, wildlife-watching, photography, or gathering wild edibles. 
The Steam Mill Brook area contains a large expanse of unbroken forests and provides an important corridor for wildlife moving between the Worcester Mountain Range and the Northeast Kingdom. The area was identified by the recently completed Vermont Conservation Design project as high priority for conservation by the department and Vermont Agency of Natural Resources.
Whether you're eager to pursue deer or grouse, this new addition to Steam Mill Brook WMA will be of interest to you this fall given the abundance of high-quality young forest habitat it supports. The newly conserved land area has been managed to create young forest habitat critical for many species of wildlife, from chestnut-sided warblers to American woodcock to moose.
Every time a biologist visits this property, they've seen an abundance of wildlife and wildlife sign, according to Lands and Habitat Program Manager John Austin. 
---
SUMMER 2018
Apple Orchard Release on Lewis Creek WMA
Staff recently released three acres of apple orchards on the eastern side of Lewis Creek WMA. The work was completed on two old homesteads along Main Road on the border of Starksboro and Buel's Gore next to the Huntington River. Apple trees and black cherry were the main species targeted for release by removing the competing hardwoods and providing less competition and more direct sunlight to these early successional species. We plan to follow up the harvesting with some targeted invasive plant control work.  The project was partially funded through the Ruffed Grouse Society along with federal Wildlife Restoration Funds.
Enhancing Habitat on Dead Creek WMA
Staff at Dead Creek Wildlife Management Area in Addison have been busy improving habitat for wildlife, especially waterfowl and shorebirds. They are drawing down the Main Branch of Dead Creek to 25 percent of normal water level and the West Branch to 50 percent. Water levels on Dead Creek are managed to create feeding areas for migrating birds. Impounded units are selectively lowered mid-summer to support plant species that serve as vital food sources for migrating waterfowl in the fall.
Migrating shorebirds are attracted to mudflats and shallow water created by the drawdowns in an event dubbed "The Addison Phenomenon" by birders. Staff are also planting feed crops such as buckwheat and millet in the refuge portion of the wildlife management area to provide food for migrating waterfowl like snow geese and Canada geese.
Controlling Invasives on Lemon Fair WMA
Over at Lemon Fair Wildlife Management Area in Bridport and Cornwall, staff are working to control invasive poison parsnip. This non-native plant looks like a yellow version of Queen Anne's lace. It is a dangerous plant, as the sap causes severe chemical burns on people's skin in the presence of sunlight.
Parsnip is a challenging plant to eliminate, and the extent of area affected at the Lemon Fair has required herbicide treatments. Removing poison parsnip not only creates a safer environment for people, but also helps provide space for native plants wildlife prefer to feed on to grow.
Trails on Snake Mountain WMA
Staff are continuing to assess trails at Snake Mountain Wildlife Management Area and improve the main trail off Mountain Road to prevent erosion. Wildlife management areas are managed for dispersed, wildlife-based recreation. While there are some trails that department staff have sanctioned and built for specific purposes such as disabled access or wildlife viewing, trails are not generally built on WMAs.
At Snake Mountain, people have constructed numerous unsanctioned trails, often through ecologically sensitive areas. There is high demand for access to this popular area, so staff are currently assessing which trails may make sense to keep and how to best facilitate a wildlife-based experience for visitors to the WMA. Recently, the lands team met at Snake Mountain to discuss options.
---
WINTER 2018
Canada Lynx Survey on Northeast Kingdom WMAs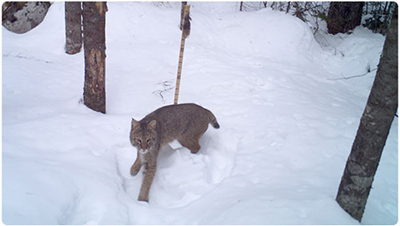 Department biologists conduct wildlife and plant studies year-round to develop plans which protect and manage species and their habitat on WMAs. As part of a study to learn about the presence and locations of Canada lynx in the Northeast Kingdom, biologists have placed remote cameras at sites prepared to attract wildlife in an effort to photograph the cats. This winter a total of 12 remote cameras were set in Victory Basin, West Mountain, Wenlock, and Bill Sladyk WMA. Moose, deer, bears, coyotes, bobcats, fisher, raccoons, porcupines and other animals have been photographed during the study, but no lynx have been confirmed yet on the cameras. The sites will be monitored through the winter for the best chance of detecting the wide-ranging lynx.  
Timber Harvest - West Mountain WMA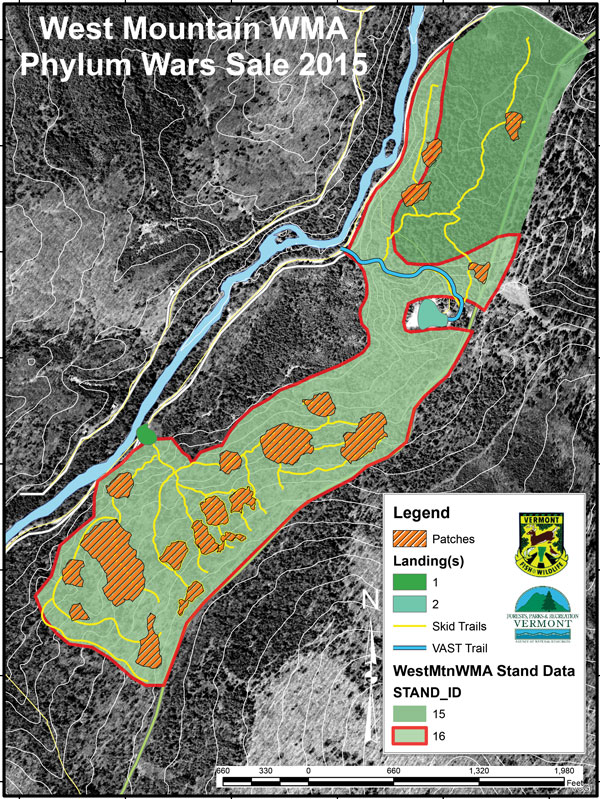 This past fall and early winter a timber harvest was conducted on West Mountain WMA near the Paul Stream Road. The harvest covers about 137 acres in a mixed forest type of spruce-fir, red maple, yellow birch, white pine and a few small plantations of red pine. Trees were harvested in patches ranging from ¼ to 3.5 acres in size; in total 19 patches were cut. 
The intent of these openings is to promote a forest of trees of varying ages, maintain a forest containing many species of trees and shrubs, and to start growing a new generation of tree seedlings. Young softwood trees are a primary goal, as they benefit snowshoe hare, various songbirds, and eventually provide cover for deer in the winter months.
Logs harvested responsibly to enhance wildlife habitat on West Mountain WMA are used to produce renewable fuel, fiber, and building materials.
Patch Cuts on Atherton Meadows WMA in Whitingham
Several patch cuts were conducted to create new wildlife habitat. The patch cuts will benefit deer, bear, and snowshoe hare. The size and shape of the patch cuts was in influenced by water features and the desire to maintain softwood cover. As the young forest grows back these areas will soon be teeming with wildlife. We also finished road construction work, improving public access to the WMA. See the map for the location of the patch cuts.
See also: