Connecting to Fish and Wildlife Staff
In response to Governor Scott's March 24, 2020 Stay Home, Stay Safe Executive Order to help slow the spread of COVID-19, Fish and Wildlife employees have transitioned to telework at this time - with very limited exceptions for reasons of health and safety.  We encourage members of the public to conduct business with our staff via phone, email or the web and we ask for your patience as we adjust to these unusual working conditions. If you have trouble reaching the staff member you need or do not know where to start, please contact us at:
Department of Fish & Wildlife - (802) 828-1454
Online and phone options
Outdoor Recreation
UPDATED: April 9, 2021 
Travel: Except for international travel, travel no longer requires quarantine.
Unvaccinated Vermonters who have traveled outside the state must be tested within 3 days of returning to Vermont. Learn more.
Unvaccinated people planning to visit Vermont must have a COVID-19 test within 3 days before arriving in Vermont. Learn more.
Rules for international travel are different. Learn more.
Masks are required in public spaces in Vermont.
A Vermont fishing license is your passport to angling adventures, and are available in single day, weekly, or annual memberships. Trout and salmon season is open and fish stocking is completed. Plus, kids under 15 always fish free.
Remember to get your 2021 FISHING LICENSE and follow the REGULATIONS.
Hunting
Spring offers some exciting hunting opportunites:
Hunter Education courses are avialable in-person as well as online. Learn more about Hunter Education courses.
Remember to purchase your 2021 HUNTING OR COMBINATION LICENSE and follow the REGULATIONS.
The department owns and manages 130,000 acres across 100 Wildlife Management Areas statewide that offer wildlife-based recreational opportunities such as hiking, photography, and wildlife-viewing. Please remember early season hiking may be limited on some trails due to mud and/or peregrine nesting sites.
NEW 

Vermont Outdoors Mobile App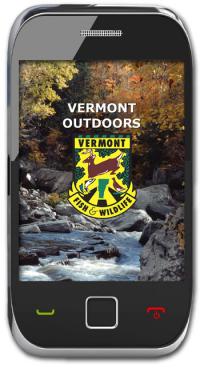 To help the public recreate outdoors safely and in a socially distanced manner, we created the new Vermont Outdoors mobile application to connect you with department lands, fish and wildlife regulations, and up to date COVID-19 guidance. The app will help new and existing recreationalists find opportunities to hunt, fish, trap, or view wildlife on public lands and waters. You will also have easy access to fish and wildlife law digests, baitfish dealers, department news and current events, and reporting fish or wildlife violations. 
The app can be downloaded at the Apple App Store for iPhones and Google Play for Android phones.
COVID-19 remains the unknown in all our planning for GMCC during the summer of 2021. The requirements necessary to keep staff and campers safe and healthy could mean last minute changes. As parents/guardians please be aware that while registration is open , with all camp weeks available to the full number of campers, the specific details of how camp may run are subject to change based on guidance from the Vermont Health Department and the Governor's orders. 
Read current plans for operating GMCC under COVID
COVID-19 Guideance
Take Health & Safety Precautions
Vermonters have broader latitude to pursue outdoor recreation, including additional opportunities for hunting, fishing, foraging, wildlife watching, and wildlife photography, among others. While the increased access to recreation is welcome, it is important to know that limitations and restrictions needed to reduce the risk of spreading COVID-19 still apply:
Keep a 6-ft distance from other people.
Masks or cloth facial covering are required in public wherever close contact is unavoidable including public spaces, indoors and outdoors. Mask and cloth facial coverings are not required when someone is engaged in strenuous exercise or activity.
Wash your hands with soap and water or use hand sanitizer.
Avoiding touching surfaces which are often touched by others.
Clean and disinfect equipment that is shared.
Stay home if you are sick or have recently been exposed to someone who has COVID-19.
When engaging in outdoor recreation, do so safely and carefully. Search and rescue and emergency medical services both put strain on an already stressed system to provide those services.
Keep Your Social Circle Small
When recreating with others, choose other trusted households that are also taking health and safety precautions. This could be another family, or members of your own family who live in a separate household.
Limit your group to the Vermont Department of Health recommendations.
Stay Close to Home
Outdoor recreators are asked to stay as close to home as practical to reduce the risks presented by additional travel.
Consider outdoor spaces and open areas where it is not too crowded and easier to keep a physical distance.
Choose activities that do not require sharing food or touching shared objects or other surfaces.
Private Land Use
Those participating in activities outside are reminded that while trail and land management organizations may decide to open their property, in same cases they may not. As always, those hunting, fishing and enjoying other kinds of outdoor activities should respect the land and waters they recreate on, and if organizations choose to keep their lands closed should respect that and follow their guidelines.
Respect and Courtesy
The need for courtesy and respect among users is even more important during this pandemic than it is in normal times. For example, nobody should be gathering or congregating at parking areas, trailheads, access areas or other places before or engaging in recreation. Please give each other plenty of space, whether masks and other protective measures are utilized or not, and please keep dogs on leashes when they are in public places.
Providers of Outdoor Goods and Services
Outdoor goods and services businesses are open for customers to purchase and access equipment and services. Those businesses are reminded that they must conduct their operations in accordance with Agency of Commerce and Community Development rules, which can be found here.
Nonresidents Recreating in Vermont
Effective April 9, 2021: Travel no longer requires quarantine.
Unvaccinated people planning to visit Vermont must have a COVID-19 test within 3 days before arriving in Vermont. Learn more.
Rules for international travel are different. Learn more.
Masks are required in public spaces in Vermont.
Learn More