In 1920, the Vermont Fish & Wildlife Department purchased 1,000 acres of land in Milton, creating the Sandbar Waterfowl Refuge, that ultimately became the state's first wildlife management area (WMA). Since then, the department has expanded its ownership and management of WMAs throughout Vermont to 100, totaling approximately 130,000 acres.
The department carefully manages WMAs to benefit wildlife as well as to provide opportunities for the public to access and enjoy these areas. Whether you're look for a place to watch Canada jays and spruce grouse, or to hunt deer, ruffed grouse or Canada geese, WMAs are special places for all Vermonters to enjoy fish, wildlife and the natural world. 
Conservation and management of all WMAs is funded through sporting license sales, the Federal Aid in Wildlife Restoration Fund, and the Vermont Habitat Stamp. All WMAs are open to hunting, trapping, fishing, wildlife viewing and other wildlife-related outdoor activities.
Find a WMA to explore by selecting a district to view maps and descriptions of WMAs in that district.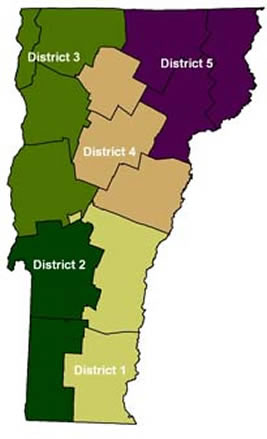 Windham & Windsor Counties
Bennington & Rutland Counties
Addison, Chittenden, Franklin, & Grand Isle Counties
Lamoille, Washington & Orange Counties
Caledonia, Essex & Orleans Counties
This rule formalizes existing and ongoing management in order to improve enforcement, clarify priority uses, set clear expectations for the use of these lands, and protect the safety of the public. Learn more...
Check here to see what roads are open in the Kingdom Heritage Lands.
The Vermont Agency of Natural Resources believes that people with mobility disabilities are equally entitled to all rights and privileges of anyone else who seeks the values from recreational use of their public lands. We make every effort to provide reasonable accommodations in our policies, practices and procedures to allow people with mobility disabilities access to state lands.
See also: