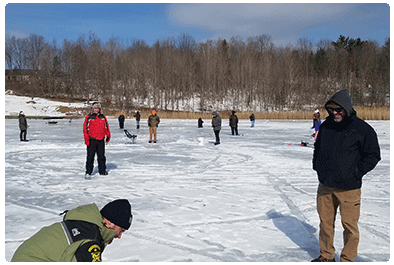 New to ice fishing and looking for fishing tips? Wondering how the fish survive under the ice? Want to meet your local State Game Warden? Then check out one of our new Educational Patrols this winter on lakes and ponds across Vermont.
Vermont State Game Wardens and the department's education staff will be roaming the ice of the hosting lake and stopping by to offer pointers or just chat with anglers about their season.
The Educational Patrols will last approximately one to two hours. No registration required.
Participants should bring their own equipment and set up on the ice to fish.  
Face masks, social distancing and fishing licenses are required.
Dates, times and locations for the sessions are listed below. Staff will be patrolling within a reasonable distance of the public access point.
For more information, email Corey.Hart@vermont.gov or call 802-505-5562.
Educational Patrols Schedule (no registration required)
February 20: Memphremagog-South Bay, Newport — 9:00am - 10:30am
February 20: Memphremagog-Whipple Point, Derby Line — 11:00am - 12:30pm
February 21: Bomoseen- Kehoe Access (Green Dump), Castleton — 8:00am -9:30am
February 21: Bomoseen State Park, Castleton — 10:00am - 11:30am
February 24:  Hoyts Landing, Springfield — 10:00am - 11:30am