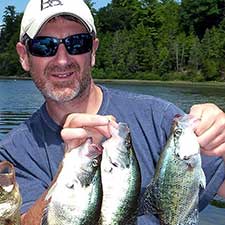 Happy 4th of July!  While Memorial Day weekend is the unofficial kick-off to summer, Independence Day is the grand-daddy of summer holidays, synonymous with backyard BBQ's, lakeside relaxation, fireworks … and fishing.  We're halfway through what's been a tumultuous year so far, so this weekend we should all make a point to relax a little with friends and family, find some normalcy, and let loose a bit.
For me, that means spending the next few days outdoors, focusing on the important things in life.  Fishing, hiking and mountain biking VT's Green Mountains are some of the motivators that get me out.  The activities themselves help me unwind, have some fun, catch some dinner, get some exercise, stay healthy, and relax.
But there's a much deeper, more meaningful effect these activities have – because it's who I do them with that really matters. Time spent fishing with your family makes memories, strengthens bonds, and brings you closer.  These precious moments slip away far too fast, but are ingrained forever.  It's the most significant aspect of fishing, in my opinion.
It reminds me of the Trace Adkins song Just Fishin':
I'm lost in her there holdin' that pink rod and reel
She's doin' almost everything but sittin' still
Talkin' 'bout her ballet shoes and training wheels
And her kittens
And she thinks we're just fishin'
This weekend, take your kids fishing.  If you're older, maybe it's time to grab your mom or dad, or your grandma or grandpa.  Pay back the favors from your childhood, put a smile on their face, and take them fishing. Because it's more than just fishing.
 —Shawn Good, Fisheries Biologist. shawn.good@vermont.gov
New Year Resolution Check-In:  
This week, in place of the Species Profile, I thought it would be a good time to check in on my 2020 New Year's Resolutions.  I don't normal "do" resolutions, but this past January, I wrote 5 FISHING RESOLUTIONS I wanted to work towards.  It's time for my six-month progress report. 
1. I Resolve to Be a MENTOR. Take someone fishing for the first time – a kid, a friend, a relative, an adult … anyone who doesn't fish. Teach them. And do it frequently.
GRADE: C+.  I'm probably being a little hard on myself, but so far I've only taken 5 people out who've never fished (two different adult friends and their kids).  I missed getting someone new on the ice altogether. I can do better.
2. I Resolve to Make More Fishing MEMORIES. I'll take my family fishing more, make a day of it, have a picnic, go swimming, catch fish, take lots of photos. Create memories that will last a lifetime. 
GRADE: B+.  With the heat this year, we've been spending more time on the water, and I always make sure we have a couple rods rigged.  A little swimming, bring a lunch.  These have been good days.  
3. I Resolve to Fish MORE OFTEN. I'm busy. We're all busy. Life gets in the way. I plan on slowing down, stop making excuses and get out there and enjoy Vermont's angling opportunities more!
GRADE: B.  A quick look at my fishing log shows I've been out a good amount this year.  There's more trips with my son than last year already, which is great!  But I need to bump this to an A in the second half of the year.
4. I Resolve to Fish for Something NEW. I like bass. And pike. But this year, I'm going to learn to catch something that I don't normally target, and become a more well-rounded angler.
GRADE: B-.  I'm getting there.  I've done more panfishing, hit some trout streams, caught some fallfish, caught suckers this spring (on purpose!), trolled for salmon (blanked), tried to catch a bowfin (blanked) and chummed and shore fished for carp (moderate success).  But there's a lot of species out there I haven't tried to catch yet.  Time to get my act together.
5. I Resolve to Fish Somewhere NEW. I'm going to try some streams, rivers, lakes and ponds I've never fished before. Renew my sense of discovery and adventure, and enjoy my time on the water.
GRADE: C.  Again, I can do better.  I'm getting out, but have stayed mostly close to home plying the waters of familiar haunts.  I need to branch out more.
Overall Grade Average: B-.  Not good enough, Mr. Good.  I want to be an A student. 
Fishing Reports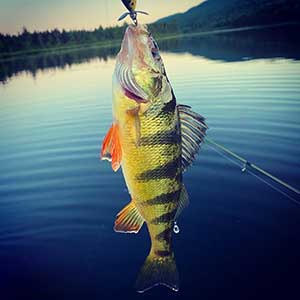 Panfish-Palooza! The emails I received after the June 19 report had a very common running theme – folks overwhelmingly asked for more information on panfish opportunities.  It's not surprising.  This group of fish has seen a huge surge in interest in recent years.  
If you ask most anglers what a panfish is, you'll usually hear "sunfish" – bluegill, pumpkinseed, maybe crappie.  Some tend to lump in yellow perch, white perch, and even bullhead into the group.  The term panfish has been used for a long time to basically describe small fish that are sized and shaped for the frying-pan!
The take home message here – panfish are no longer just for kids fishing off the dock with a worm and bobber.  They are tasty, widespread, and fun to catch for both kids AND adults!
Panfish aren't hard to find.  Yellow perch, bluegill and pumpkinseed occur in just about every lake and pond around the state – and even some of the larger rivers.  Close to shore in shallow water you'll mostly catch the small to medium sized ones.  To get the bigger individuals, anglers should fish a little deeper along weed edges and drop-offs.
Panfish are also fairly simple to catch, which is another thing that makes them so popular.  A small baitholder hook and a piece of worm will take them every time, especially when suspended under a bobber.  Use a bobber that's small enough to be pulled under without the fish feeling resistance.  The longer pencil bobbers are better than the round red-and-white versions for this.
If you're after bigger panfish, or are fishing deeper water, you should fish a 1/16 to 1/8-ounce Marabou hair jig or a plain jig head tipped with a small plastic imitation minnow like a Bobby Garland Baby Shad.
Roy Gangloff, who's a frequent contributor to these fishing reports says that one of the best panfish hotspots in Southeastern Vermont is the Retreat Meadows.  There's great access for shore-bound anglers here.  The east side of the Meadows is generally the better side, and is accessible from Putney Road by the Veterans Memorial Bridge.  Follow the Hogle Wildlife Sanctuary Trail at the end of the guardrails.  Roy says anglers should try fishing around the cement bridge abutments where the water flows in and out of the Meadows.  Also, following the trail further south will lead to more open areas along the shore, and a ledge area at the end of the trail with deeper water and good fishing.
Up in the Northeast Kingdom, department fisheries biologist Pete Emerson says he's been seeing families catching good numbers of pumpkinseed from the bridge and causeway at Eagle Point on Lake Memphremagog.  Pete also suggests trying the rail trail access at the mouth of the John's River (see the Eagle Point map) for another good shore fishing location.  Both of these spots are in sheltered bays, and you'll have a chance at catching pumpkinseed, white and yellow perch, and the occasional chain pickerel, northern pike or bass.
Other popular Northeast Kingdom shore fishing spots for panfish include the boat access at South Bay on Lake Memphremagog, the bridge between Big and Little Salem lakes, the cartop access area on the Black River off Airport Road, and the department access areas at May Pond in Barton, Horse Pond in Greensboro and Clarks Pond in Glover.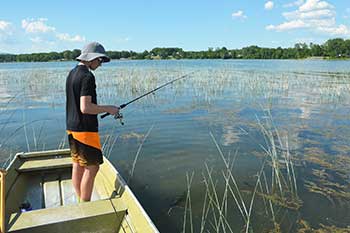 If you're looking for panfish locations in Rutland or Addison counties, I'd suggest Kent Pond (fishing off the dam on the east side), Leffert's Pond dam, Richville Dam by the Covered Bridge, and the Float Bridge causeway on Lake Bomoseen.
With Lake Champlain's water levels being over a foot below average right now, shore fishing has been tough, so look for areas where it's deeper close to shore.  For example, the culvert on Rte 125 at McCuen's Slang is a popular location, and right up the road at Chimney Point State Historic Site anglers can catch panfish off the point under the Champlain Bridge.  Up north, the Colchester fill from either the Colchester or South Hero (Allen Point) end has been producing good panfish lately.
I got out this past weekend on southern Champlain with my son and found most weedbeds holding good numbers of sunfish in 2 to 4 feet of water.  We caught a mixture of bluegill, pumpkinseed and even some white perch.  We were using small Road Runner spinners, and jigs with Bobby Garland Baby Shad plastic minnows.
If you're interested in catching summertime black crappie or white crappie, this takes a bit more practice.  Crappie are easy to find and catch in the spring when they're spawning, but in the summer, you'll need to understand their feeding and habitat preferences.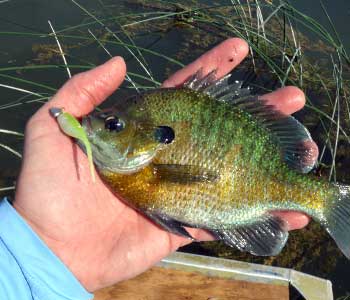 I spoke with Jamie Vladyka, a Vermont fishing guide well-known for his ability to catch crappie, and he offered a few tips.  Black crappie are found in many waters across the state, and they tend to prefer weed edges in 3 to 8 feet of water, or they will suspend in the tops of trees that have toppled into the water at that depth.  White crappie on the other hand are only found in Lake Champlain.  They prefer to be deeper – 8 to 18 feet is typical – but they too will relate to some type of structure like the deep end of a sunken tree, a rock pile, or a sharp depth change. 
Crappie like to eat things that are above them.  If you look at their mouth, it's partially turned upwards, so it's important to present your bait in the right manner.  If targeting crappie around structure like sunken or partially submerged trees or rock piles, Jamie advises anglers stay back some distance to avoid spooking the fish.  Cast past the target structure and let your bait swing across the structure as it sinks.  Use a pencil bobber along weed edges for black crappie, or a slip float for deeper spots for white crappie.  This will also keep your bait suspended above the crappie where they are looking.
Jamie says live minnows on a small hook work great, but like other panfish, a basic jighead with a soft plastic minnow imitation can work just as well.  White or chartreuse are great colors, and try to match the jig head  with the lure color to make it look natural.
Public Lands Fishing
The department currently owns 99 Wildlife Management Areas around the state that encompass nearly 150,000 acres of land.  Many of these WMAs border or envelope lakes, ponds, rivers, and streams, and provide great fishing opportunities. 
Department Wildlife Program Manager John Austin gave me a great list of recommendations for WMAs that include shore fishing sites and boat launches where anglers and paddlers can access excellent fishing opportunities.  John suggested Dead Creek WMA for anglers looking for panfish, bass, pike, pickerel, bullhead, and giant carp.  At Little Otter Creek WMA anglers can find a wide range of warmwater fish associated with Lake Champlain, and Eagle Point WMA offers access to Lake Memphremagog and fishing opportunities for trout, salmon, panfish, bass and pike.
Along the Connecticut River, the department has several WMAs like Fairlee Marsh and Johnson Farm that provide fishing opportunities for smallmouth bass, pike, panfish and walleye.
And many WMAs, such as West Mountain, Steam Mill Brook, Calendar Brook, Lewis Creek and others provide access to beautiful coldwater trout streams. 
Visit the department Wildlife Management Area page linked above fir information on these and other WMAs around the state.
Other Species
Most species have settled into their summer patterns now, and species like bass that are mostly finished up their spawning season are on the feed.
John Austin and department fish health biologist Tom Jones reports that northern Champlain bass are roaming and hungry.  Jon and Tom boated roughly 40 largemouth fishing weedless topwater frogs in heavy cover, in surprisingly shallow water.   Wherever they found good weed cover, they found largemouth that were aggressively feeding.  It's frog time!  The most heart-pounding way to fish bass, in my opinion!
Department fisheries biologist Bret Ladago also fished northern Champlain in the Woods Island area, but was targeting smallmouth bass, and said he had a great day fishing his go-to lure, a Rapala X-Rap.  As the sun went down, he switched over to a topwater torpedo style bait.  He agrees with John and Tom – there's nothing better than seeing a bass hammer a surface lure on a calm summer evening.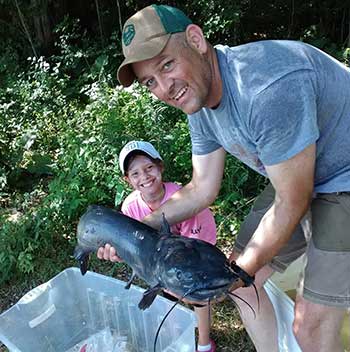 Matt Glebus of Port Henry NY has been catching channel catfish and bowfin south of the Champlain bridge.  Despite (or maybe because of?) the warmer weather, fishing for these species has been great.  Matt has been fishing along thick weed edges of lily pads, water chestnut, and milfoil areas in 2 to 6 feet of water.  He puts out cut bait (chunks of panfish) on heavy rods rigged with 26-lb test line.  Matt recommends not using weights, as it's easier to get the fish out of heavy cover without heavy weight attached to the line.  I think I'm going to be doing some of this myself in the next couple weeks!  
Ron Winter wrote in to keep us up-to-date on the current conditions for trout and salmon trollers on Lake Champlain.  He said the southern end of the main lake basin near the bridge is still cool with surface temps reading 59°F to 63°F.  The temperature break where it drops below 55°F is sitting 25 feet down right now.  Ron's been having luck trolling leadcore outfits, putting 5 colors out and set behind an inline planer board.  Big Jon Mini discs running 15 and 20 feet down set back 100 feet are also taking fish on Crazy Ivan spoons in Sausage/Gravy and Blue Moon colors.  Ron recommends trolling near points in 40 to 100 feet of water at 2.3 to 2.6 mph.  Strikes are often coming on a turn rather than trolling in a straight line.
Department fisheries biologist Jud Kratzer reports that trout have been harder to catch lately during this spell of dry, hot weather, but rain storms this week have improved conditions in local trout streams.  Rain storms give trout a flush of food by washing worms or insects off overhanging vegetation.  Trout also tend to be more active right after a rain event because the higher, off-colored water allows them to come out of hiding without exposing themselves to predators.  After a night of rain this week, Jud hit a stream near St. Johnsbury the next morning and caught some good brook trout.  Jud said he was using flies, but thought that drifting live worms through deep, slow pools would have been more effective.
Milton VT anglers Chris and Christine Bouchard braved the recent heatwave, spending a day wet wading, swimming, and fishing a mountain brook.  He found brook trout moving higher up in the watershed looking for cooler water, and the deeper holes below small waterfalls and cascades held congregations of trout, and they managed to bring home a sizable haul of 10 inchers.  All were caught on a half a nightcrawler on a small hook.
Finally, I received an interesting email from Tim Berry of East Concord VT, who wrote to say he and his wife have been having great success catching wild brook trout in beaver flowages in the Northeast Kingdom.  This is a great topic I wish I could talk about in more detail.  Maybe another time.  Over the 23 years I've been a VT fisheries biologist, I've received many complaints from anglers about how beavers have dammed up a stream and ruined the trout population.  In most cases, this is not true.  Brook trout thrive in beaver ponds and can grow to much larger sizes than in a stream environment.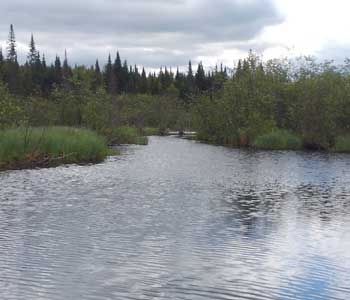 Beavers create highly complex cover in the pond that benefit trout, and the standing water causes an explosion in food for the trout.  As long as there's still has flow-through from the stream it was built on, beaver ponds will stay plenty cool enough to support trout, and the trout will thrive.  If you find a beaver pond on a stream in some moose bog or high mountain swamp somewhere, I'll put money on it there's some brookies in there!
See Also:
---

Thank you for supporting healthy fisheries in the Green Mountain State through your Vt. fishing license purchase, and through excise taxes on your purchase of fishing equipment and motor boat fuel, administered through the Federal Aid in Sport Fish Restoration Program.