Although baitfish regulations in New York and Vermont have changed since this book was published, it still serves as a good reference for identifying baitfish species.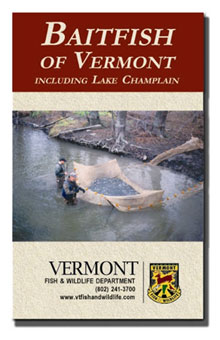 The latest information on these regulations is available at:
This 38-page guidebook was produced to help baitfish dealers and anglers identify baitfish species. Sixteen species of native baitfish are described in the book, including color photos and key identifying features.  The guide also contains important information on non-native invasive fish species.
To obtain your free copy, call 802-828-1000, e-mail fwinformation@vermont.gov, or visit a Fish & Wildlife office. You can also download a copy of the guidebook.
For more information about baitfish please contact: Shawn Good at 802-786-3863 or email to shawn.good@vermont.gov.