All Wildlife Management Areas (WMAs) are open to hunting, trapping, fishing, wildlife viewing and other wildlife-related outdoor activities.
The Fish & Wildlife Department currently owns 99 Wildlife Management Areas totaling more than 145,000 acres throughout Vermont.
Select a district to view maps and descriptions of WMAs in that district.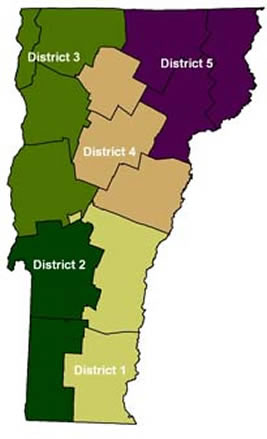 Windham & Windsor Counties
Bennington & Rutland Counties
Addison, Chittenden, Franklin, & Grand Isle Counties
Lamoille, Washington & Orange Counties
Caledonia, Essex & Orleans Counties
View an interactive map of a WMA using GIS data
This rule formalizes existing and ongoing management in order to improve enforcement, clarify priority uses, set clear expectations for the use of these lands, and protect the safety of the public. Learn more...
Check here to see what roads are open in the Kingdom Heritage Lands.
The Vermont Agency of Natural Resources believes that people with mobility disabilities are equally entitled to all rights and privileges of anyone else who seeks the values from recreational use of their public lands. We make every effort to provide reasonable accommodations in our policies, practices and procedures to allow people with mobility disabilities access to state lands.
See also: