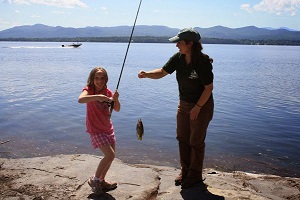 Four state parks are working with the Vermont Fish & Wildlife Department to offer free Let's Go Fishing clinics throughout this summer. Silver Lake, Lake Bomoseen, Lake St. Catherine, Grand Isle, and Little River at Waterbury State Parks will be offering these free clinics.
The Let's Go Fishing program is a network of trained volunteer instructors administered by the Vermont Fish & Wildlife Department who educate Vermonters and visitors of all ages and abilities about angling.  Instructors teach fishing skills and techniques, the importance of quality aquatic habitat, fishing ethics, and fishing regulations.  Clinics are free after paid admission to the state park and all equipment is provided on site.
"Fishing is a fun group activity, and these guided weekly clinics make the learning process simple and enjoyable.  We've had entire families come and learn together," said Corey Hart, Education Specialist with Vermont Fish & Wildlife.
Vermont's rural landscape and abundant waterways provide a variety of thriving fisheries, and fishing is an important part of the state's culture and history.  People looking to get into the sport can now learn to fish with expert guidance in some of Vermont's most beautiful locations: state parks.
Let's Go Fishing Clinics at state parks are being held as follows:
Silver Lake State Park: Barnard
Date: Every Saturday, last clinic Aug 31
Time: 7:00pm
Meeting location: Nature Center
St. Catherine State Park: Poultney
Dates: every Saturday, last clinic Aug 31
Time: 6:00 pm
Meeting Location: Nature Center
Grand Isle State Park: South Hero
Dates: 7/13, 7/27, 8/10, 8/24
Time: 9:30am-12:00pm
Meeting Location: Nature Center
Little River State park: Waterbury
Dates: every Monday, last clinic Aug 19
Time: 2:00pm
Meeting location: A-side beach parking lot
 No registration is required, but participants can call the individual parks for more information. Those taking the clinic are not required to possess a state fishing license during the clinics, but they will have to pay for day use fee before entering the park. Clinics are on-going now through August.
These four parks are among the 20 state parks offering access to free loaner fishing tackle through the Reel Fun program. A complete list of Let's Go Fishing opportunities and participating Reel Fun parks is available at vtfishandwildlife.com. More info on park programs and events, can also be found at https://fpr.vermont.gov/calendar
For Immediate Release: July 3, 2019
Media Contact:  Corey Hart, Vermont Fish & Wildlife Department, 802-505-5562; Rochelle Skinner, Vermont Department of Forests, Parks & Recreation, 802-522-0841