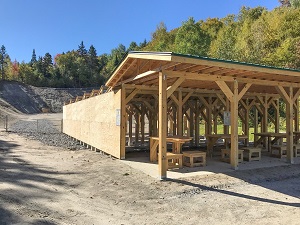 MONTPELIER, Vt. –The Vermont Fish & Wildlife Department reminds us that two of its shooting ranges are open for sighting-in rifles before you go hunting -- one in Hartland and the other near Island Pond.
Both ranges are open for public use from April to mid-December.
Hammond Cove Shooting Range at the end of Ferry Road in Hartland features a six-port 100-yard rifle range and a pistol bench. ​
West Mountain Shooting Range in East Haven has a 100-yard shooting range and target frames at 25, 50, 75, and 100 yards. ​ The range is located on the South American Pond Road on the West Mountain Wildlife Management Area.
Users 15 years of age and older are required to have a valid Vermont hunting or fishing license and may bring one guest.
"Vermont has some of the safest and most conservation-minded hunters anywhere," said Fish & Wildlife Commissioner Louis Porter.  "We provide these publicly accessible ranges so they can sight in their rifles and practice their shooting skills."
For Immediate Release:  September 4, 2018
Media Contact: Alison Thomas 802-371-9975, Nicole Meier 802-318-1347