Windsor Man Pleads Not Guilty to Felony in Poaching Case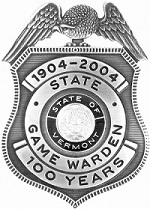 A Windsor man has been charged with several serious violations in a deer poaching case.
On December 14, Vermont State Game Wardens in Cavendish attempted to stop a driver who fired from within the cab of his truck at a deer facsimile after legal shooting hours.  The operator, later identified as Robert L. Hagar, 48, of Windsor, then led wardens on a pursuit into Weathersfield.
Hagar caused at least one vehicle to go off the roadway while attempting to elude wardens.  Wardens were able to track Hagar approximately 3 miles on dirt roads to a residence in Weathersfield, where they executed a search warrant on the home, and seized the truck operated by Hagar at the time of the violation.
Hagar is charged with felony attempting to elude a law enforcement officer, being a felon in possession of a firearm, taking big game in closed season and shooting from a public highway.
Hagar was processed and subsequently lodged at Southern State Correctional Facility.  Bail was posted at $15,000.00.  He appeared and pleaded not guilty to the charges on Monday, December 16, in Windsor Superior Court.  Hagar's next court appearance is scheduled for January 21, 2020.
If convicted, Hagar could face 60 days imprisonment and a $1,000 fine for each Fish and Wildlife violation.  For the felon in possession of a firearm charge, he could face up to 2 years in prison and $1,000 fine, and for the felony charge of grossly attempting to elude a law enforcement officer he could face 5 years in prison and a $1,000 fine.
For Immediate Release:  December 18, 2019
Media Contact:  Colonel Jason Batchelder 802-828-1529
Lt. Dennis Amsden 802-289-0630