The department is hosting a series of FREE guided walks on select state wildlife management areas (WMAs) in northern, central, and southern Vermont. The walks are led by biologists and naturalists with decades of experience conserving Vermont's wildlife and their habitats.
You're encouraged to bring snacks and water, and dress in footwear and clothing appropriate for walking slowly in the woods in winter.
Space is limited and these events fill up quickly, so signup early! 
---
Spring Waterfowl Migration Bird-Watching Tour
Date: Thursday, April 11, 2019 (Backup date: Friday, April 12)
Time: 6:00 to 8:00 p.m.
Location: Little Otter Creek Wildlife Management Area, Ferrisburgh, Vermont.
Join state waterfowl biologist David Sausville to catch the spring migration of waterfowl in this naturally productive wild rice marsh.  The group could easily see six to twelve different species of waterfowl, numerous wading birds, osprey, eagles, and possibly several wetland mammals including muskrat, beaver, otter, and mink.  The sunsets can be amazing on the water from this location with the Adirondacks in the background and birds flying and calling in most directions. The group will also use a spotting scope to look at a nearby eagle nest.  
---
Spring Steelhead Run up Willoughby Falls
Date: Saturday, April 27, 2019 (Backup date: Saturday, May 4)

Time: 10:00 a.m. – 2:00 p.m.
Location: Willoughby Falls Wildlife Management Area, Orleans, Vermont. 
Fisheries biologist Pete Emerson will be available at the Willoughby Falls in Orleans to observe the steelhead spawning migration and to answer questions from the public about the fish, the river and the state-owned lands that border the river much of the way to Lake Memphremagog.  Steelhead are a strain of rainbow trout that migrate from their natal rivers as juvenile fish when they are around 6 inches long.  They leave the relative safety of the river, moving downstream towards the ocean where abundant food helps them grow considerably larger than their stream-dwelling cousins.  The Orleans steelhead are content to stop their migration at Lake Memphremagog where they feed for a year before returning as adults to spawn.  Steelhead can return to spawn many years, drawing anglers who prize their strength and size (as large as 24 inches and 6to 7 pounds).  No need to sign up – just show up!
---
'The Art in Birding' Presentation and Bird Walk
Date: Sunday, April 28, 2019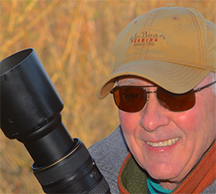 Time: 10:00 a.m. – noon
Location: Kehoe Education Center in Castleton, Vermont
Vermont wildlife photographer Brian Machanic will present 'The Art in Birding' at the Kehoe Education Center followed by a one-hour bird walk at the brand new Bonsawino Wildlife Management Area adjacent to the education center. Machanic is a native Vermonter who has had a passion for wildlife since childhood and has been an avid naturalist and photographer his whole life.  He began selling scenic and wildlife images 30 years ago at his Nature's Eye Studio in Charlotte and has published photos and stories in regional and national magazines. Machanic recently published his first book, entitled This Book Is for The Birds. Following Machanic's presentation, participants will have an opportunity to take a one-hour field walk on the wildlife management area. Ali Thomas of the Vermont Fish & Wildlife Department will lead the field walk and help participants identify some of the amazing birds that can be found there. The event is limited to the first 25 participants. To register, contact Ali Thomas at alison.thomas@vermont.gov or 802-971-9975. 
---
Spring Wildflower Walk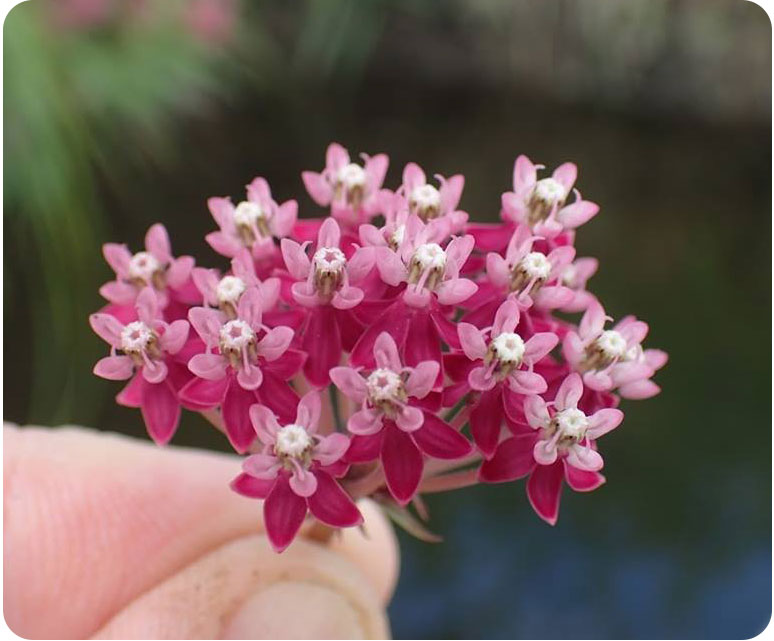 Date: Thursday, May 9, 2019
Time: 5:30 to 7:00p.m. 
Location: Dead Creek Wildlife Management Area, Addison, Vermont. 
Vermont Fish & Wildlife botanist Bob Popp will lead the group looking for spring wildflowers.  Dead Creek includes one of the largest remaining Clayplain Forests in the state, with many unique plant species found here as a result.  The group meet at the visitor center and go on an easy walk looking for flowers and other unique plants. 
---
Look for Boreal Birds at Moose Bog
Date: Wednesday, May 8, 2019 (Backup date: Thursday, May 9)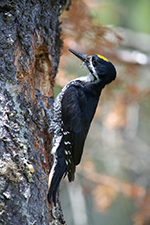 Time: Morning trip: 7:30 to 10:30 a.m., Afternoon trip: 11:00 a.m. to 2:00 p.m.
Location: Wenlock Wildlife Management Area, Ferdinand, Vermont.
Join Vermont Fish & Wildlife's Doug Morin to explore the Northeast Kingdom's boreal birding hotspot! The group will search for rare resident birds including spruce grouse, gray jay, black-backed woodpecker, and boreal chickadee. The group will keep an eye out for spring migrant birds, moose, and whatever else they may find. Participants will traverse lowland spruce fir forest, black spruce swamp, and take in the view across the Moose Bog. Doug Morin is a highly trained naturalist and birder who manages many of the Northeast Kingdom's wildlife management areas.  Participants should be comfortable walking up to 3 miles, on- and off-trail, at a slow pace. Binoculars, sturdy footwear, and bug protection are highly recommended. Spotting scopes and field guides are optional.
---
An Evening Bird-Watching Paddle
Date: Tuesday, May 28, 2019 (Backup date: Wednesday, May 29)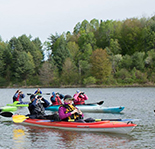 Time: 5:30 to 7:30 p.m.
Location: Dead Creek Wildlife Management Area, Addison, Vermont.
The group will set out in canoes and kayaks hoping to catch a glimpse of the many bird species that are present at Dead Creek during the fall bird migration. Dead Creek represents some of the finest birding opportunities in all of Vermont —an incredible 200 bird species can be found there, particularly ducks, shorebirds, and hawks. The spring bird migration represents a great time of year to see birds that might not be present at other times of year. Participants must bring their own canoe or kayak, paddles, and life jackets. 
---
See also: