Lake Champlain
With the lake recently reaching a flood stage of 101-ft, the shallow waters of southern Lake Champlain (below the Champlain bridge) have been generally muddy from spring runoff, but the lake has started to drop and conditions are improving rapidly.  Water temps have reached the high 50s along main lake shorelines, and low 60s in back bays.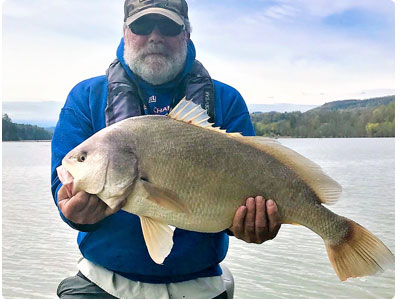 Largemouth and smallmouth bass are starting to move and can be caught by targeting areas of clearer water in the backs of cattail marshes, around buckbrush, and along rocky shorelines leading into spawning bays. White chatterbaits and spinnerbaits, and squarebill rattling cranks have been working well. 
Crappie have started moving towards spawning grounds and can be found around the mouths of most setbacks and culverts.
Carp do well in low-visibility waters and are targeted with worms -- though some folks swear by corn kernels! Drum are getting ready to spawn. Look, listen, and jig for them as they congregate on deep rock ledges.
The main lake is now in the high 40s and anglers are reporting good catches of landlocked Atlantic salmon and brown trout by flatlining stickbaits and small spoons. 
With pike spawning wrapped up several weeks ago, these fish are starting to strap on the feedbags and reports of pike activity are starting to come in. Slow, wide-wobbling spoons and suspending jerkbaits worked in 8– 10 feet of water along drop-offs at the mouths of cattail bays have been taking good pike on north and south Champlain.
Winooski River Tributaries
Tributaries to the Winooski River are seeing medium to high flows with water temps hovering around 40. Trout are still hanging near their winter holes and with the colder water, slow presentations along the bottom should produce the best results. As water temps hit mid-40s in the next few weeks, trout will become more aggressive and willing to move further for flies and lures.  Chris Powers, one of the department's fisheries biologist, had a nice 12" brown swipe at a streamer in the slow inside bend of a deeper run, but it didn't connect.
Northern Vermont
The Clyde River is currently running high but clear, with water temps in the lower 40s. Anglers are catching salmon running the river using a variety of gear from wet flies and streamers, to spinners and plugs, to worms.
Steelhead are running the Willoughby River, which is moderately high but dropping, with water temps in the low to mid 40s. Foam bounced along the bottom on monofilament line with fly rods seems to be the tactic of choice among the anglers fishing this river.
The Passumpsic River in St Johnsbury has received the first stocking of trophy trout, including 13" browns and 15" rainbows.
Central Vermont
Waters in Central Vermont are returning to normal spring levels with clear visibility and temps in the mid-40s. Stocking continues around the state so be sure to check out the stocking report to see what waters have received fish. When targeting recently stocked yearling and 2-year-old trout in lakes and ponds, try using spinners or a worm and bobber.  You can sometimes find where recently stocked trout are schooling by looking for breaks on the surface of the water. Cast a worm in this area or troll back and forth with a spinner near the surface.
The Winooski River in Waterbury was stocked this past week with 14" browns and 15" rainbows, as part of the trophy trout stocking program.
Southern Vermont
Southern waters are at normal levels, murky but quickly clearing. Three anglers timed it just right on Lake Rescue, in Plymouth VT, getting into some recently stocked rainbow trout. Trolling with inline spinners all three limited out within three hours including several live releases. The Black River in Cavendish also received the first stocking of 15" trophy rainbow trout.  East Creek and Otter Creek in the Rutland district received their first stockings of 16"-18" Trophy Trout on Wednesday and Thursday of last week, and additional stockings will occur the week of May 27.  Stream flows are coming down and clearing up, and conditions look just right!
See also: