Well, after a pretty drawn-out spring, we've finally had a few consecutive days of sun, bringing some warmer air and water temperatures which have improved the moods of the fish. Though the rain is expected to come back for the Memorial Day weekend, that shouldn't deter anglers looking to take advantage of all spring fishing has to offer. Just take a look at the reports below, sent in by different die-hard Vermont anglers from around the state. Spring can sometimes bring tough conditions, but also some of the best fish activity of the year – so throw on a raincoat this weekend and get after it!
Lake Champlain
Walleye – The phenomenal year of walleye fishing on Lake Champlain in and around the spawning tributaries continues to impress anglers and generate a lot of excitement this spring. Missisquoi River, Missisquoi Bay, and the Winooski and Lamoille rivers and deltas have been hot spots and continue to produce fish.  
With the late spring and low water temperatures, walleye have been slow in leaving the rivers, and fish are still being caught in the lower reaches. It's also picking up in the lake off the mouths. Ron Winter of Essex Junction reports that trolling spoons and stickbaits over 25'-30' of water, 60'-70' back has been putting fish in the boat. His friend Jan Stromme caught a nice 27 incher in Ron's boat that way.
As the walleye move back out into the lake, Tony Curtis of New Haven has been night fishing reefs near the mouths of spawning rivers. Tony reports that casting and trolling deep diving stickbaits have brought 26'' and 27'' walleyes to the net. 
Shore anglers are still finding fish in the rivers. Josh Polihronakis recently took a 10.7-lb 28 1/4" fish in Otter Creek. Chris Smith, a seasoned St. Albans angler says that this walleye season has been the best in years, and he reports having caught over 70 fish in 4 days of fishing with his kids. He also took out a friend who had never caught a walleye, and he ended up catching a limit and said it was one of the best days of fishing he'd ever had! Kudos to Chris for getting his friends and family out fishing this spring.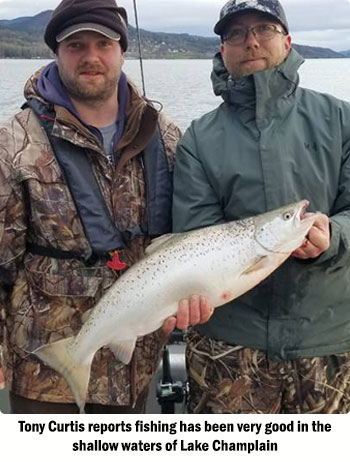 Salmon – In addition to walleye, Tony Curtis likes to chase landlocked Atlantic salmon, and he reports that fishing has been very good in shallow waters lately, as water temperatures in the main lake are in the 47°F to 51°F range. Long-lining stickbaits off planer boards and running shallow downriggers set down 5' to 20' with spoons has been the ticket.
Tony suggests looking for the warmest, clearest water you can find. Just north of the Champlain bridge, Tony limited out on salmon by 8 a.m. with 3 anglers on board. One fish was a 27", 6.8-lb salmon taken in his boat by his friend Denver Webb who was running a stickbait 100' back on a planer board.
Bass and Pike – Swanton angler Bob Dostie is a smallmouth bass and pike fiend, and reports improving action in the Missisquoi Bay and the Champlain Islands areas. Although the lake level is still high at 100.3', water clarity is improving and surface temps have hit 50°F to 55°F. Bob reports that both pike and smallmouth bass are feeding well, and both species are relating to rock with small clumps of newly emerging weeds.
Smallmouth are still pre-spawn and females heavy with eggs, and pike are fattening up post-spawn. He's had his best action while slow-rolling small swimbaits on jig heads near the bottom, with most fish coming in 6'-10' of water. 
Barre angler John Rielly hit the Alburg Passage area this week and found water temps from 52°F to 57°F. Smallies were up shallow in 2' to 8' of water on rocky points and humps. Jerkbaits, crankbaits and tubes were getting them good. John also had some bonus luck catching some walleye in the same areas while bass fishing, particularly off McGregor Ledge and under the Missisquoi bridge. Switching gears, John found active largemouth up in the creeks and back bays and they were hitting well on moving baits, like swimbaits and chatterbaits. John reports seeing good numbers of crappie and panfish in these areas too.
Connecticut River Setbacks
Frequent Vermont Master Angler Program participant Roy Gangloff of West Dummerston says fishing in the Connecticut River setbacks slowed down a bit last week due to the cold and rainy weather and a major water drawdown at the Vernon dam. However, water levels in the setbacks are now full once again and with recent warming weather the fish should be eager to get to the banks and spawn.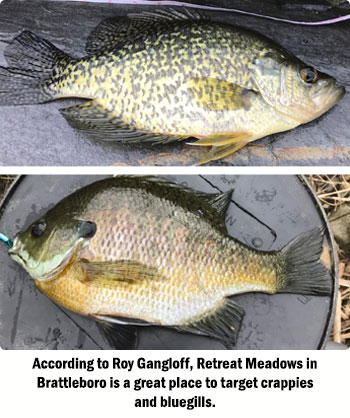 Roy's a panfish "a-fish-ionado" and has some great advice for anglers looking for crappie and bluegill. For crappie, Roy suggests starting your search at Hunts Meadows, Retreat Meadows or Hoyt's Landing using small crankbaits like a Strike King Bitsy Pond Minnow, a 1/8 oz. Rapala Rattlin' Rap or a 1/8 oz. Worden's Rooster Tail. Once you find them use a slip bobber rig with 1" tubes or grubs. White, chartreuse and black/chartreuse are good choices.
Bluegill are almost always near the bank and can be caught in the same manner but a small piece of nightcrawler might just out-produce everything! The Retreat Meadows is a top producer of big bluegills and Roy says they're fun to catch and excellent eating. According to Roy, there's plenty of shore fishing access along Rte 30, and there's also a trail that comes in from Rte 5. To find it, park at the power station by the West River bridge, cross the road and look for the trail. It will take you to the east shore where you'll find lots of places to cast from.
Stocked Trout Waters
Roy also recently hit South Pond in Marlboro and says fishing there has been excellent since the department stocked 4,800 rainbow trout and 300 brown trout. He has his best luck early morning and late evening but says that with a little patience, fishing a nightcrawler on the bottom any time of day just off the sand beaches might get you one of the larger holdover brown trout from previous year's stockings.
Multi-year survival of stocked trout in South Pond is good, and fish up to 8-lbs have been caught there over the years. For steady trout action, Roy advises casting or trolling small spoons like Thomas Bouyants or Worden's Rooster Tails spinners in bright colors. As fish become more acclimated to their new environment more natural patterns work great.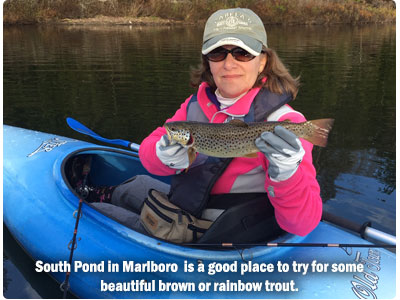 Roy likes fishing from a kayak, and his wife caught this nice holdover brown trout one evening this week. However, he says that good fishing can be had from shore – but pay attention to the private area signs. The shore on the boat ramp side may be the best and has a few nice spots to fish. Berkley Powerbait has been working great for rainbow trout.
Department fisheries biologist Shawn Good says that anglers are reporting consistent catches of trophy trout stocked in the Waloomsac River in Bennington, Otter Creek in Danby, and East Creek in Rutland. Higher water levels have extended the fishing following the first round of stocking in early May, and this week anglers were still catching nice fish on East Creek through the Giorgetti Rec. fields and the Rutland Country Club. Even the kids were getting in on the action. Bryce Connaughton of Pittsford caught a nice brown on the Otter down in Danby. Don't forget, Otter Creek and East Creek are slated to get stocked again the week of May 27th.
Game Warden Jeff Whipple says that he's been seeing trout anglers having good luck in waters around Eastern Vermont, like the First Branch of the White River, Ompompanoosuc River, and Miller Pond. Worms, spinners, and Powerbait have taken some nice fish but Warden Whipple says anglers shouldn't be afraid to switch up tactics other than using the usual Powerbait and worms. He reports seeing two nice rainbows, one caught on a silver phoebe and the other on a blue panther martin spinner.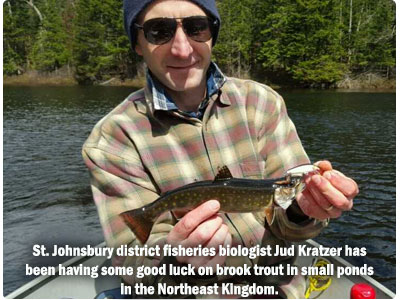 St. Johnsbury district fisheries biologist Jud Kratzer has been having some good luck on brook trout in small ponds in the Northeast Kingdom. Cow Mountain Pond, Unknown Pond in Ferdinand, Unknown Pond in Avery's Gore, South American Pond, West Mountain Pond, and Notch Pond are all top brookie waters. Jud reports that although water temperatures are still cold, recent warming should bring these ponds up to ideal temperatures for brook trout through the rest of May and June. Worms under bobbers or a small piece of worm on a small spoon, spinner, or plug will work great. Jud notes that as of last weekend, it was still a bit too cold in the Northeast Kingdom for biting insects (fortunately) but says the fishing will get even better as black flies and other insects become more active. Jud advises wearing a mesh bug jacket and gloves is a good alternative to bug spray.
Inland Waters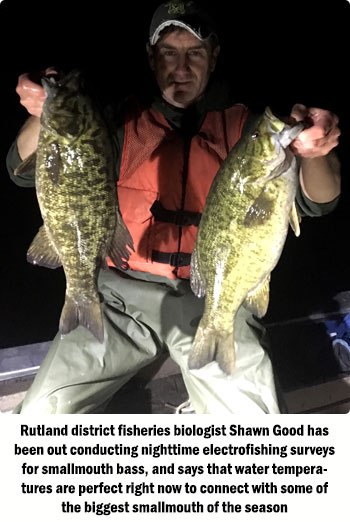 Don't forget the inland waters for spring catch and release bass fishing. Many waters throughout the state offer excellent spring bass fishing opportunities. Rutland district fisheries biologist Shawn Good has been out conducting nighttime electrofishing surveys for smallmouth bass, and says that water temperatures are perfect right now to connect with some of the biggest smallmouth of the season. He reports waves of 18" to 20" smallmouth moving shallow in preparation to spawn, and he collected several over 21" in his surveys this week. Smallies are loading up in 4' to 6' of water along east and south facing shorelines, in areas with ledge rock and boulders. Shorelines that are adjacent to sharp drops to depths of 20' and beyond are particularly good.
See also: