Lots of mixed reports coming in these last two weeks. Seems like we have all phases of late spring/early summer conditions out there across the state, but there are plenty of great fishing opportunities available, so let's get right to it and see what our avid anglers are reporting!
Lake Champlain
The 38th Annual Father's Day Fishing Derby, organized by Lake Champlain International, was this past weekend, June 15-17. This year 4,526 anglers registered in the derby to ply the waters of Lake Champlain, hoping to catch one of the largest fish in 12 different species categories for a chance at a share of more than $150,000 in prizes! 
Eric LaMontagne was the weigh master for the St. Albans weigh station and says there were some awesome fish entered. He personally weighed in a 7.17-lb largemouth bass that ended up being a new derby record. It was caught by Jonathan Hodgkins of St. George VT. Another derby record was broken by Jared Walker of Bridgewater VT, who weighed in a 12.42-lb, 31-inch walleye at the Point Bay Marina weigh station.
Eric also mentioned there was a really good number of brown trout and steelhead entered in the salmon category. As a matter of fact, the top two fish in the salmon category were a 7.22-lb steelhead and a 6.48-lb brown trout. A few other highlights for 1st place fish include a 25-lb catfish, 30-lb carp, 22-lb freshwater drum, 15-lb lake trout, a 12-lb bowfin and 13-lb northern pike. For the full results, check out the LCI Results page: https://mychamplain.net/fathers-day-derby. Plenty to get excited about for Lake Champlain fishing!
Cold Water Species – Ron Winter of Essex VT says strong winds recently pulled cold water up to the surface again, resulting in lake trout being found higher in the water column. Ron had good luck catching lake trout suspended 15-25 feet below the surface in the Thompson Point/Split Rock areas running hammered spoons in silver/blue/pink.
Tony Curtis of New Haven VT agrees with Ron's assessment. Tony says salmon have been fairly spread out, though he did get a few on spoons set 30' down. While looking for salmon, Tony got 22 lakers fishing near the surface over deep water. Surface temperatures are in the upper 50s in the main lake right now, but Tony saw the winds cause an upwelling in Whalon's Bay that drove the surface temp down to 43°F on Saturday.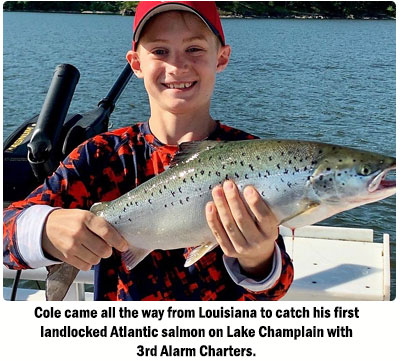 Captain Matt Trombley of 3rd Alarm Charters says his days have been hit and miss. Some really good, others fairly slow. According to Matt, surface temperatures are still below normal, and the thermocline hasn't set up yet, so it's harder to target trout and salmon. He's been getting salmon, lake trout and steelhead by setting downriggers 15 -20 ft down or putting out 3 to 4 colors on leadcore outfits, and having good luck north and south of Otter Creek, Basin Harbor and Westport Bay.
Warm Water Species – Mason Alexander of Barre VT probably has the best tip of the week for kids, families and shore-bound anglers looking for some panfish action. Mason says he's been seeing large schools of pumpkinseed sunfish congregating in areas along the south side of the Sandbar Causeway on Rte 2. He said these fish are an easy cast from shore, and he was catching them on 5-inch Senko soft plastics, but really, any panfish jig, spinner, or a worm and bobber will work. For more mobile anglers, John Rielly reports huge schools of panfish around City Bay Ledge and Ransom Bay.
Ever caught a redhorse sucker?  Mike Elwood of Burlington VT says he's catching lots of them from the fishing pier at the Heineberg Bridge over the Winooski River (Rte 127), plus there are lots of white perch in the river right now too. Put a worm with a few splitshot out on the bottom, and you're bound to catch a few.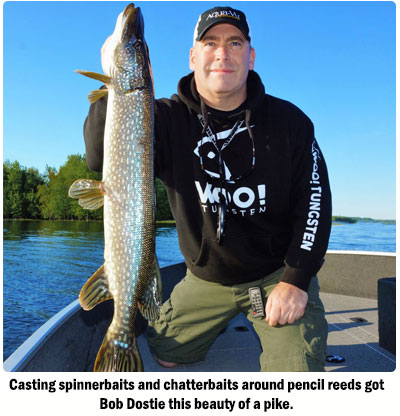 On the bass and pike front, reports indicate largemouth bass are pretty much now all post-spawn, while smallmouth are still on the beds in most places. Pike action has been fast and furious. Bob Dostie of Swanton VT says the smallmouth spawn is in full swing at the north end of the lake, and he prefers to leave them alone to do their thing while he targets pike instead.
Bob says with the late growth of weed beds, he's targeting shallower areas where weeds are just starting to grow, and his best pike areas lately have been around pencil reeds, while post-spawn largemouth are holding around emerging lily pad beds. Spinnerbaits and chatterbaits have been hot for both pike and largemouth, producing some intense strikes.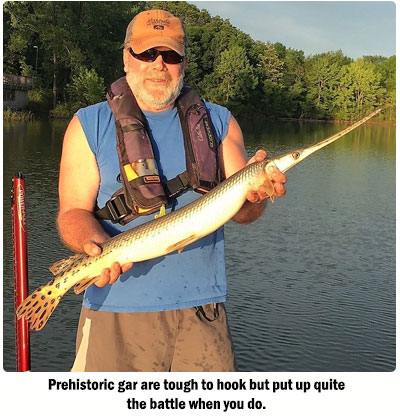 Down towards the southern end of Lake Champlain, Roy Gangloff of West Dummerston VT says the bass bite has been a bit off recently, but there are plenty of other fish species willing to cooperate. On one recent evening Roy spotted a school of longnose gar feeding heavily on small baitfish around rocky points and managed to land a couple. Gar will hit artificial lures readily, but due to their bony mouths it's hard to hook them well, but as Roy says, when you do – hang on!

If you're looking for something different, Dan Bushey of Vergennes VT says bowfin are eating everything in sight in the back bays and wetlands of Lake Champlain. He's been floating chunks of cut bait (cut up pieces of panfish or perch) under a bobber around weed edges and catching some monsters.
Inland Waters
Nate Olsen, who works at the department's Roxbury Fish Culture Station, says bass fishing in central Vermont and Northeast Kingdom waters has been great this past month, and the smallmouth fishing has been the best he's experienced in years. He's caught several fish over 5 1/2 lbs with one weighing 6 lbs 2 oz. Like elsewhere around the state, he's seeing smallmouth just starting to finish up spawning on many waters, while in others the bass have already retreated to deeper water to recuperate.
Many of the waters he's fishing in central Vermont have already warmed to 70°F or more, and lily pads and other aquatic vegetation are emerging more each day. During the post-spawn phase, Nate suggests fishing slow moving lures such as tubes, jigs and soft plastics, but as summer patterns set in (or on cloudy days) moving baits like swim jigs, spinnerbaits and crankbaits will work.
Roxbury District fisheries biologist Bret Ladago has been out recently doing fish population surveys and says he got a few nice pike and lots of quality smallmouth in Marshfield Reservoir. He also said he saw huge schools of yellow perch there. Most seemed to be stunted but there were a few over 10 inches mixed in. Seems like this would be a great place to go get a few buckets of perch for a fish fry. Harvest limits on most inland waters are 50 perch a day.
Bret also said that he collected the biggest largemouth bass he's seen in VT during a survey on Blueberry Lake in Warren. It weighed 8.2-lbs!  Throughout central Vermont, Bret says the bass are now generally post-spawn, while pumpkinseed sunfish and bluegill are on nests.
Roy Gangloff fished Lake Dunmore, Chittenden Reservoir and the Lake Rescue chain of lakes in Plymouth this past week and reports he caught largemouth and smallmouth bass in all, as well as a couple walleye (Chittenden), chain pickerel (Plymouth lakes) and a big catfish (Dunmore). His go-to lures were Neko rigs and dropshotting small soft plastics. Anyone know what the heck a Neko Rig is? 
Also mixed into his recent fishing adventures was a trip to Sunset Lake in Benson. Roy recommends this water as a great place to take the family as there's plenty of room for shore fishing along the road on the east side. If you have a small cartopper boat, canoe, or kayak, fishing the north, west and south shorelines tend to hold more fish. And don't forget to bring a bathing suit and a picnic lunch to enjoy the crystal-clear water on this beautiful lake.
On Roy's trip, he fished the north shore along the dropoff and found good numbers of black crappie in fallen treetops and off the dropoff in deeper water. He used a 1/16 oz jig head with a small shad soft plastic. His wife out fished him on big bluegills using a nightcrawler. Roy attributes her success to the spawn being over and the fish being less aggressive than had been and more reluctant to take artificial baits.
Memphremagog and the Northeast Kingdom
Deborah Martel of Newport VT says the bass fishing has been a bit slow for her this spring and attributes it to the delayed spring warmup. On the other hand, Deb says white perch fishing on Magog has been nonstop, and it doesn't take much time at all to fill up a bucket with 10-14 inch whites.
Over in South Bay, Deb's been seeing a ton of carp activity. She said it's been "just incredible to just sit there in my kayak and watch all the carp swimming around. Some of them were very large."  If you're interested in catching one of the largest fish that swims in Vermont waters, maybe tossing a dough ball or some threaded corn out along the shorelines of South Bay would be a great way to spend a weekend afternoon. Carp are considered one of the finest sportfish in Europe, and the opportunities Vermont's untouched populations of carp offer are enormous. Give it a try!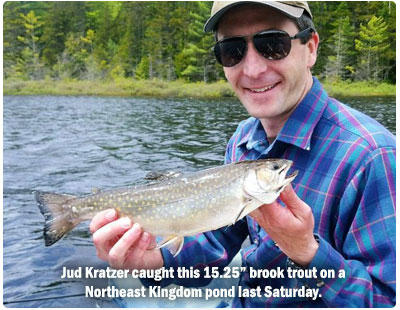 Jud Kratzer, St. Johnsbury district fisheries biologist, reports good trout fishing in the Northeast Kingdom. Water temperatures are ideal for trout activity right now. Jud has been fishing the East Branch Nulhegan River and Paul Stream and has done very well. According to Jud, trout fishing should also be good on the North and Black Branches of the Nulhegan as well as on the Moose River.
Wild brook trout are present in the upper portions of all of these rivers with stocked trout present in the lower portions of Paul Stream, Moose River, and the East Branch Nulhegan. Jud also reports the water is still cool enough for good fishing on the Northeast Kingdom's brook trout ponds, including Jobs, Martins, Cow Mountain, West Mountain, Notch, South America, Noyes, Unknown (Ferdinand), and Unknown (Avery's Gore).
Streams & Rivers
Vermont Fish & Wildlife Department Let's Go Fishing Coordinator Corey Hart reports stream conditions in Rutland County have been really good lately. Water levels are finally dropping, and the smaller brooks are becoming fishable again. Corey's been catching some brook trout in the 8-12 inch range and he got one close to 14 inches. He suggests drifting a small worm through the pools in the evenings. Not complicated at all!  Keep it simple, and you'll have some great action.
Department fisheries specialist Chris Powers fished the Winooski River in Plainfield late one afternoon last week, and reports that flow were average, and temps were in the low 60s. Chris saw some small mayfly and caddis hatches going on but didn't see any fish feeding on the surface. Chris managed three rainbow trout, all in the 12-inch range, drifting Size 12 bead-head nymphs along current seams.
Fisheries Biologist Tom Jones stopped to talk to an angler on the White River near Stockbridge the other day and the angler had two smaller rainbow trout and one 16" rainbow trout he thought might have been a wild fish. Tom said the flows looked great with water temperatures holding at 58.5°F.
Tom fished the Mad River in Waitsfield himself this past weekend and says despite some recent rains the river was in great condition. Using a light action spinning rod and 4-lb test line, Tom drifted a 2" piece of nightcrawler on a #8 hook with a single splitshot. He also fished a small white roostertail spinner and caught 10 rainbows in about 3 hours of fishing.
Tom's advice to stream anglers is to target deeper current seams where riffles dump into pools as the fish seem to be holding in deeper runs. Fish areas where you can't see the bottom (deep runs and pools), and cover lots of water to find the trout. Once you find them, these locations will likely hold trout year after year. If using bait, make sure you keep the bait on the bottom during the drift by using just enough weight to allow it to bounce along the bottom with the current. If you are getting snagged often, reduce the number of splitshot.
Game Warden Reports
Warden Justin Turner from Bennington reported the Walloomsac River in Bennington is a bit high but flowing nice and clear, and the 2-year old trophy trout stocking is still providing good action. Both rainbow trout and brown trout are being taken on nymphs and dry flies and some anglers are doing well with spinners, spoons, and worms. Flies and worms have been out producing the lures. Over on the Battenkill River, Warden Turner noted there hasn't really been a major hatch of insects yet, so most success has been with nymphs and wet flies.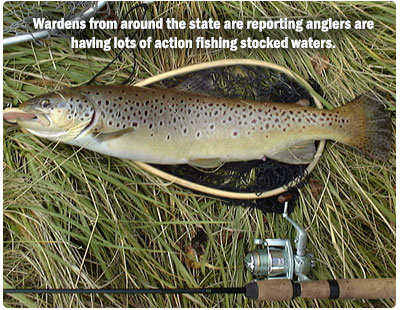 Warden Kyle Isherwood patrols southern Vermont and says that anglers have been fishing for stocked brook trout and rainbow trout on the Black River along Rt. 131 in Cavendish/Weathersfield. Most of the success has been with PowerBait, although worms, spinners, and flies are also taken some fish.
Over on Miller Pond, Fairlee area Game Warden Jeff Whipple says that stocked brookies and rainbows have provided some fast and fun opportunities, with PowerBait and worms having the most success. On Lake Fairlee, panfish are starting to get active with the warming water temps. Small spoons and spinners like Panther Martins, Mepps, and Worden's Roostertails are working great.
Warden Jason Gravelle patrols areas that include the White River, the Connecticut River, and Dewey's Pond and says fishing has been steady. As other wardens have noted, PowerBait and nightcrawlers are accounting for most of the brook trout and rainbows being caught, while perch, bass and pike in Dewey's Pond are hitting moving lures like crankbaits and spinnerbaits.
Game Warden Dustin Circe was out on patrol on Lake St. Catherine this week and says he checked several anglers trolling and downrigging for brown trout. The anglers did well, since the water is still cool. They were using spinners, spoons and worms around rocky shoals and emerging weeds to catch panfish and bass.
See also: