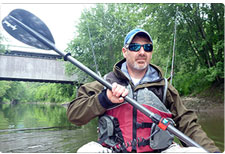 It's been nearly four weeks since our last report, and it seems like the summer fishing doldrums kicked in just a bit over this period. But don't worry, fall is just around the corner, and dropping water temperatures will bring some of the best fishing of the season. It's hard to believe the summer is almost over and the kids will be back in school. Make sure to find some time in the summer's waning weeks to get on the water with your family. And don't forget, if you want to contribute to future reports, drop me a line. 
—Shawn Good, Fisheries Biologist shawn.good@vermont.gov
Carp – Cyprinus carpio
This week I'm spotlighting the carp, another lesser known, unique and under-appreciated species in Vermont, and the fishing opportunities it provides. Unlike the native bowfin and gar, the carp is a non-native fish species. It was brought to North America from Europe in 1831 and introduced into waters in downstate New York for the commercial food market. By 1883 carp was established in Lake Champlain. They are now widespread throughout the lake as well as in the lower Connecticut River. These two populations provide some outstanding fishing opportunities for fish that can reach 40 pounds. And very few people target them.
Carp generally inhabit sandy bottomed shorelines with scattered, patchy weeds near deeper water. They are bottom feeders, and they use their snouts to dig up the tender roots of aquatic plants. They'll also eat small mollusks, crayfish, and aquatic invertebrates and insects.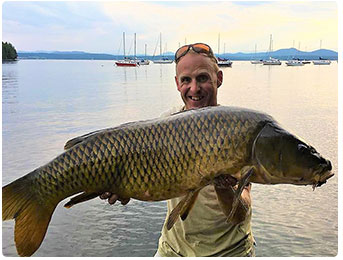 Targeting Carp - The most basic way to target carp is from shore using the "forked stick" method. Some anglers will chum an area with canned corn kernels (yes, this is legal in Vermont) a day or two before, and then thread a few kernels on a dropper line attached to an un-baited heavy gauge hook. Dough balls or store-bought "boilies" (cornmeal rolled into balls with different scents) are also popular carp baits.
Use a slip-sinker so when a carp picks up the bait they don't feel any tension. Toss your rig out into an area, set the rod down in a forked stick, and leave your bail open. Relax, enjoy your surroundings, and wait for a bite. When it comes, chances are it will be a doozy.
If you're looking for something more unique and different, try fly fishing for carp. For determined fly anglers, this is possibly one of the toughest fishing challenges in Vermont. Carp are a very wary and skittish fish and quite sensitive to noise. To catch a carp on a fly, you have to sight-fish for them, and make long, quiet and accurate casts in front of actively feeding fish. It's not unlike fly fishing for bonefish on Caribbean island flats.
Drew Price, a Vermont fishing guide, has been very successful catching carp on the fly in Lake Champlain. He says to spot fish, you first look for the tell-tale signs of feeding carp, which usually means a silt trail or clouds of sand being stirred up. Nose-down "tailing" carp are catchable fish. A suspended carp on the surface is usually not.
Cast accuracy is critical as the strike zone is about the size of a basketball immediately ahead of the fish. You must be stealthy, make long casts, and have soft landings. A slap or splash from your fly or fly line will spook them instantly. Drew likes to use six to eight weight rods with muted colored fly line and 10-foot long fluorocarbon leaders with crayfish pattern flies. If you hook one, be ready as you're almost guaranteed to be taken down to your backing during their long powerful runs.
Here's an interesting piece of fish trivia. Name the largest minnow species in Vermont. Yup – it's the carp. Despite having an average size of 10 to 12 pounds, and often exceeding 30 pounds, the carp is a member of the family of fish known as Cyprinids – the Minnow Family.
Lake Champlain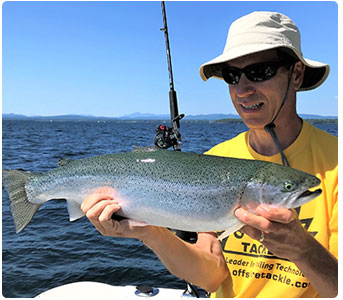 Cold Water Species - By most accounts, salmon and lake trout fishing has slowed down on the big lake, but brown trout and steelhead have stepped in to pick up the slack. Ron Winter of Essex Junction says that steelhead fishing has been hot in the main lake these past four weeks. Trolling from Shelburne Point up to Providence Island, and Appletree Point to Colchester Reef over deep water has been producing steelhead action from early morning to mid-day. Getting your lures down to depths where water temperatures are 60°F seems to be the most effective. Ron's success has come using medium sized 2 3/4" silver-plated spoons with blue and pink.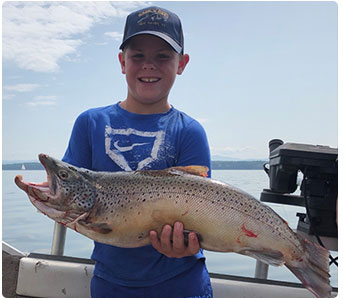 Brown trout have been more plentiful than salmon in recent weeks. A brown weighing almost 10 pounds was caught in the main lake by Grady Cronin of Pennsylvania while vacationing in Vermont. What a fish!
Warm Water Species - While fishing has slowed down a bit, some anglers are still having luck fishing early and late in the day. Gaelan Chutter-Ames fished last week from shore by the bike ferry in South Hero and caught a five-pound largemouth bass on a Ned-rigged soft plastic crayfish. He also caught a few smallmouth bass on the same lure, all in the two-pound range. Gaelan also fished the Button Bay area of Champlain targeting pike. He saw several pike in the mid to high 30" range along deep weed edges in 10 to 15 feet of water. They were following his lure but not committing, and he only caught a couple small ones. But it won't be long before these fish put the fall feed bag on.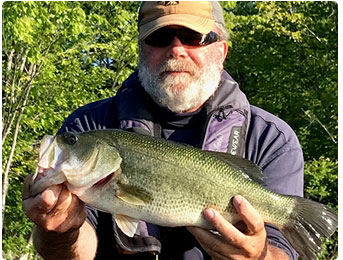 Roy Gangloff of West Dummerston, VT continued hunting bass and pike on southern Champlain in the Larabee's Point area. He noted that it seems to be a great spawning year as he was astounded by the schools of bass fry he was seeing. A sign of good things to come!
While fishing, he found big largemouth bass in only a foot or two of water right on the shore, which is surprising for this time of year. He had his best luck using small lures, but the type didn't seem to matter, as he was catching fish on topwater, midwater swimbaits, and bouncing the bottom with jigs. Roy says that downsizing lures is always a good idea in late summer, especially if you are looking for steady action.
Champlain Tributaries
Roy also spent some time kayak fishing Otter Creek in search of Master Angler-sized fallfish and smallmouth bass. This time he tried the stretch below Middlebury, launching his kayak from the access on Three Mile Bridge Road. Roy said the creek is high for August but is flowing quite clear, and though the drift was a bit fast, the paddle back upstream was fine. Roy found lots of small fallfish in the shallow stretches and he caught them on small 1/8 oz white and silver Rooster Tail spinners. Bigger fallfish in the 12" to 14" range were caught in deeper water using a medium-diving crankbait. He also caught several smallmouth bass in the 10" to 12" range.
Inland Waters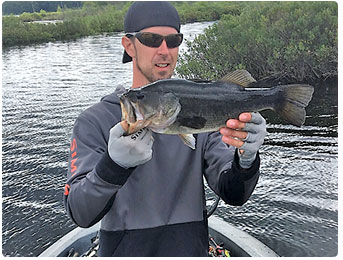 A new contributor, Joey King from southeastern VT, sent in a report for Sadawga Pond in Whitingham, saying he recently had a "stellar" day. Fishing from 5 am to midday, he boated 15 largemouth bass and three chain pickerel. Early in the morning, fish were hitting topwater frogs thrown around curly leaf pondweed in about six feet of water. Once the sun broke the horizon, he found the best lure to be a black and blue matching crayfish trailer rigged on heavy braided line. He had success casting it around the thick flooded brush near the island. Fish were aggressive and often hit the lure on the fall. Several fish were in the 18" range.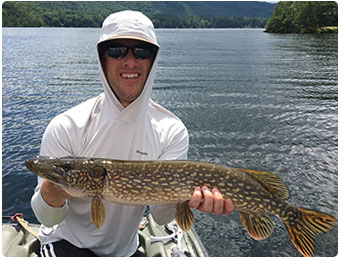 Gaelan Chutter-Ames spent a day fishing Lake Dunmore for bass and pike and found the fish to be relating to fairly deep cover. He had luck working deep weed edges with swimbaits, casting from deep water towards the shore and slowly pulling the lure back out into deep water. He caught a few nice pike and a couple bass.
Regular contributor Nate Olson, who works for the department's Roxbury hatchery, agrees with others that mornings and evenings have been the best time to fish for bass. Nate's been catching most of his bass by fishing points and rocky humps in 15 to 30 feet of water with drop shot and Ned rigs, and a weighted wacky senko. This past weekend Nate fished the entire night enjoying both the fishing and Perseid meteor shower. He used topwater lures and had outstanding action, including a couple largemouth that were over four pounds.
Zach McNaughton of Springfield VT says the sunfish and rock bass have been biting hard lately, and he has some tips for getting the kids out fishing for panfish. Zach suggests targeting lily pad edges and brush piles and keep moving until your see schools of panfish. Simple gear and tackle are all that's needed – a short pole and a small jig.
Once you've found a school, lower the jig down a few feet under the surface, jiggle it, lift it to the surface and then drop it back down again. Doing this repeatedly will surely draw the school's attention and get bites. Zach also suggest huts have been great places to find rock bass. The fish are often tucked into the branches of the hut, and all you need to do is drop the jig into a small opening in the branches and jiggle it – the rock bass will be on it in no time.
Streams & Rivers
While the warm weather has brought tough fishing conditions on most lakes and ponds, mountain trout streams are providing steady action and great fishing opportunities. Department fisheries biologist Jud Kratzer fished the upper part of the Black Branch Nulhegan River this past week and had a great time catching small, wild brook trout on grasshopper imitations. Recent rains in the Northeast Kingdom have brought the water up slightly, but anywhere you find cold water, you'll find hungry brook trout. Jud has also recently been doing some stream electrofishing surveys on Paul Stream and he reports that there are good numbers of wild brook trout upstream of Ferdinand Bog, where the water is still cold.
Department fish and wildlife specialist Chris Powers has also been spending a lot of time lately trout fishing with flies in the mountain streams of central Vermont. He said in areas like the upper White River near Hancock/Rochester, and the Upper Waits River and its tributaries, water temperatures have been in the 58°F to 64°F range. Chris has been catching lots of brook trout and rainbow trout using high floating dry flies like elk hair caddis or humpies. While most fish have been in the 6" range, he's managed to catch a few around 10" long.
See also: