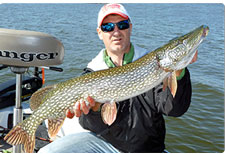 The weather these last few weeks have been just about perfect, in my opinion. We've been seeing low 70-degree days and overnight temps in the 50s and even down into the 40s on a few recent nights. The long-term forecast seems to be showing a similar trend. As we move out of summer and into fall, and the air gets that familiar autumn smell and feel to it, many Vermonters start thinking about hanging tree stands and scouting the deer woods. But my mind always turns to fishing – my favorite time of year to get out. Why?  Because everything is biting, trying to pack on weight and take in and store as much energy as they can for the pending winter. On top of that, just about everyone else is out in the woods with a bow or a gun. I've got the lakes, ponds, rivers and streams mostly to myself. September looks like it's going to be a great fishing month. 
—Shawn Good, Fisheries Biologist shawn.good@vermont.gov
Northern Pike – Esox lucius
This week's fish feature focuses on the northern pike. Why northern pike? Because fall time is pike time. 
Here's a question: have you ever wondered why the biggest pike of the year are caught during the ice fishing season, and not during the summer?  No, it's NOT because pike lose their teeth in the summer. That's an old wives' tale.
Most anglers think it's because larger, mature female pike move towards marshy spawning grounds as last ice approaches, where they are easier to target and catch. That's partly correct. The real reason lies in northern pike biology and the fact that pike change their habitat preferences as they grow and mature.
Pike have a shallow water lifestyle until they reach sexual maturity, at which point they split their time between shallow and deep-water habitats. A mature northern pike's preferred water temperature is 66°F. In the summer, the biggest pike in a lake spend MOST of their time in deep, cool water, but close to shallow flats and deep weed edges. They make occasional forays up onto these flats to feed, and then slide back out to deeper, colder water, slow down their metabolism and digest their meal. At these depths, the full belly of a large pike might take several days to digest.
This behavior makes it difficult to target large pike in the summer, and most summertime pike anglers don't think to look for suspended pike in deep water – they're not fishing where the big ones live. In the winter under ice cover, the water temperature is generally a uniform 34°F, and big pike spend more time freely roaming and feeding in shallower water where more people typically fish. So, anglers encounter and catch large pike at a higher rate in the winter than they do in the summer.
How's this all play into September fishing?  After a long summer, September is the time when pike get more active, as water temperatures start dropping again. With cooler surface temps in shallower water, pike more willingly and freely start roaming the shallows, binge feeding and preparing for the long winter again. This is the best time to target a big pike in open water.
Northern Pike Fishing - Statewide
Ed Weed Fish Culture Station Manager Kevin Kelsey loves to chase these toothy critters around the Champlain Islands, and reports that cooler temperatures this past week fishing has really triggered pike activity, and he's found great action in the Alburgh Passage from Carry Bay up to the Rte 78 bridge. Kevin took some friends from Albany NY out recently and they caught several mid 30-inch range northerns by burning white spinnerbaits and chatterbaits in 10-15 feet of water on the outside edge of the weedbeds. It's only going to get better in the coming weeks.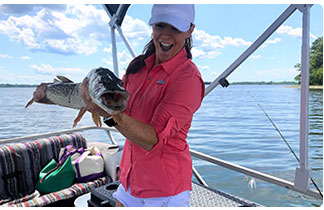 Brian Cadoret of Middlebury VT agrees that fall is when pike action really picks up, and says he's been fishing a number of waters in Rutland and Addison counties from his kayak and has been doing some walk-and-wade fishing for pike on Otter Creek with great success. Brian likes to up the challenge and target them on fly gear, tossing 9 inch to 13 inch flies that he ties in yellow, silver/blue, black/white, orange/olive, and perch colors. 
Because pike are ambush predators, Brian suggests focusing your casts around log jams, brushy banks, weed lines, and deep river bends. If using fly gear, he recommends an 8 to 10 weight rod with a 30-pound leader and a 9 inch wire bite guard. Other tools to keep handy for pike fishing include an extra-large net, longnose pliers and jaw spreaders.
Fall pike hit hard and battle like crazy. Once you've landed one, keep the fish in the water as long as possible, and only lift it (with wet hands) for a quick photo. Be sure to hold big pike horizontally, not vertically, and support its head and belly with both hands while snapping a photo.
Lake Champlain
Cold Water Species - The steelhead action that Ron Winter reported on two weeks ago is still going strong, and he's been having good luck from Thompson's Point to Basin Harbor. He's still catching brown trout as well as the occasional salmon. Look for big bait balls on your sonar and target 60-degree water, which lately has meant setting lines down 45 to 55 feet. Trolling speeds of 2.5 to 2.7 mph seem to be the magic number, and silver hammered spoons with blue and pink, set back 30-40 feet behind the cannon ball have taken a number of good fish.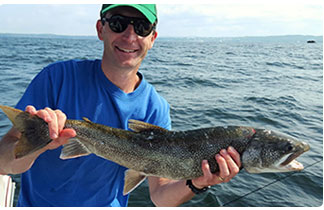 Department fisheries biologist Jud Kratzer hit Lake Champlain recently with Chris Bouchard of Milton VT and they targeted lake trout in the main lake. Anglers who don't have boats setup with planer boards or down riggers for trolling can still successfully target and catch lake trout by vertically jigging, and this is how Jud and Chris were doing it. Fishing the main lake, they worked heavy bucktail jigs and swim shads over reefs and humps in 60 to 80 feet of water by dropping the lures to the bottom, tightened up the slack, and jigging them erratically. If you have one, a fish finder is really helpful for finding these offshore structures in the right depth, and you'll often see lake trout react to your presentation right on the screen.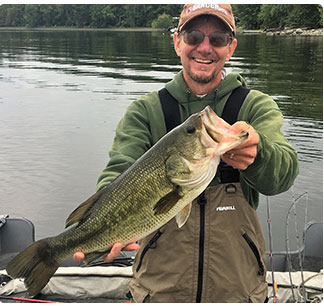 Warm Water Species - After a few weeks of tough summer conditions, fall bass fishing has started to pick up. Fish & Wildlife Department wildlife biologist John Austin and fisheries biologist Tom Jones fished Missisquoi Bay earlier this week and had great success catching smallmouth. Fishing from 7 a.m. to 1 p.m., they boated roughly 35 bass, and noted that the smallies seemed to be setting up in their early autumn patterns, feeding along rocky points and outcrops between weed beds in about 6 to 8 feet of water. John and Tom reported that they caught fish on a wide assortment of lures, including top water, but the go-to bait were soft plastics. Another observation was that largemouth, which can normally be caught in the same area often mixed in with the smallmouth, were hard to find that morning. But as John notes, bass fishing is about to really kick into gear up there.
Believe it or not, I even managed a few fish on Lake Champlain this past week. Local 22/44 News out of Burlington read my July 4 fishing report where I profiled the prehistoric bowfin, and that piqued their interest. They contacted me and asked if I'd take a reporter out to catch one for their sports report. Well of course. We hit a couple areas in the Alburgh Passage area, and using perch heads we jigged up, managed to hook seven bowfin and land two. While it took a little time to find active fish, the bowfin were aggressively eating the perch heads. I was using a rod with 20-pound braided line tied to a 12-inch long 80-pound wire leader. I clipped a 4/0 heavy gauge circle hook directly to the wire leader and put a fluorescent orange bobber a foot above the hook. We spent most of our time scanning the thick mats of vegetation, looking for swirls or large pops – a telltale sign of a bowfin gulping air. Take a look at the news cast for the rest of the story.
https://www.mychamplainvalley.com/outdoor-sports/how-to-catch-a-bowfin-on-lake-champlain/
Inland Waters
Don't ignore the small lakes and ponds around the state at this time of year either, as they are often the first waters to begin cooling down in the fall, and the autumn feeding frenzy will start there before other big lakes.
Tony Smith, Fish & Wildlife Specialist in the St. Johnsbury office has been probing the waters of Northeast Kingdom lakes recently and says that finding trout right now is as simple as finding schools of baitfish. Tony has been marking smelt in 25 to 30 feet of water, and then dropping small spoons down through the bait clouds and catching both lake trout and rainbows. Lure color really hasn't mattered. Tony notes that this pattern is holding up on any lake with smelt in it.
Chris Donahue of Rutland VT caught a beautiful 5-lb 3-oz largemouth bass on Sunrise Lake the other morning, and his fishing buddy caught one that went 4-lbs 8-oz. They were both fishing from kayaks and were working tube jigs along the bottom. As Chris wrote "It was a good day."
Connecticut River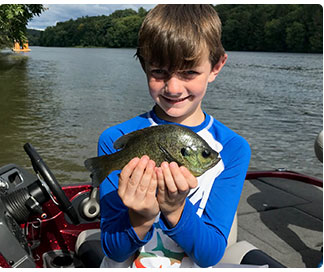 Doing his best to ensure every kid in Vermont (or at least Windham County.) gets to fish and have fun, Roy Gangloff took a break from Lake Champlain (much to the relief of all Lake Champlain fishes) and took a couple boys fishing on the Connecticut River. Targeting bluegill, Roy and the boys fished right from shore at the old Dummerston Access off Exit 4 on I-91 and had plenty of action right from the first cast. The kids were having a great time catching bluegill that were often eight inches or larger, which as Roy notes would make for a great fish fry or his new favorite dish – fish tacos.
This particular location on the Connecticut River makes a great place to fish from shore as there is lots of room, even for a large group. To catch bluegill and other panfish here or other similar spots, all you need is the most basic fishing equipment and a container of worms. Suspend a worm on a small hook three feet or so below a bobber and cast to the weed edge. Simple as that.
Streams & Rivers
Mountain streams are still providing plenty of trout action, and the cooler nights are holding river temperatures in the low 60s – which means the early fall trout bite is about to heat up. This past week, Jon Kimball of Brandon VT ventured out on a tributary to Otter Creek after a brief rainstorm dirtied the water color a bit. Using a white Rapala X-Rap, a black and gold Pins Minnow, and a black and silver Rapala he connected on several nice brown trout and brook trout including a nice 18-inch brown.
Jon's a seasoned mountain trout angler, and he has some great tips for novices who'd like to try their hand at it. Jon likes to fish after a rain brings the water up a bit and discolors it. Fishing in the early mornings, he targets deeper holes and works them from the downstream side. Jon suggests casting to the head of the pool and reeling downstream making sure it wobbles. Give it a jerk now and then to make it look like it's injured and hold on for a vicious strike.
Tony Curtis of New Haven VT spent a few hours this week with his young daughter in the mountains of the Mad River Valley, hitting small streams for brook trout. Tony says he was surprised to find that these high elevation mountain streams had relatively high-water levels, perfect for brook trout fishing. His daughter managed to catch her first wild brook trout ever, including one that was 10 ½ inches, and they ended up with enough for a meal. Tony and his daughter were fishing with nightcrawlers, casting into deeper pools and letting the current drift the bait along the bottom. Brook trout can be skittish, so walk slowly and carefully and try not to spook a pool before making a few casts.
Trout, bass, pike— you name it. Fish in waters all around the state will be entering their heavy fall feeding season in the next few weeks, and fishing is only going to get better through September and October. 
See also: