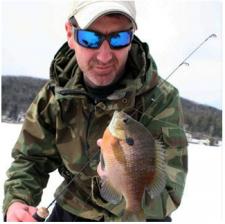 Back by popular demand – it's the first edition of our Vermont ICE Fishing Reports! In all seriousness, I had a great time last year writing the open water reports, and even more so, getting emails from many of you saying they were appreciated and helpful. A lot of folks asked if I was planning on doing them for the ice fishing season. So, here we are!
Ice fishing has had late start this year unfortunately, with less than optimal ice conditions early on, so I held off through January to see where things were going. But ice conditions have firmed up, and when I put a call out to the anglers who contributed last year, I got a great response. I couldn't write this report and provide all this great information to help educate and motivate new anglers to give it a try without them, so I want to thank everyone who's helped out. And if you want to help as well, shoot me an email. 
We're going to start the year's first ice fishing report with a list of reasons why EVERYONE should try ice fishing this winter. Tight lines.  
—Shawn Good, Fisheries Biologist shawn.good@vermont.gov
TOP Eight Reasons to Try Ice Fishing This Winter
Vermonters pride themselves in their ability deal with all the elements Mother Nature likes to throw at us year-round. In the winter, snow, cold temperatures and frozen water are just challenges that also offer unique opportunities – like ice fishing. If you've never been ice fishing, you're missing out. Here are 8 reasons why you should try it this winter:
Ice fishing crushes cabin fever! There's nothing like walking on a blanket of fresh snow over a frozen pond to wake you from the mid-winter doldrums. A day on the ice is a whole different experience.
It's beginner-friendly. Ice fishing can be as simple as you want. To get started, you'll just need an inexpensive hand auger to cut holes, a scoop, a simple rod/reel combo, a tip-up or two, hooks, weights and bait. When landing fish on tip-ups and lightweight rods, even the smallest fish feel huge.

Don't forget – a cookout out on the ice makes everything taste better!

It's not just about the fish. For many, ice fishing is a social event – a combination of fishing and tailgating. Add more fun by bringing a small grill, food, lawn chairs and games. You can play snow football, build a snowman, snowshoe, and even skate in between bouts of fishing. A plastic sled or toboggan is fun for the kids and can do double duty for hauling your ice fishing gear.
Take the whole family … and your friends. There's lots of room to spread out on a frozen lake. The more the merrier. Kids love ice fishing because they can run around and play in the snow if fishing is a little slow. Just make sure everyone is dressed for it, and bring lots of snacks and warm drinks. 
It's not as cold as you think. You may be standing on a sheet of ice in the dead of winter, but on a calm sunny day you'll be surprised at how comfortable you feel. Even with the thermometer showing single digits, the sun will warm you right up. Dress in layers and keep your head, hands and feet covered. You'll feel great.
Fishing can be fast and furious. On most Vermont waters you can fish up to eight lines at once (15 on Champlain!) while ice fishing. When the fish start biting, it can be a challenge just to keep all your lines baited and in the water. When this happens to you, you'll understand why people love ice fishing.

Nothing better than fresh fried VT fish caught through the ice!

The fish taste better. There's something different about pulling a tasty perch, bluegill or bass from ice cold water. If you like to eat fish, they tend to be firmer and have a milder, less "fishy" taste than in the summer. Catch a bunch and have a fish fry.
It's accessible and available everywhere. Frozen lakes and ponds can be found between all four corners of the state, so no matter where you live, an ice fishing opportunity is close by. Unlike boat-based fishing, anyone can walk out on a frozen pond and fish.
So now that I've taken away all your excuses to give it a try, let's get on with the reports.  
Northeast Kingdom (NEK)
The small lakes and ponds in the NEK are some of the first places to freeze and the last to thaw in the spring. The thickest ice in VT is in the Kingdom right now, with many lakes reported as having over 12-inches. Lakes like Willoughby, Memphremagog, Joe's Pond, Curtis Pond and Caspian have all been fishing well for nice yellow perch, but just about anywhere up there should be good right now.
Trout and salmon season is open now, and department fisheries biologist Bret Ladago of Barre VT fished an NEK pond on opening day of trout season. Using hali jigs and spikes, he jigged up a good number of smelt, kept some for a meal, and used others as bait on tip ups, landing some bass and a nice brown trout.
Inland Waters
With the late ice, larger lakes were slow to set up this winter, but they've finally locked up with a good six to eight inches.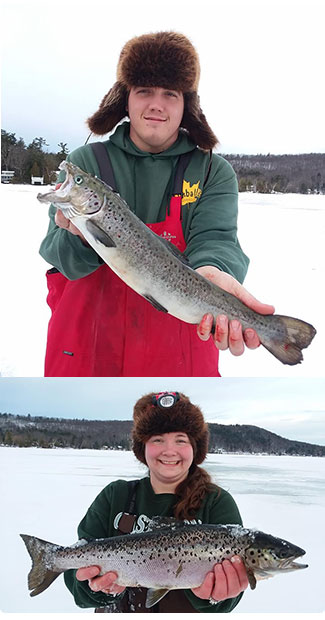 Juli Kimball and ice fishing fashionista Tim Devino of Brandon VT had great luck with landlocked Atlantic salmon on Lake Dunmore recently. It's the only waterbody in southern VT where you can catch one of those. They set tipups in 8-10 feet of water, rigged with 10-lb fluorocarbon leader, size 4 circle hook, and a small weight 8-10 inches above the hook and baited with shiners. Bait was put down just a few feet under the ice. Most salmon bites were before 8 AM, but there's a real chance of tangling with lake trout, northern pike, and even the odd catfish. As a bonus, Dunmore was stocked in late November with 100 trophy-sized surplus broodstock salmon, so you may just hook a monster!
Tyler Brown of Rupert VT got together with some friends to fish a Rutland County lake this past weekend, and found three to seven inches of ice. Targeting lake trout, they had no luck on tipups but jigged up four nice lakers from deep water using Swedish Pimples. Moving to shallower water later in the day, they also got into some nice perch and crappie jigging a blue flutter spoon.
Smaller ponds in south central VT have had very good ice conditions lately, and Al Moorhouse of Salisbury VT found eight inches of ice on a small Rutland County pond earlier this week. Al targeted panfish, and caught a good number of bluegill and pumpkinseed in the afternoon using small jigs tipped with waxworms. Al says he found most panfish hanging around the weeds and using a small flip shanty to darken the area over the hole, he could actually watch below the ice as the fish swam by. Like fishing in an aquarium!
Long-time Vermont Master Anglers John and Chase Stokes of Vergennes VT fished Indian Brook Reservoir this week and found a solid five to six inches of ice. They caught a great mixed back of crappie, yellow perch, bluegill and pumpkinseed on small micro jigs. Who doesn't like a meal of pannies. It's one of the best things in my opinion about ice fishing.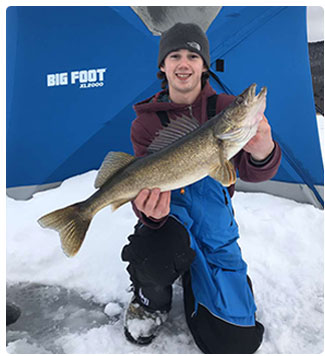 Captain Matt Trombley of Pittsford VT sent in a report for a few waterbodies, and says he's found eight to ten inches of ice on many of the smaller ponds in Rutland and Addison counties, ten-plus inches on Chittenden Reservoir, and suitable ice thickness on Dunmore and the north end of Lake Bomoseen. 
Matt says the small ponds have produced some really nice northern pike, while largemouth and smallmouth bass and a few walleye have been take on Chittenden Reservoir. Lake Bomoseen trips have produced a good mix of yellow perch and largemouth bass, and a few brown trout as a bonus! 
Department fisheries biologist Lee Simard of Montpelier VT fished Waterbury Reservoir twice this past week, staying around the Blush Hill Access Area. He got into a mess of smelt which bit steady throughout the day, just five to ten feet under the ice. Lee used a hali jig tipped with spikes, and also caught a few nice yellow perch.  
For those interested in smelt, Lee recommends using an ultralight rod or spring bobber, and keeping the jig relatively still. When he saw the slightest movement at the rod tip, he'd set the hook. Like Al, Lee said it was constant entertainment throughout the day watching schools of smelt regularly swim directly below the hole. The smelt and perch Lee caught made for a great meal of fish tacos.
Fish tacos, by the way, is my all-time favorite way to prepare fresh winter-caught panfish. Maybe next report I'll cover how to make fresh perch tacos. I'm telling you right now, you won't find better fish tacos anywhere – not even in the Caribbean!
Lake Champlain
Unlike the NEK, Lake Champlain is the last lake in VT to freeze, and the first to thaw. Some years, the main lake never freezes at all. However, the protected bays and coves generally provide plenty of safe ice and fishing opportunities, and ice has set up well in those places now. According to Matt Trombley, the bays at the southern end are fishable now, but he says not to venture out towards the channel has the currents have keep the ice from firming up. At the north end, the bays around Grand Isle are solid and pike and perch again are providing a lot of fast action.
Dave Gibson of Milton VT got out on Keeler Bay with his two young sons this past Saturday and found seven to eight inches of good ice (as did the couple hundred other anglers Dave says were there).  But there's plenty of room to spread out, with some walking out as far as Kellogg Island. Lots of panfish were caught with a few pike and pickerel mixed in. Dave's kids had a great time, catching fish and drinking hot cocoa – good food and warm drinks are a must when taking your kids out. Remember, mix it up, and don't always make it just about the fish.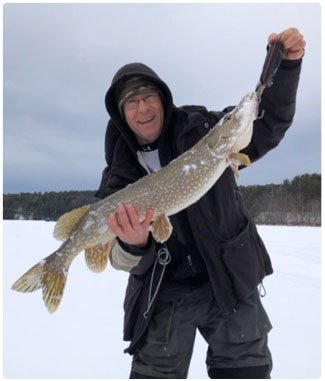 St. Albans angler Chris Smith says inner St. Albans Bay has about ten inches of ice and the outer bay is around six to seven inches, though a bit slushy right now. Chris has been getting really nice yellow perch, but says the white perch that St. Albans Bay is known for haven't shown up yet. So, here's the great debate … what do you like to eat better, yellows or whites!?  If you respond the latter, I might guess you're from Maine! 
David Narwid of Fairfax VT fished Mallets Bay earlier this week and says there was a good eight inches of ice with a bit of slush on top, but solid and safe. Dave's a pike angler and he says he put three on the ice that day – two at 7-lbs and one 34-incher that went 10-lbs. In between pike battles, Dave jigged a few perch (using the old tried-and-true Champlain bibbit) and got enough jumbos for dinner. Dave say a few bass were caught and released too.
Connecticut River (CTR)
Did you think I'd actually be able to write a report without mentioning West Dummerston angler Roy Gangloff?  Impossible. Roy fishes more than just about anyone I know, is a wealth of information, and always the first guy to help someone catch fish. My type of guy!
Roy's been fishing the Connecticut River setbacks and says panfish have been biting jigs really well, but mostly smaller presentations. A small tungsten jig with two spikes and a small plastic attractor like a Clam Poli or the smaller Trigger X Mustache Worm have been good. Roy has also had a few tipups set with shiners while he jigs, and he caught two Vermont Master Angler fish on them – a crappie and a white perch.
Roy says ice conditions on the setbacks have been good for foot travel but he doesn't recommend motorized travel. He's finding upwards of nine inches of ice but it's not as strong as it should be.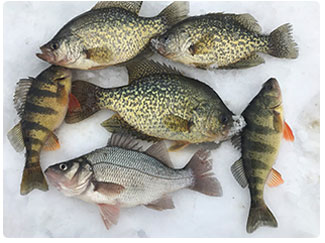 Retreat Meadows has been really reliable lately for bluegill, but not many other species are being caught there right now. Hunts Meadows has been his best spot for crappie, but they've been fairly scattered, and he's had to drill a dozen or more holes to find fish. When he's found them, he's been getting 10 to 12-inch fish with a few a bit bigger. Roy also says the Hinsdale setbacks have been producing good numbers of multiple species – plenty of yellow perch, lots of bluegill and sunfish, and some crappie. Finally, although the CTR setbacks can and do produce nice northern pike, the pike guys say it's been slow so far this winter.
Let's cross our fingers this winter gets a bit colder!
See also: