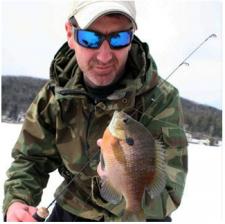 Happy Valentine's Day everyone.  It's the perfect day for another Vermont Ice Fishing Report, because we all LOVE to fish!  It's also a long weekend that starts with a holiday (well, a contrived Hallmark holiday), and ends with a holiday – Monday is President's Day.  We're looking at a good cold snap today and tomorrow too, so that ought to firm up the slushy lakes and make some more ice.  The weekend is looking pretty good so take advantage of it, because it looks like some rain coming middle of next week.
To kick things off, I'm going to help you all smooth things over at home this Valentine's weekend if you end up spending a little too much time out fishing.
Here's the fix – wow your family or win your significant other's heart by bringing home some panfish and making fish tacos.  How's the saying go?  The way to a man's heart is through his stomach.  Let's just scratch the "man" part and say "anyone's" heart.
In the last report, I mentioned how much I like making fish tacos with yellow perch and hinted at maybe showing you all how I make them.  I did NOT expect the response I got by email …. "Can't wait for the taco recipe" …. "You better stick to your word and give us your fish taco tips, or else".  Yikes.  Some hungry people out there. Message heard.  Here you go. 
– Shawn Good, Fisheries Biologist  shawn.good@vermont.gov
Fish Tacos
The simplicity of this is what makes these fish tacos so good and easy!  The basic ingredients start with 6-inch soft flour tortillas, breaded and fried fish fillets (finger-sized), sliced avocado, thinly sliced red onion, salsa, sour cream, shredded cheese, and a lime cut into quarters.  You can tweak the toppings to your own taste, but don't overload it.  Let the flavor of the fish come through.
I like perch, but crappie, bluegill and even small 10" to 14" bass can work too if you split the fillets lengthwise into fingers.

The breading is key for me.  I mix 2/3 panko crumbs to 1/3 flour. Don't add anything else.  Once fried in hot oil, the panko coating gives the fish fingers a nice crunch when you bite into it, and offsets the soft tortilla perfectly.
To bread the fillets, dip them first in an egg wash (a couple eggs beaten with a good splash of milk), shake them off a bit (you don't want the breading to gum up from too much egg wash), then roll them in your panko/flour mix.  Get some hot cooking oil going on the stove and fry in batches until golden brown. Transfer to a plate lined with paper towel to absorb any excess oil.

Once you have all your fish fried, just assemble the tacos.  I spread sour cream and salsa down the middle first, then two fish fingers, avocado and red onion, cheese, and then finish with a good squeeze of fresh lime.

You can thank me later.  
HOT TIP: If you're a new angler and your question is "how do I turn a fish into fish sticks", check out this YouTube video where I demonstrate my filleting method. https://www.youtube.com/watch?v=kSyrHZAGdrE
Northeast Kingdom (NEK)
Ice conditions are still holding up well in the Northeast Kingdom with over 6" of good black ice on the smaller lakes and ponds.  Memphremagog has been fishing really well, according to department fisheries biologist Pete Emerson.  Pete says the pike bite on South Bay has been great (a 15-lber was caught this past weekend) and suggests fishing big shiners on tip-up near weeds in shallow water.  Yellow and white perch are also cooperating (fish tacos) on Magog and the best action is in 20 to 30 feet of water.  Jig just off the bottom with Hali jigs tipped with a small minnow, spikes or worms.  If lake trout are your thing, Pete says 22" to 26" fish are everywhere on the main lake this winter. Anglers are getting them by baiting tip-ups with smelt and setting them just under the ice over 25' to 35' of water.  Pete's conducting an angler survey on Magog this winter and he's also seeing salmon, brown trout and even rainbows being iced.  Pete warns that last week's rain has made the ice surface pretty slushy, so don't drive out or you may get stuck.  Walking is your best bet.  Bring some high boots to keep your feet dry.
Department employee Nate Olson who works at the Roxbury Fish Hatchery has been fishing some smaller NEK waters like Harveys Lake, Joes Pond, Waterbury Reservoir, and Peacham Pond, and says they've been consistently producing smelt.  In addition to being killer bait for lake trout fishing, smelt make a great meal too (not fish tacos).  Nate targets them right at dark and into the night, and uses a green light to draw them to his hole.  He uses small tungsten jigs and an ultralight rod spooled with 2-lb test line.  Smelt are finicky and bite lightly, so pay attention to your rod tip and line. You'll often only detect a smelt bite by noticing there's no longer any tension or weight from the jig on your line.  Nate uses smelt to target lake trout in some of those same waters and has been catching 6 to 10-lb trout by setting smelt on tip-ups at varying depths.  Some days they are in the middle of the water column, and others they're on the bottom or even just under the ice.  Jigging for lake trout can be just as effective using Swedish pimples, Fjord spoons, heavier jigs, and tubes.
Nate says the NEK waters stocked with rainbow trout have been producing fish in the 18" to 22" range right at first light. It's hard to beat a worm suspended on a tip-up in shallow water for hungry rainbows, but don't ignore suspended rainbows in deep water.  They'll fall for a wriggling worm just the same.
Inland Waters

Panfish are one of the most popular species to target through the ice, and with good reason. They're delicious. These photos are from Brian Reynolds (yellow perch – top image), Dylan Smith (pumpkinseed – middle image) and Al Moorhouse (bluegills – bottom image) with the makings of a great meal of freshly caught VT panfish.
The smaller lakes and ponds are your best bet if you're unsure of ice conditions.  Just remember, check with a local baitshop, or look for signs of activity by other anglers.
Salisbury VT angler Al Moorhouse has been on a few different Rutland County ponds recently and says the water was cloudy on one of them from last week's rain. He only caught a few fish, so moved to another pond where the water was clear.  The sunny, clear day made it easy to see down the holes and find the weed beds.  Al caught bluegill (fish tacos) in every hole he fished.  Clear water and weeds are key for pannies.
Roy Gangloff took a trip to Lake Bomoseen this past weekend and fished the north end.  He says it had some of the best ice he's seen anywhere – about 8 inches of clear black ice – but there were a couple pressure cracks he advised staying away from.  Roy started fishing in 28 feet of water and found 7 to 8-inch perch right away (fish tacos), with a few in the 10 to 12-inch range mixed in.  Moving around, he caught fish at different depths but never less than 18-feet.  The only technique that produced was bottom bouncing a silver Hali jig packed with 3-4 spikes.  Roy says to let the jig hit the bottom a couple times, then lift and hold it still a few inches off bottom.  He found the perch were feeding heavily on insect larvae in the mud, and bouncing the jig on the bottom drew their attention.
Chris Hendon, from Morrisville found 10-14 inches of ice on Waterbury Reservoir last week but had a slow day, catching only a few perch (fish tacos) and smelt.  No trout were to be had.  The perch were caught on minnows set on tip-ups just under the ice.  Jigging wasn't productive.
Chris offered up some advice on his favorite lake to fish – Lake Elmore.  It's small, accessible from either the F&W boat ramp or the State Park, and usually has some of the thickest ice in the region.  You're almost always guaranteed some perch action (fish tacos), though they may be a tad smaller than you'll find elsewhere.  The odd pike and a surprise bullhead now and then keeps it interesting.
As a side note, the department held its annual Ice Fishing Festival this year on Lake Elmore and had 668 people come to try ice fishing for the first time.  A ton of perch were caught by many folks who'd never caught a fish through the ice before.  It was great to see.
Department fisheries biologist Courtney Buckley has been conducting an angler survey on Lake Runnemede in Windsor and says this past weekend there was 4-6 inches of good solid ice.  Anglers have said fishing has been slow but steady, with perch, bluegill (fish tacos), bass and chain pickerel being caught.  Courtney said the perch in particular appear to be in great condition, nice and fat.  Runnemede sometimes puts out good size pike too.
Lake Champlain
The big lake has good ice in most areas throughout the Champlain Islands, but the mid-lake is still pretty sketchy in most places.  Southern Champlain has solid ice in the bays and setbacks, but the channel that runs up the middle is much thinner because of the currents.  Most of the action I'm hearing about is from the islands.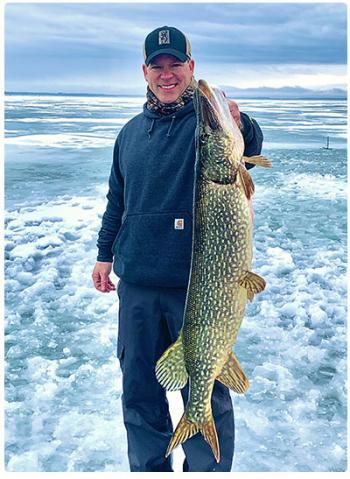 As a great example, South Burlington angler Tim Corley caught this 15-lb northern pike in the Sandbar area of Lake Champlain last weekend on a shiner and tip-up.  Nice fish!  Tim says ice thickness was consistently 10 to 12 inches.
Dillon Wells of Milton VT was out targeting "jumbo perch" (fish tacos) and found similar ice thickness.  Using oversized jigs tipped with minnows and spikes, Dillon worked his baits along a sharp drop next to a shelf in depths ranging from 18 to 40 feet.  He also set tip-ups just under the ice for lake trout and salmon and baited them with large Hunt minnows.  Dillon recommends using 8 to 10-lb test fluorocarbon leaders when targeting lake trout and salmon.
Department employee Dylan Smith had a great day in the Champlain Islands fishing for sunfish and crappie (fish tacos) in 8 to 10 feet of water.  Dylan drilled numerous holes in a wide area and looked for upright vegetation that was still green, which attracts and holds sunfish under the ice.  Dylan's best technique was to jiggle a small tungsten jig tipped with 4 maggots about 3' off the bottom.
Moving north, Fairfax VT angler David Narwid fished Missisquoi Bay.  While the ice was 14 to 16 inches in most places, the 2 to 3 inches of slush made travelling across the ice a challenge.  Still, David found the pike action to be steady, and said most bites came between 10am and noon.  He caught a good number in the 4-5 lb range and his best was almost 13 lbs.  His most productive holes were in 4 to 8 feet of water with the shiner set 2-feet under the ice.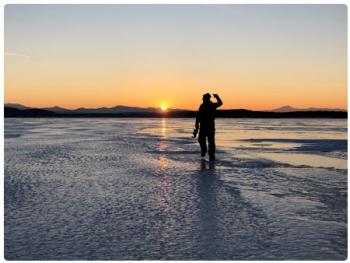 Chase Stokes and his dad John fished Keeler Bay on Champlain and had a busy day catching yellow perch, northern pike, largemouth bass and chain pickerel.  The diversity of the catch is what's always so much fun on Champlain.  The Stokes' used both live bait on tip-ups, and pink and white micro jigs.  They fished mostly in 9 to 10 feet of water and had the most luck in areas with weeds on the bottom.
Connecticut River (CTR)
The best fishing on the Connecticut continues to be in the setbacks on the lower river.
Brian Reynolds of Wilmington VT has been finding that yellow perch (fish tacos) have mostly been hitting tip-ups baited with shiners, but small jigs tipped with a 3/4-inch piece of worm have also worked.  Like others, Brian reports that fishing close to green weeds has been key.
And being that the lower Connecticut River is "home base" for Roy Gangloff, he's been on the setbacks as well lately and says the ice continues to firm up and thicken.  The Hinsdale setback is producing lots of perch south of the levy by the power lines (fish tacos), and Hunts Meadows is producing a mixture of bluegill, crappie and perch (fish taco trifecta).  Roy says your best bet is to fish with small tungsten jigs with tipped with spikes or small plastic baits.  And set a tip-up or two with medium shiners while you jig, as you're bound to catch a few bass.
Last thing – if you're new to ice fishing, you may be wondering what "spikes" are. They're fly larvae.  Maggots, for lack of a better term.  And a wildly popular live bait that gives your artificial lure a little flavor. You can find them in pretty much every baitshop you go to.  Best of luck!
See also: