Join one of these fishing clinics that are open to people of all ages and levels of experience, including those who are completely new to fishing!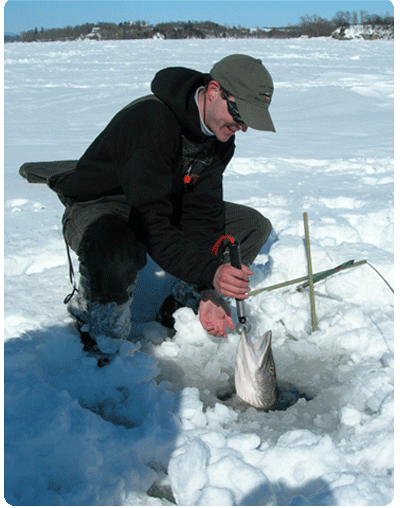 Participants will learn about fishing regulations and techniques, fish identification, ice safety and more! Equipment will be provided, but participants should dress for the weather (and walking on ice) as the program will take place outside. Consider bringing something warm to drink and a bucket or a chair to rest on, too. Programs last 2.5 to 3 hours. Registration is required for all programs.
For more information, call 802-265-2279 or email letsgofishing@vermont.gov. Location details will be given upon registering.
---
Introduction to Fly Tying
Learn the basics of fly tying in this fun, hands-on course! Course topics will include terminology, tools and basic fly patterns. The four-week course will be held on evenings.
Participants are expected to attend all four evenings. There is a $20 fee to cover the cost of materials.
Montpelier Course - Starts 3/10
REMAINING CLASSES HAVE BEEN CANCELED DUE TO COVID-19 VIRUS
Location: ANR Annex Building, 190 Junction Road, Berlin, VT 05620 | map
Dates: Tuesday Evenings, 3/10, 3/17, 3/24, 3/31
Time: 6:00pm-8:00pm
This course is presented thanks to our partnership with the Mad Dog Chapter of Trout Unlimited.
Register for Fly Tying Course: Montpelier
For more information call 802-265-2279 or email letsgofishing@vermont.gov
---
Trolling for Trout and Salmon Following Ice Out
CLINIC HAS BEEN CANCELED DUE TO COVID-19 VIRUS
Saturday, March 14
Kehoe Conservation Camp, 636 Point of Pines Rd., Castleton, VT | map
9:00am-1:00pm
Join us for an Introduction to trout and salmon trolling techniques following ice out. The course will cover a variety of topics including lures, rods, trolling techniques, and more. It will be taught in a classroom setting and notebooks are encouraged.