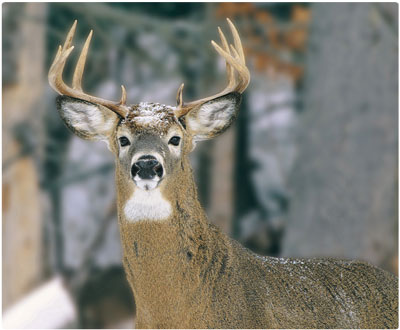 This page covers questions frequently asked about white-tailed deer. It includes:
White-tailed Deer Hunting
Do I need to buy a separate deer tag or does it come with my hunting license?
A buck tag comes with every hunting license sold in Vermont (except for the nonresident smallgame license). It is good for one legal buck harvested during the 16-day November rifle season. Only one deer per hunter may be harvested during the November rifle season—a legal buck. Other deer require separate tags for either archery or muzzleloader seasons.
How many deer can I harvest in a calendar year?
You can harvest 3 deer per year, of which only two may be legal bucks, but they must be taken in separate seasons. All three deer can be antlerless. You must purchase a new tag for each deer.
How many legal bucks may I harvest per season?
You can harvest only one legal buck per season and only two legal bucks per calendar year. The archery season, split into two sections, still acts as one season.
When can I take an antlerless deer?
Antlerless deer can only be killed during archery season and during muzzleloader season if a hunter drew an antlerless muzzleloader permit.
What is considered a legal buck?
A white-tail deer with at least one antler having two or more points. A point is an antler projection of at least one inch measured from base to tip.
Can I use my muzzleloader during archery season?
The muzzleloader season and the archery season are separate seasons with separate sets of regulations that just happen to run at the same time. If you are muzzleloader hunting, you must have a muzzleloader license, follow muzzleloader regulations, and only harvest a legal buck unless you have won an antlerless permit. If you are archery hunting, you must have archery tags, follow archery regulations, and can harvest a legal buck or antlerless deer, depending on your WMU.
Can I take two legal bucks during archery season?
You can only take one legal buck during archery season which includes both the early and late archery season. The archery season, split into two sections, still acts as one season.
Can I shoot a spikehorn during archery season, rifle season, or muzzleloader season?
No. Spikehorns are only legal for youth hunters 15 years or younger to harvest on youth weekend.
No, it is illegal to bait or feed deer in Vermont.
Can I use scents and lures for deer hunting?
Only artificial scents, no natural based lures are legal for deer hunting because these may spread Chronic Wasting Disease to Vermont's deer herd.
Can I hunt deer on my own land without a license?
Yes, landowners, their spouse and minor children can hunt, fish and trap on their own land without a license, except on youth deer and turkey weekends, when young hunters need a youth license. You must follow all regulations and hunt within season. You must also create your own tag to make it legal to transport to the weigh station. A non-resident owner of land has equal privilege if his or her land is NOT posted.
Can I hunt on my own land without a license if my license has been suspended?
No, a person who is under suspension for the right to hunt, fish and trap may not hunt, fish or trap on their own property during the period of suspension.
Do I need to be in the vehicle while transporting my harvested deer to a weigh station?
Yes, the person who harvested the deer must be with the carcass while being transported.
How do I get a crossbow permit?
A person with a disability that prevents them from pulling back a normal compound bow may get a crossbow permit. They need to have their doctor fill out the crossbow permit form, available on our website, and then contact their local warden. The warden will arrange to meet with them and issue them a crossbow permit after reviewing the note from their doctor.
Download a crossbow disability permit application
Anyone 50 years old or older may legally hunt with a crossbow without a special disability permit. Learn more about crossbow hunting.
Are there ever leftover antlerless permits I can get after the lottery is over?
Yes, these are available on a first come, first served basis on the department website shortly after the lottery results are announced.
Why do antlerless deer muzzleloader permit numbers change every year?
Antlerless permit numbers change due to fluctuations in herd size and health as a result of factors such as winter severity, food availability, and hunter success rates. We manage Vermont's deer herd with the goal of herd stability and health.
Where can I report my harvested deer?
For a list of big game check stations, please click here. Department biologists operate at select check stations to gather data on Vermont's deer herd on Youth weekend and on the opening weekend of rifle season.
Why are youth hunters allowed to shoot any deer?
Youth harvest of any deer does not keep us from achieving our goals set out in the antler restriction regulation or the annual antlerless harvest objectives. Youth harvest represents a small percentage of overall annual harvest, and spikehorns and antlerless deer represent a small part of this harvest. We also want them to take these deer that are otherwise not sampled in the harvest during other seasons for research and management purposes. We need data on yearling bucks and fawns comparable to data collected since the 1940s that are used to track the health of the deer herd.
Everything is posted where I live; how can I find access to a place to hunt?
First, surveys have consistently shown that many landowners would allow people to hunt on their posted land if they were to just politely ask. Many landowners use posted signs as a way to control who has access to their land or to know who is out there.
You can also try hunting on one of Vermont's many Wildlife Management Areas, or in a state forest, national forest, or state park.
Can I bring a deer carcass into Vermont if I went hunting out of state?
It is illegal to import or possess legally taken deer or elk, or parts of deer or elk, from states and Canadian provinces that have, or have had Chronic Wasting Disease, or from any captive hunt or farm facilities, regardless of its disease history, with the following exceptions:
Meat that is boneless.
Hides or capes with no part of the head attached.
Clean skull-cap with antlers attached.
Antlers with no other meat or tissue attached.
Finished taxidermy heads.
Upper canine teeth with no tissue attached.
For a list of states and provinces with CWD, click here
Vermont's Deer Herd Health
I've found a small fawn in the woods and it looks abandoned. What should I do?
Many mammals including deer naturally leave their babies alone nearly all the time during the first month of life. The fawns stay motionless and hidden and are camouflaged and nearly odorless. They do this because they are trying to avoid attracting the attention of predators. They return to nurse them twice a day. While they may appear abandoned, they are not abandoned. Their mother is nearby and will not return while you are present. This is true even if the baby looks hungry or appears to beg from you.
The best thing you can do to help these fawns is to move quickly and quietly away from them. If people capture these fawns and bring them in for rehabilitation, for every one fawn that is truly orphaned there will be many, many more perfectly healthy fawns that people will be kidnapping from their mother. Additionally, fawns cannot be legally rehabilitated in Vermont.
What is Chronic Wasting Disease (CWD)?
Chronic Wasting Disease, or CWD, is a neurological (brain and nervous system) disease found in some deer, elk, and moose. Most cases of CWD occur in adult animals. The disease is progressive and always fatal. The most obvious and consistent clinical sign of CWD is weight loss over time. Behavioral changes also occur in the majority of cases, including decreased interactions with other animals, listlessness, lowering of the head, blank facial expression, repetitive walking in set patterns, and a smell like meat starting to rot.
It is not known exactly how CWD is spread. It is believed that the agent responsible for the disease may be spread both directly (animal to animal contact) and indirectly (soil or other surface to animal). It is thought that the most common mode of transmission from an infected animal is via saliva, urine and feces.
Have deer in Vermont ever tested positive for Chronic Wasting Disease (CWD)?
To date, CWD has not been detected in any deer populations within the state of Vermont. For a list of states and provinces with CWD, click here
Is it true that CWD is transmitted in captive deer, and also in wild deer from CWD-positive areas?
Yes, this is the most likely way CWD would enter Vermont right now. This is why import rules for deer and elk carcasses are stringent, and it is very important to keep a close eye on captive deer facilities. There is also evidence that CWD can be transmitted in urine, so deer-urine-based lures, collected from captive deer, should not be used in Vermont. Many deer urine production facilities have not followed mandatory disease prevention rules.
How many deer are there in Vermont?
Approximately 130,000 deer.
Why can't we have more deer like in the 1960s or 1970s?
Many forest habitats were younger in the mid-century and could support more deer. However, there was still an overabundance of deer at the time, causing them to be in poor condition and more susceptible to winterkill, and also forcing deer to overbrowse and damage their habitat.
Deer are healthier now, with adult females producing more fawns on average than in the1960s and 1970s. Also, deer are now heavier going into winter, which means that fewer deer are wasted to winter starvation.
It is Vermont law that we protect and promote the health of our deer herd; this is done by taking the right number of does from the right areas to keep deer from becoming overabundant. There are fewer deer in the state now, but this is considered a biological success story, not a failure.
Are Vermont's deer healthy?
Yes, beginning in 1979 with control of antlerless deer hunting, the department took actions to reduce the overabundant deer herd, let habitats recover through the 1980s, and let the herd grow again in the 1990s. This has resulted in a much healthier deer herd as evidenced by yearling buck weights and their ability to recover from harsh winters. Vermont's deer have are not affected with major disease issues and we are working diligently to keep disease such as Chronic Wasting Disease (CWD) out of the state.
Why doesn't Vermont institute a coyote bounty to increase the deer herd?
Coyote bounties have been studied by many different researchers and have been found to be ineffective at reducing coyote populations or at bolstering ungulate populations. Due to the high cost of maintaining a coyote bounty, such programs are unsustainable and often siphon valuable funds away from programs much more suited to improving herd health such as habitat management, land conservation and disease surveillance efforts.
Vermont maintains very liberal seasons for the taking of coyotes allowing hunters to harvest them throughout the year with or without the use of dogs and trappers to target them from the fourth Saturday in October through the end of December. For those people needing a financial incentive to "control" coyotes such as a bounty would provide, there is a market for properly prepared coyote pelts. In 2012, coyote pelts were being sold for between $30 and $40 per pelt.
One of the most effective ways that coyote populations can be reduced is by eliminating access to food subsidies. This includes burying or fencing in carcasses at disposal sites used by farms and highway departments, not leaving dog food outside, and safely storing garbage.
Do coyotes regulate deer numbers in Vermont?
Not unlike other predators such as fisher, bobcat and bear, coyotes kill some young fawns, and they scavenge and kill dead and dying deer in late winter. Although the degree to which this affects the overall deer herd is commonly disputed, predation rates are an important consideration in deer management and are accounted for in all management decisions. The abundance of predators on the landscape only highlights the need for maintaining a healthy herd and functioning, high value deer habitat.
Domestic dogs that are allowed to roam free can be a bigger problem because they chase deer during winter when they are most vulnerable and are least able to withstand stress.
Were there fewer deer in Vermont ten years ago?
Yes, the harsh winters of 2001 and 2003 took their toll on the deer population. However, the deer herd has bounced back quickly since 2004 following several milder winters. The deer population was able to bounce back quickly because the herd was healthy and robust following years of well-balanced deer management strategies. In 2007 and 2008, the deer population was considered overabundant again at the statewide level, so antlerless deer permits for muzzleloaders were markedly increased in 2008 and maintained at a high level in 2009.
What resources are available for landowner looking for information on how to improve their land for wildlife?
Many hunters, foresters, and landowners have asked the department to create a landowner's manual to give input on how to better manage private lands for wildlife. We have responded by creating a manual that landowners can use to manage their land for specific species. Visit our store for more information.
Landowners can also contact their county forester, contact a wildlife biologist through their local district office, or hire a private wildlife consultant.