The 2023 Habitat Stamp will support efforts to restore a lower section of the Saxtons River in Westminster. 
Public donors to the Vermont Habitat Stamp continue to be a major force in achieving real results in habitat conservation and protection statewide as highlighted by the successful restoration at the former Pelletier Dam site. Now, the Habitat Stamp is working to remove the Blake Higgins Dam, a decrepit structure on the Saxtons River located approximately 1,000 feet upstream from the Connecticut River.
Why Remove the Dam?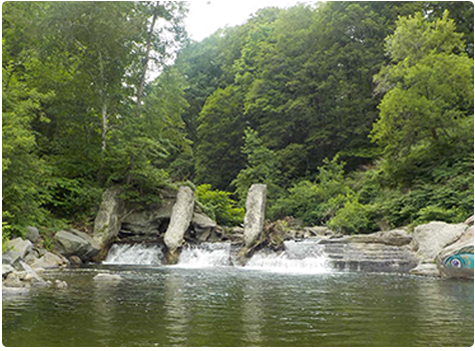 Removing the dam will provide brook and brown trout, American eel, and sea lamprey access to 1.4 miles of high-quality habitat for spawning and fry rearing in the mainstem Saxtons. Removing this dam will also improve passage for other aquatic species, restore the river's natural sediment transport and river processes, plus address a safety hazard in this popular recreational spot.
How You Can Help
Your donation will work to remove what's left of this dam and restore habitat connectivity, and because every donation leverages a match at the federal level, your $15 Habitat Stamp become about $43 towards healthy plants, fish and wildlife.
 
*Donations of $15.00 and more receive a 4"x5" Habitat Stamp sticker in the mail. A Habitat Stamp is not required to hunt, fish or trap, nor do you have to buy a sporting license to donate.