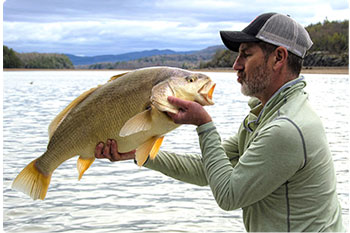 Welcome to the first spring fishing report of 2021! Well, I think it's spring. It seemed to be heading in that direction in early April, anyways. I spent the first two weeks of the month in a boat on Lake Champlain doing netting surveys for spawning northern pike, and I was wearing a t-shirt. It was 75°F.
But now as I'm sitting here writing this report, it's 30°F and snowing. With accumulation. What the … Really?
If we've come to realize anything here in Vermont, it's that our weather is unpredictable. Like the saying goes—if you don't like the weather, wait a minute. It keeps us on our toes. And the fish too. If they had toes. Which, by the way, they do not. If you catch one that does, please call me.
There is a silver lining to this unpredictability and apparent randomness of Vermont spring weather. While it can and does temporarily change how the fishing is, it also gives us an opportunity. To learn and adapt. To overcome and achieve. It's the Marine mindset. Improvise. Adapt. Overcome.
This can certainly be applied to fishing, and it's how you can sometimes salvage a slow day.
Too many of us get stuck in a fishing rut. We go out after the same species time and time again. And on those trips where our intended quarry doesn't feel like playing, we still stick with it, even if they're not biting. And then we go home disappointed we didn't catch anything.
I've learned myself the hard way. Plenty of times. Far too many days have been spent trying to force feed bass, for example, when they just aren't in the mood. (Or maybe I'm just really bad at bass fishing. Yeah, that's more likely).
Instead, be like Kenny Rogers. "You Got To Know When To Fold 'Em."  At least for that species. But it doesn't mean you need to walk away or run. Just adapt, change tactics, and try for something else.
This is especially important when fishing with kids. They don't care about finessing finicky bass during a difficult bite. They just want to catch fish. So be prepared. Always keep a variety of tackle or some live bait with you so you can easily shift gears and go for something different that IS biting.
Toss out a small jig or crappie tube tipped with a piece of worm and have fun with panfish. Then, chunk up one of those panfish, and throw it out on the bottom, see if you can get a catfish or a bowfin. Or tie on a small spinner or crankbait and just try trolling around. You'll be surprised at how many different species you might catch.
Even though it's white outside right now, looking out my window, better weather is on the way. In the meantime, just go fishing. Oorah. Get after it.
—Shawn Good, Fisheries Biologist shawn.good@vermont.gov
Department Fishing Clinics and Resources
Good news for anglers this year. Our Let's Go Fishing Clinics, which were put on hold last year due to COVID, will be back in person for 2021. These hands-on clinics are taught by department staff and volunteer Let's Go Fishing instructors trained and certified by the department. The clinics focus on everything from basic fishing techniques to species-specific tactics and are perfect for new and inexperienced anglers and families, as well as die-hards who want to learn something new.
We currently have a series of three nighttime bullhead fishing clinics scheduled in the next two weeks so click the link above to get more information. Additional clinics will be added to this page as they are scheduled moving through the spring and summer.
For those that want to strike out on their own, we've been working hard to compile instructional and educational material on our website that will help anglers learn about gear, techniques and locations. Visit the Fishing Basics page for a breakdown of equipment and techniques and how to use them. Our Fish Vermont page has step-by-step instructions to get fishing for the first time, from tying on a hook to finding worms for bait.
These pages and more fishing resources including online fishing regulations are available on our website.
Angler Reports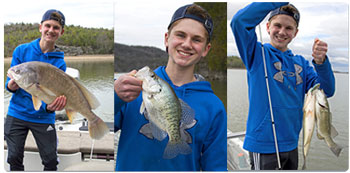 Not surprisingly, there's been a lot of fishing happening on Lake Champlain, including by yours truly. The diversity of what Champlain has to offer is unrivalled in the state, or in New England for that matter. From warm, shallow cattail marshes to deep pelagic zones, it's got something for everyone (and some super cool native species like bowfin, gar and drum). And as I said before, you can easily mix and match in a single day.
I spent a fun couple of hours recently with my son on southern Lake Champlain looking for freshwater drum. The only native species we have that feeds heavily on zebra mussels, you can find them around rocks and ledges. In the spring, if you find current along those ledges and rock, you're bound to find drum. Freshwater drum have the largest ear stones (biologically known as "otoliths") of any freshwater fish, making them super sensitive to vibrations and movement in the water.
Knowing this, anglers would be wise to use lures that are noisy, so think Rat-L-Traps or Blade Baits. I like driving around potential areas looking for drum on my fish finder and then jigging for them, so I'm partial to blade baits. Drum are bottom-oriented feeders, so drop your lure to the bottom, tighten your line, then rip the lures upward with a quick snap. Do this two or three times to get their attention, then let it settle to the bottom. They will find it. And when they do, hold on! Their unique body shape gives them a lot of leverage, and they're good at using it.
My son and I caught about 15 drum in a little more than an hour of fishing, and finally had to quit because our arms were tired. We decided to switch tactics and try a little bass fishing after that. Moving shallow, I put a Rat-L-Trap on for him and I used a square bill crankbait, which I like this time of year for its slow, wide wobble. We cast along the shoreline, mostly along the edges of last year's dead cattails in three to five feet of water and caught a good number of bass.
The highlight of the day (aside from over 200 pounds of drum between us) was Aiden catching two bass on a single cast. A smallmouth hit the front hook and a largemouth hit the back hook simultaneously. He thought he had hooked into the world record bass. You just gotta love Champlain spring fishing!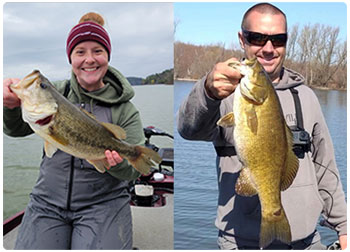 Department employee Olivia Bussiere has been out bass fishing too, and says the bass are hungry and biting just about everything. She's found good numbers of fish in five feet of water or less, making shore fishing a great option right now. Her best fish of the day was a healthy 3 ½ largemouth she caught casting a Rapala DT6. Olivia said she had an awesome day on the water, and I think it's only going to get better in the next few week.
Barre angler John Rielly has been chasing smallmouth bass this spring in the Alburg Passage and Inland Sea areas. He's had great luck fishing long main lake rocky flats and humps. His go-to tactic has been to cast suspending jerkbaits in two to eight feet of water. This type of lure doesn't float or sink. On the retrieve, it will dive to a certain depth (based on lure size), and then you snap your rod tip to make the jerkbait slash back and forth with slack in your line. If you stop reeling, it will just hang suspended in the water, which is usually when the bass will smack it. It's wicked effective this time of year.
Department wildlife biologist John Austin shares the same interests as J. Rielly. He's been having steady action catching pre-spawn bass with a suspending jerkbait in shallow water around marshes. John says that pausing the lure this time of year is key to getting a reaction bite, as bass are still a bit sluggish. However, John's been seeing minnows and bluegills moving into the cattails—a sure sign that things will be kicking into gear soon.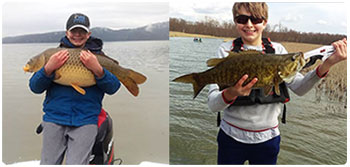 Vergennes angler Jack McGuire and his sons Brody, Liam and Ozzy have been having a blast this early season in the mid-lake, and again, multi-species days have made it that much more special. The crew drifted in their boat down lower Otter Creek while bouncing worms on a jig head along the bottom, and they managed to catch some really fat carp. What a thrill! And just around the corner in the Hawkins Bay area, the whole family caught bass after bass casting crawfish pattern jointed Rapala crankbaits.
Zach McNaughton of Proctorsville, VT spent a day on southern Champlain targeting catfish. These fish are prowling the shallows already and are always hungry. It's one of the best shore fishing opportunities that presents itself on Champlain in the spring. Fishing midday, Zach put out chunks of cut bait he caught himself on the bottom in three to five feet of water. He set up on mud flats at the mouth of cattail marshes, and found that the best areas were also adjacent to flooded timber. He caught several cats from 5 to 15 pounds. Who says catfishing is a night thing?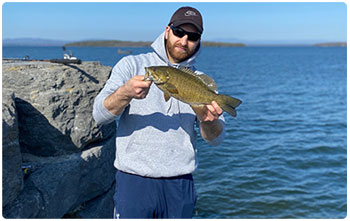 Reports from anglers like Dillon Wells of Milton always make me happy, because it gives shore-bound anglers plenty of incentive and motivation to get out fishing. Dillion and his friend Matt Erkson went to the end of the causeway in Colchester the other day and fished from 6:30am to 11am. They threw trout spoons for a while but didn't have much luck, so they switched to soft plastics on a jig head and started catching both smallmouth bass and lake trout—from the same spot on the same lures. The fish seemed to prefer bright colors like pink and silver, and working an erratic pattern on the bottom was best. Proof you don't need a boat to catch nice fish. And, switch up your tactics until you find something that works.
West Dummerston angler Roy Gangloff was on southern Champlain recently with two targets in mind—bass and drum. Roy focused on bass in the morning around rocky points but also found some good ones in bays with slightly deeper banks. Two-inch square bills and medium diving crankbaits in crawfish color worked the best around rock while a 1/2-oz. chatterbait was the hot ticket in the bays. Roy says the smaller plastic swimbait trailers in natural colors, matching the silvery minnows bass were feeding on resulted in more and bigger fish than the larger trailer.
Roy then turned his attention to freshwater drum in the afternoon. Like me, he was using 1/2-oz. blade baits and caught several in the 12-to-16-pound range. Roy says that if inexperienced anglers have trouble getting the jigging cadence right with the blade baits, an equally effective technique is to fish 3/8-oz. jig heads tipped with a worm on the bottom in the same deep rocky areas with current in the early spring.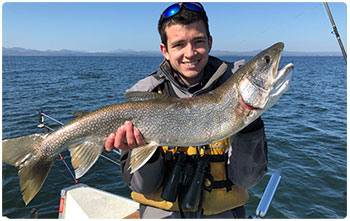 Shaun Crawford of Jericho VT says that lake trout have been on fire around Colchester Point. He and his son caught 15 on a recent outing, with two Master Angler fish over 32-inches. Lake trout were relating to the colored water coming out of the Winooski River, and most of the fish were caught in 12 to 20 feet of water while long-lining big spoons and stickbaits. This is the time of year when anglers can troll on the surface for lakers and don't need downrigger gear. Shaun also noted that the trout appeared to be free of lamprey wounds—great to see.
Shifting over to landlocked Atlantic salmon, Tony Curtis of New Haven VT has been trolling around the Crown Point area and says salmon fishing has been fantastic. He's been mostly fishing in 8 to 12 feet of water, and hasn't strayed into anything deeper than 30 feet, but has been running all his baits just under the surface no more than 5 to 10 feet down. Downriggers are definitely not needed this time of year, even for salmon. Small spoons and three-inch Challenger minnow baits have been his go-to this spring in purple, blue and silver. Tony says that water temperatures have been in the upper 40's and low 50's, and the fishing will stay good there at that temperature, but once it reaches the upper 50's the salmon will move north and go deeper. One last note from Tony, he's been finding his fish by watching for bird activity. It pays to pay attention.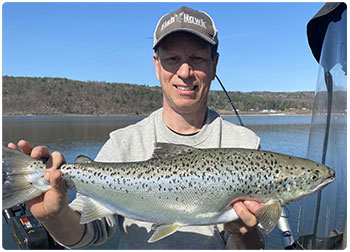 Essex VT angler Ron Winter is a well-known seasoned salmon angler and agrees with Tony. The salmon fishing in the Champlain Bridge area up to Converse has been outstanding in the last three weeks. He's caught several salmon ranging from 5 to 10 pounds and 16 to 28 inches in length. Ron says it's best to get there early, right at sunrise, to take advantage of the best bite. It's usually over for the day by mid-morning. In-line planer boards and Big Jon mini discs set back 100 feet have been taking fish from 2 to 15 feet under the surface. He's also caught fish on downriggers set shallow with 15-, 50-, or 70-foot leaders, depending on the day. For spoon colors, Ron suggests changing often until you find one that works, but he says Crazy Ivan Blue Moon and Phantom colors are good options to start with. Last tip from Ron, he's a moon phase guy. Me, I fish when I can and can't wait for the right bloody moon phase (must be nice to be retired, Ron). But Ron says peak fishing times are generally pretty accurate. Worth a shot!
So finally getting away from Champlain, department fisheries biologist Jud Kratzer provided some Northeast Kingdom tips. Jud says that so far this spring, NEK rivers have been lower and warmer than typical for this time of year. A few steelhead are being caught in the Willoughby River, and some fish were seen jumping the falls in Orleans Village a few days before the trout season started. Some anglers reported doing well on opening weekend, but fishing has slowed now that the weather has cooled off.
Pete Emerson, the other fisheries biologist in the St. Johnsbury district, reports slow fishing for salmon on the Clyde River. They both believe that fishing could improve with a major rain storm and increased flow in these rivers.
On the bright side, Northeast Kingdom anglers can expect earlier success on other rivers and streams this year thanks to the unseasonably low and warm water. While the Passumpsic River has not yet been stocked this year, Jud reports that large brown and rainbow trout will holdover in the river for multiple years. He suggests fishing live bait or casting a spoon in the deep pools below any of the dams along the Passumpsic. There are several deep pools worth fishing right in downtown St. Johnsbury. Also, the Northeast Kingdom's small brook trout streams, which are usually unfishable icy torrents at this time of year, are worth a try right now.
And lastly, a teachable moment from department Fish Health Biologist Tom Jones. Tom told me a story the other day while we were working together, and it underscored a valuable lesson we all should take to heart when fishing, or just spending time outdoors period. Pay attention to your surroundings. Watch and observe what's going on around you. Tune in to Nature Radio.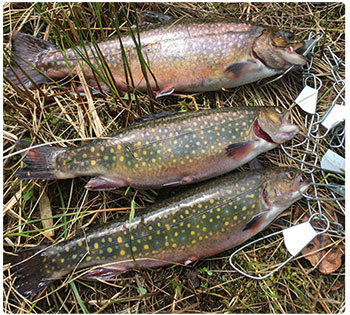 Tom was fishing a pond stocked the week before with brook trout. Armed with a pencil float and a carton of worms, he tried several spots he normal catches them, but didn't get a nibble. Then, 50 yards away at the other end of the pond, a small splash caught his eye. Moving closer, he lobbed his worm and bobber out into three feet of water near the splash and immediately caught a brookie. He continued working the area, catching many more fish. Tom found that after the worm had settled, twitching the float would get their attention.
Like Tom and Tony – it pays to be aware of nature around you. There will always be clues and cues as to what you should be doing to increase your success. Best of luck this spring everyone.
See also:
---

Thank you for supporting healthy fisheries in the Green Mountain State through your Vt. fishing license purchase, and through excise taxes on your purchase of fishing equipment and motor boat fuel, administered through the Federal Aid in Sport Fish Restoration Program.