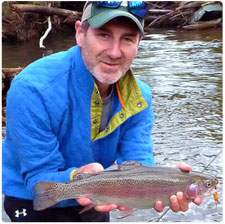 Spring is having a hard time this year deciding whether it wants to show up. Winter doesn't seem to want to relinquish its grip. It's the age-old Vermont battle of the seasons. A typical day right now sort of goes like this: Winter is at 6am. Spring starts at 10. Summer will be from 12 to 2. Fall starts around 4:30.
Mother Nature's recent mood swings and snowy tantrums haven't seemed to deter Vermonters though. We've seen an unprecedented surge in fishing participation this spring, with nearly 6,000 more licenses sold through April 20 then what was sold by the same date in 2019.
This isn't exactly a surprise. It's well-known the main reason people drift away from fishing is a lack of time. Our lives get busy. School, work and family commitments, kid's activities … there's a long list.
But with the current COVID-19 shutdown, Vermonters have found themselves with a lot of unexpected time on their hands, and they've come flooding back to fishing. It's the perfect outlet for these times – a proven, and inexpensive stress-reliever.
My hope is all these lapsed anglers who've decided to pick up their rods again this spring after a long absence will realize what they've been missing, and remember all the reasons why they loved it so much in the first place. Enjoying our great outdoors, spending quality time with family, catching a fresh meal, all the while helping to fund important fisheries conservation and management work through their license purchases.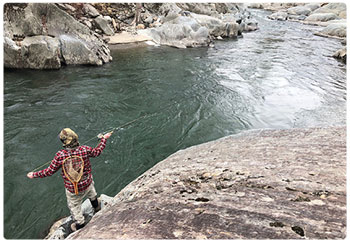 If you're reading this and haven't gotten out fishing yet this year, don't worry. The best is yet to come. May is just around the corner, and it's my favorite month to fish. Stream conditions will improve as the waters finally warm up, pre-spawn bass fishing will be on fire, panfish will start swarming the back bays, marshes and shorelines, walleye will be running, post-spawn pike will be prowling... the opportunities will be endless.
Just remember when you're fishing, practice good social distancing. For more information visit the department's COVID-19 and outdoor recreation webpage.
Stay Safe, and Fish On!
—Shawn Good, Fisheries Biologist shawn.good@vermont.gov
Trout Fishing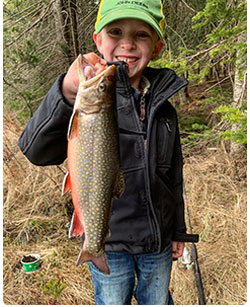 We're two weeks into trout fishing season, and by all accounts, the season's been a knockout already. The Vermont Master Angler Program and social media pages like Fishing 802 have been flooded with photos of beautiful trout caught all over the state – like this remarkably colorful brook trout caught by a young budding angler on Rood Pond. I'd have a smile like that too if I had caught that beauty.
Joel Flewelling, a Fish & Wildlife Specialist with the department, caught his personal best wild brown trout on the second weekend of the season. It was 24-inches and 6 lbs. A monster in anyone's book. Joel said he was fishing slow and deep, and added just enough weight to his line to allow his worm to tick the bottom as it drifted through the deepest hole he could find. Joel says you should bring along extra hooks, because you're prone to snagging and losing gear when you fish this way. But it's worth it when the big one hits.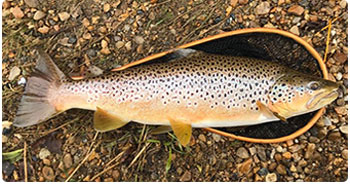 Other folks have been taking advantage of the stocked trout waters around the state. Guilford VT angler Steve Redmond has been having luck at Vernon Hatchery Pond. Steve says there were a good number of other anglers enjoying fishing from the bank, all respectfully adhering to good social distancing practices! Many appeared to be having success with PowerBait. Steve decided to put in a small boat to get away from the crowds, and having seen what shore anglers were using, he decided to show the fish something a little different. The tactic worked well and he caught a bunch of 11 to 12-inch brookies drifting hair jigs.
Fish & Wildlife department Let's Go Fishing Program Coordinator Corey Hart has stayed close to home so far this trout season, plying the waters of both Glen Lake and Lake Bomoseen for browns and rainbows. On Glen, Corey said his best technique was just flat-lining bright spoons and Rapala stickbaits long distances behind the boat. Flat-lining is just trolling a lure near the surface. No added weight or down riggers are used to get your lure down deep. With the water temperature only 44°F, the rainbows were just below the surface. A slightly different story over on Lake Bomoseen. Corey trolled for a while on the surface without much luck, but finally started getting some brown trout when he used his manual down-rigger to get his lure down to 20 feet.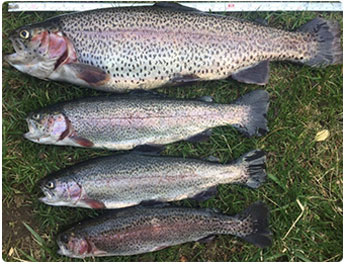 Southeastern Vermont angler Roy Gangloff says the Connecticut River setbacks he likes to fish this time of year for bass and panfish haven't really turned on yet, so he's focused his efforts on trout as well. Fishing South Pond and Lake Raponda, Roy caught some recent stockies but also some much larger holdover browns and rainbows from last year. Roy said the brown trout preferred a half a nightcrawler soaked on the bottom, while rainbows seemed to want PowerBait. When the bait fishing slowed down, Roy was able to find a few more aggressive fish flat-lining bright colored spinners and spoons. He says you can't go wrong with a 1/8 oz. pink Worden's Rooster Tail spinner or a Thomas Buoyant spoon in a rainbow trout pattern. Yes, fish can be cannibals!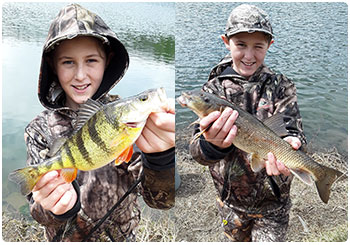 Father and son duo John and Chase Stokes have been catching brook trout and rainbow trout on Brookfield's Sunset Lake using worms and PowerBait rigged on a #8 trout hook and fished on the bottom. And as a bonus, Chase caught a Master Angler sucker and a Master Angler perch. You never know what you'll catch soaking live bait!
There's clearly a running theme here I feel I need to point out for folks that are a little unsure about where to start when it comes to getting out fishing. Fishing isn't complicated! It's literally Hook – Line – and Sinker.
Whether it's a 24-inch wild brown trout, stocked rainbows and brookies, or suckers and perch, a simple spinning reel, light line, and some live worms or artificial PowerBait fished on the bottom will catch just about anything. If you feel like being a little more adventurous, try a spinner or spoon. Cast it out, reel it in.
The important part is just get out there, give it a shot and have some fun.
If you're interested in trying for some stocked trout, you can see all the waters that have been stocked so far here. Just remember to change the box at the bottom to COMPLETED STOCKINGS before clicking "search."
Other Opportunities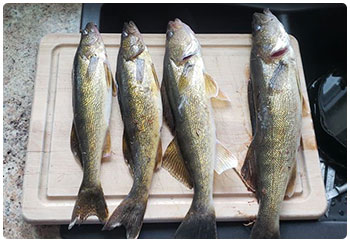 Dennis Thomson has been having great luck fishing walleye in the Connecticut River, which has a different season than elsewhere in Vermont. Casting chartreuse jigs and curly tail plastic grubs from the Vermont shore, Dennis has caught over 80 walleye in the last couple weeks. He says the spring walleye fishing has been fantastic there the past couple of years.
Up in the Northeast Kingdom, department fisheries biologist Jud Kratzer says the ice is finally gone and most of the snow has melted. Rivers are relatively low and clear for this time of year, and with a few days in a row of sunny, warm weather he expects the fishing will turn on. Jud recommends the Willoughby River for steelhead rainbow trout, the lower Clyde River for salmon, and the shallow bays and sloughs of Lake Memphremagog for perch, bullheads, and sunfish.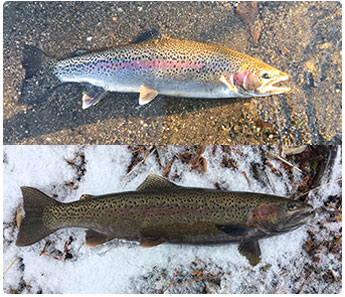 The Willoughby is already starting to produce some nice fish, like these two beautiful rainbows caught on opening weekend. Gorgeous colors!
Mike Elwood says the white suckers are starting to run on the Winooski, and the bigger more powerful redhorse suckers won't be far behind. Mike loves fishing worms on the bottom to catch these interesting species. If you've never purposely tried to catch a sucker, you should. Redhorse can exceed 10 pounds and fight hard. Add another species to your life list.
And yes, I even got into the mix last week, with a short trip to southern Champlain with my son, who caught a 19-inch Master Angler-sized smallmouth bass. Not bad for his first fish of the year. We didn't time it very well, as the lake was high and muddy from all the rain the day before, but we still found some fish willing to bite. This time of year, bass fishing is pretty simple. First, it's catch and release only and you can't use live bait. So, I like to use a diving crankbait that dives down three to five feet. Find a rocky shoreline or point, preferably near a shallow bay. Cast towards shore and turn the reel fast a couple times to drive the lure down. Then, slow it right down and barely crawl the lure back to the boat.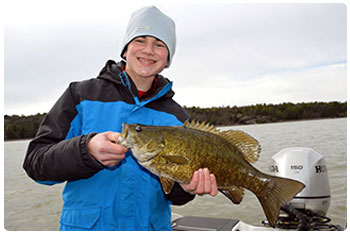 Smallmouth and largemouth bass are still a bit sluggish right now, so they don't really want to chase anything. You may not even feel a strike or a bite. You'll just feel your lure get a little heavy, like you snagged a wet sock. Set the hook if you do – it's probably a bass that lazily slurped your slow-moving lure in!
And finally, if trolling for trout and salmon on the big lake is your thing, the open water season has been on fire so far, according to numerous reports.
Ben Rooks, who works at the department's Ed Weed Fish Culture Station in Grand Isle, says this time of year the technique is simple – flat-lining minnow imitating lures just under the surface. Ben says he's been catching salmon in the Inland Sea from Keeler's Bay all the way up to North Hero, and got a nice 22 ½-inch fish the other day with his kids by trolling a Pin Minnow 140 feet behind the boat over 20 feet of water.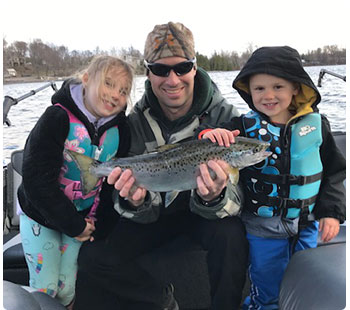 Essex VT angler Ron Winter wrote to say he thinks the 2020 salmon season is going to be great. The early season bite has really taken off in the past 10 days. He's seeing a strong year class of fish in the 24-inch range and has even boated a few reaching 27 inches. Fishing 8 to 10 am, Ron's been finding the most action in 43°F to 46°F water using spoons set down 8 to 12 feet.  
Tony Curtis of New Haven VT says small spoons like DB Smelt and 3-inch stickbaits trolled 150 feet back have been working great, and he's had an unbelievable spring so far. According to Tony, he's been relying on the birds to tell him where to fish. He's been seeing groups of loons and flocks of gulls, terns, ospreys and cormorants feeding on schools of baitfish. Trolling through those areas have resulted in great catches, with a lot of fish in the 22-inch range, and a 5-pound 23 ½-inch salmon his daughter caught and reeled in all by herself!
I could go on but I really need to wrap this up, so I'll just remind everyone to check out the Vermont Master Angler Program page. It's a great source of inspiration on what you can catch right now. In the last two weeks alone, I count 15 different species that have been entered!
Don't forget, walleye season opens May 2. Send me a note on how you did, and some pictures too. And if you're into that sort of thing, tag us on Instagram and Facebook using #FishVT and #vtfishandwildlife. I'd love to see what everyone's catching!
See also: